Kingstonian 3-0 Ashford Town
K'S TAKE APART THE NUTS AND BOLTS
Kingstonian's cup run continued with a three-goal over-run of league rivals Ashford Town.

Still unbeaten in all competitions, Ks faced a team rampant days before against Leatherhead and were soon under the cosh before Tommy Williams hit back against the tide on the half-hour and then two more goals within three minutes just after the restart by Carl Wilson-Denis and Max Hustwick bought the home side another step towards Wembley.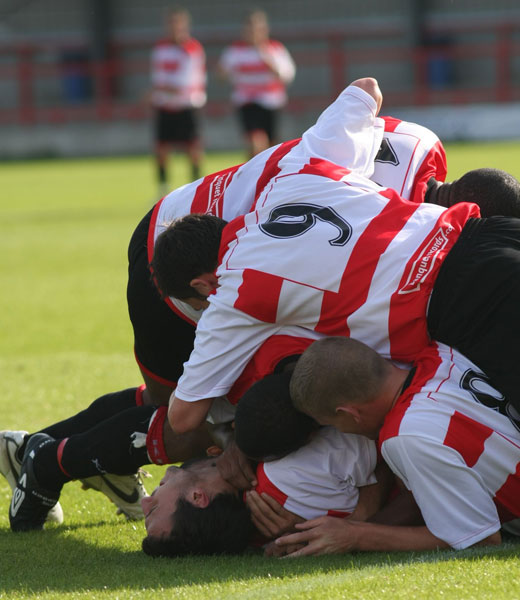 Photo: Chris Hatton - Kingstonian FC
It was Town that started the better with a second-minute strike from Jimmy Elford, coming out of defence going high. Danny Lye then followed this up minutes later with a similar shot, after a cross from Robbie Ryan. Ryan then saw his cross to Tony Brown wasted as Nick Rundell mopped up.

Finally Kingstonian found their attacking boots. Unsurprisingly it was Dean Lodge who took the attack to the visitors. A run up the side lines was then wasted with a kick over the top. Rundell was then hand with a cross into the box that went out with both attackers and defenders unable to connect.

Then Williams found the back of the net. Bobby Traynor sent Wilson-Denis off and the latter's cross found Williams. His header shot past Josh Willis in goal. And it could have easily been two-nil soon after when from the first corner of the game Williams found Traynor in the area. A chip found Elford heading out as Willis in the goal called for the ball.

A corner won by Bradley Spice, after Luke Garrard was forced to tip out, saw K's in defence and Lodge break free again from a poor shot until Elford made a desperate tackle on the edge of the area. This only opened up Town who pressed Ks. Mitchell Sherwood saw his header go straight to Garrard Once again Sherwood opened up the defence from Elford and only Garrard denied him. The resulting corner saw Ryan Brigg's corner go up field.

Lodge broke free once again but was denied by Elford, who put the ball behind. The defence then closed out the corner.

The second half saw Rundell cross to Simon Huckle and his ball goalwards was picked up by no-one. A classic counter-attack saw Anthony Browne shot into the side netting. Another corner saw Briggs denied by Garrard.

Inevitably with the game slipping away but the score line in their favour Ks then pressed forward. Lodge broke free and ran and ran some more. A short cross to Wilson-Denis slotted the ball in from close range. Within minutes it was three nil, and probably game over, as a corner from Williams headed past the diving keeper by Hustwick.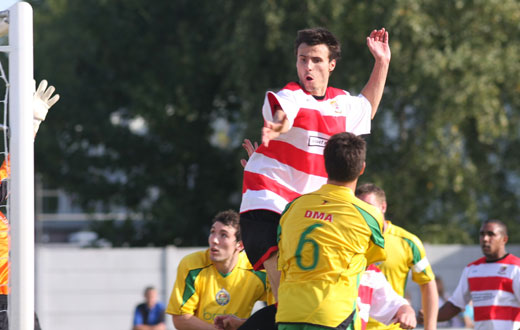 Photo: Chris Hatton - Kingstonian FC
Lodge could have made it a fourth within the hour but was denied by brave keeping from Willis, only 19 years old. For the visitors Briggs released Jones but Jones went wide. Then Sean Ray headed straight at Garrard's feet from Daniel Braithwaite, but with Garrard pouncing on the ball, another chance went begging. Another header from Lye minutes later went wide from Ryan's cross.

Two more substitutions from Alan Dowson saw Phil Williams come on for Lodge and then six minutes later NJ Lampton came on for Tommy Williams. In between Sherwood launched an attack but Paul Jones was denied by the defence again. However the game began to wind down although Phil Williams found Lampton and a cross from the latter by the goal just went wide with the keeper beaten. And then a chance from Hustwick went wide also set up by Phil Williams.

Extra time saw Traynor hit the bottom of the upright after a ball out from the defence. Once again Willis was beaten. A free kick also by Traynor after Phil Willams was fouled by the box, this time found Willis' fist. Then the match ended with Traynor pouncing on poor defending in the Ashford area and Traynor once again shooting in from close range only to find Willis making a late revival.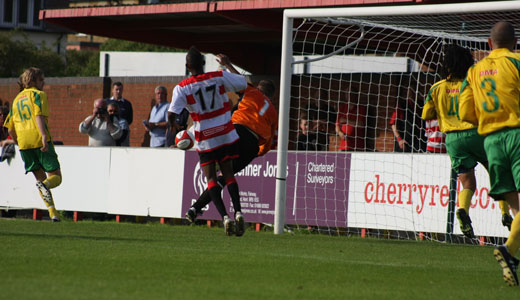 Photo: Chris Hatton - Kingstonian FC
While it could have easily been more with Ks free-scoring continuing, so Ashford could have easily taken a few goals themselves. To be fair though the defence held well against visitors who were not the strongest team to play at Kingsmeadow this season. Any disappointment in that was made up by the amount of support that made their way up the M20 and around the M25 and certainly made for a lively encounter off the pitch as well.

On Monday Kingstonian will find out who they play in the second qualifying round. This is the first time they have got this far for five seasons when they entered at this stage. Only 10 more wins and the team will be back at Wembley.