Kingstonian 4-0 Braintree Town
K'S PRESS IRON OUT OF CUP
If Ashford looked easy, Dean Lodge made Braintree simple as he ripped through their team to score four times in the FA Cup. The higher division team from Essex looked anything but as Kingstonian over-turned their record against them.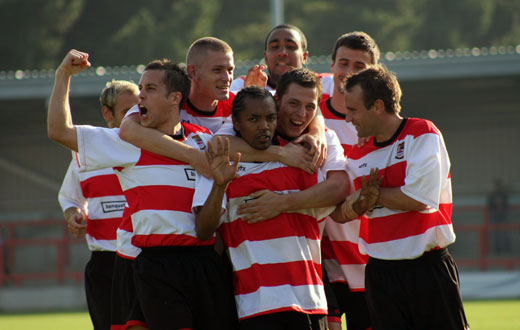 Photo: Chris Hatton - Kingstonian FC
Two minutes into the second half Lodge opened the scoring as his curling effort clipped in off the right side of the upright. Then 20 minutes later it was his second from a long ball up-field. In the 90th minute he shot low past the keeper and then in injury time he headed low as Phil Williams shot towards a beaten sub keeper Ricky Palmer.

It was the Essex team that started the brighter, albeit briefly, when Chris Piper shot over the top from 20 yards. Andy Porter found Wayne O'Sullivan who passed onto Piper. Gareth Williams then was closed out by an ever-increasing strong back four. A minute later Jon Neal headed over from Jon Coke's ball.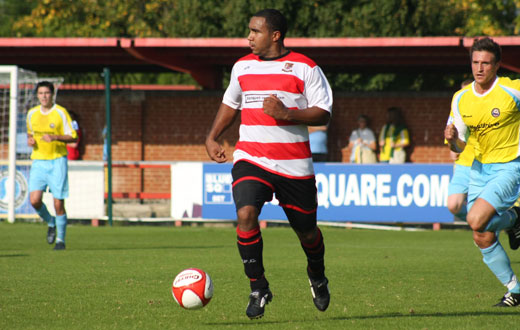 Photo: Chris Hatton - Kingstonian FC
This chance was then added to by Bobby Traynor who pounced on a defensive error and found Tommy Williams but the ball sailed then on over the top. Twice the visitors hit back but both Louis Riddle and then Piper shot over the cross bar.

At this point the home side asserted its home advantage. Jamie Beer was unable to control Traynor's goal-ward shot and then Simon Huckle failed to take advantage of Tommy Williams' corner. Beer then failed to use Lodge's up-field shot.

And with Lodge starting to run the show, almost inevitably he was treated to some firm tactics. O'Sullivan was shown the red card for a late stop on him by the halfway line. At this point the game settled into nothing with the best chance going against Ks after Traynor came down in the box but was judged as offside.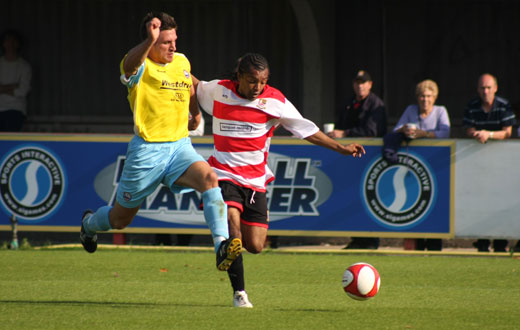 Photo: Chris Hatton - Kingstonian FC
With time disappearing into the half time break Traynor shot wide and then Beer's speculative 30-yard shot also went wide. Lodge then crossed in from the left corner but Craig Holloway in goal took the ball well.

In injury time Coke ran up the right and crossed in but as Huckle stretched for it he fell backwards and skied the ball off his right foot over the top towards the athletics track beyond.

Two minutes into the second half Nick Rundell passed to Lodge and a low shot from the latter hit the upright and went in past a beaten Holloway. Minutes later both Holloway and the assistant referee denied Traynor as he ran onto a ball all alone.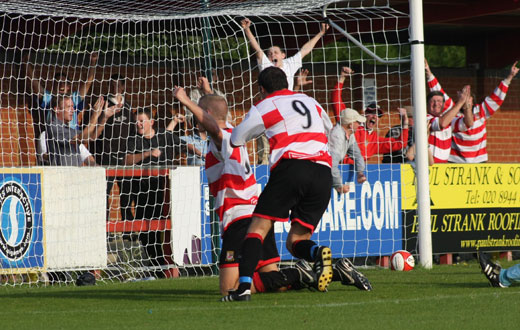 Photo: Chris Hatton - Kingstonian FC
Lodge then shot wide from Traynor's pass after a long shot up field. Lodge again was then denied by Holloway's legs as he ran past the defence 15 yards out. With so little going well for Braintree, manager Lee Patterson sacrifice midfielder Porter for new signing Danny Hockton in the 61st minute. An almost immediate impact followed with the new boy missing off a right post shot from Sean Marks. Phil Williams then came on for Jon Neal as Alan Dowson looked towards stepping up the tempo against an increasing ineffective opposition.

Phil Williams shot across goal as Traynor fell in the box surrounded by defenders and then Phil Williams crossed into nothing after another run from Lodge. With the ball coming back to Garrard at the other end, Garrard launched an attack out to Coke. Then coming out of defence with another route one attack Lodge found the back of the net in the 77th minute.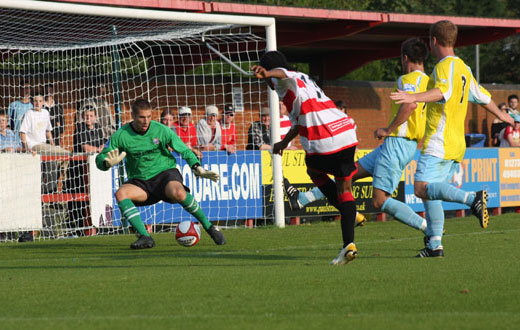 Photo: Chris Hatton - Kingstonian FC
Holloway in goal then left the field to be replaced by Palmer, an earlier injury exacerbated by a fruitless attempt at the save. An on-fire Lodge was not on a mercy trail and almost bloodied Palmer immediately but went wide from Phil Williams' cross. Traynor then left the field to be replaced by Carl Wilson-Denis.

Tommy Williams then curled a ball over from Beer's pass. A free kick from Piper finally in the 83rd minute was the sum total of the visitors' efforts and Garrard took the ball easily. With two minutes to go NJ Lampton came on for Tommy Williams and then Phil Williams was brought down as he broke into the penalty area by Riddle - deemed just a yellow card offence - and up stepped Lodge for his hat trick.

A consolation attempt by offender Riddle went over in injury time and so a fourth goal by both Ks and Lodge went in after he dived low to deflect a goal-ward shot from Phil Williams with his head. Palmer was beaten either way.

With league rivals losing or drawing Kingstonian find themselves top of the league still and progressing further in the FA Cup than in a few years. With Shoreham it took time to win, with Ashford it could have been more but against Blue Square Conference South side Braintree the four goals failed to flatter the home side. They have showed they can repeat this so far - the test will be to carry on this form again and again.