Burgess Hill Town 1-2 Kingstonian
HILLIANS FAIL TO KICK K'S OFF THE PITCH
Kingstonian's 52nd game of the season was also their most unpleasant, as the desperate scrap for points resulted in a nasty encounter with relegation-threatened Burgess Hill Town that did little credit to non-league football. To Kingstonian's credit, however, they emerged with a 2-1 win thanks to a bundled winner from Bobby Traynor and, despite the threats of Mark Pulling, 22 unbroken legs.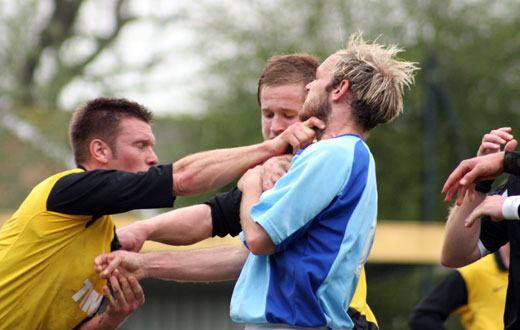 Photo: Chris Hatton - Kingstonian FC
Not that all of the blame for the nastiness of the encounter should lie with the home side. Gavin Geddes walked for them, as might Pulling, Danny Gainsford and Charlie Cooke have, though for the visitors Simon Huckle, Bobby Traynor and Alan Dowson were all guilty of misdemeanours that on another day might have resulted in dismissals.

K's seemed to make a nervous start to the encounter and took some time to settle into the game as the Hillians dominated the early stages. A poor early clearance allowed Geddes a chance which he fired wide and then the man who would later be dismissed forced Luke Garrard to save from distance after intercepting a poor ball from Huckle.

Garrard tipped an effort acrobatically over the bar as K's struggled to impose themselves on the game before the match was turned, yet again, by K's winning a penalty. For once, the incident did not involve Dean Lodge but instead Carl Wilson-Denis, who broke free on the right hand-side of the box only for Gainsford to pull him back. By the letter of the law, the referee should have dismissed the giant centre-back but he never seemed to have a grip on proceedings throughout the game and only admonished him with a yellow.

Bobby Traynor, out of form from the penalty spot by his standards (three weeks ago he let the Crowborough goalkeeper get a hand on one) duly beat Callum Christie to give K's an advantage against the run of play.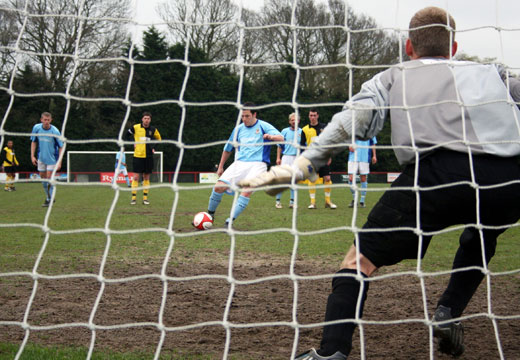 Photo: Chris Hatton - Kingstonian FC
It was not to last however, as just four minutes later a terribly defended free kick was headed back across goal leaving the easiest tap-in for the unmarked Luke Gedling.

Traynor and Rundell both had efforts blocked by Hillians but the last ten minutes of the half were mainly characterised by the game turning nasty. Pulling and Traynor tangled off the ball, both being fortunate to only collect bookings and Gainsford incredibly escaped a second booking after hauling down Wilson-Denis. Pulling became ensconced in a war of words with the K's fans which lasted for the rest of the game, Cooke flattened Nick Rundell with a nasty slide and Huckle retaliated to verbal provocation. The latter two were booked while Pulling just about managed to last the rest of the game without earning his second yellow card.

The referee might have thought that blowing for half-time would earn him some respite. It instead earned him an earful from an enraged Dowson, who thankfully managed to calm down enough to send his men out for the second half with a more professional attitude. This did not extend to Geddes, however, who earned himself a red card just after the break for, in Jamie Beer's words, "Putting his head on me, [but] it wasn't a proper, proper, headbutt." It was proper enough for the referee though, who was perhaps sick of the antics of both sides and felt he finally needed to wrest some control.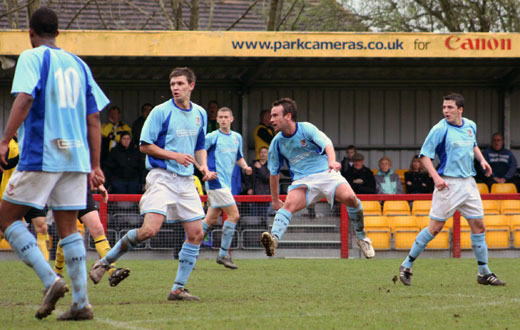 Photo: Chris Hatton - Kingstonian FC
Before losing a man though, Burgess Hill had already lost another goal, not without controversy. Christie was injured as he gathered a cross and when he restarted play kicked weakly to Adam Thompson. He headed to Wilson-Denis who appeared to flatten Justin Gregory in teeing the ball up Tommy Williams. The referee waved play on though, and Christie could only parry out Williams' twenty-yard effort before Traynor was fastest to react in bravely heading home the rebound.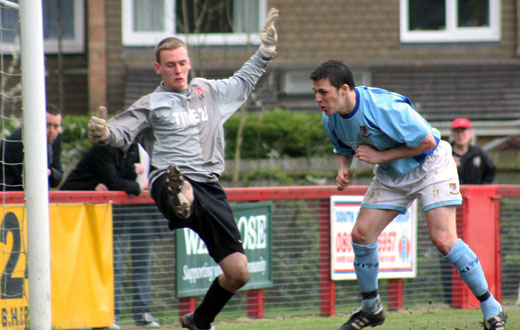 Photo: Chris Hatton - Kingstonian FC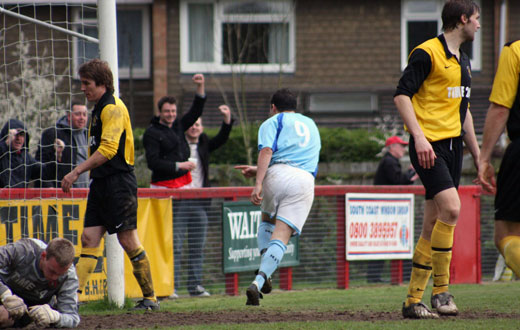 Photo: Chris Hatton - Kingstonian FC
K's could, and probably should, have added more goals later in the second half but lacked a cutting edge in the final third. The best chances fell to Lodge and Williams but too often K's failed to find the right pass against the exposed ten men of Burgess Hill. The home side remained a threat themselves, especially from set pieces, but the new-found resiliency of the K's back four kept them at bay. It was far from pretty but K's got the job done and now await the biggest game since the Conference days.
Sat 11th Apr 2009
Leylands Park
341
Isthmian League Division One South

Burgess Hill Town
1
Kingstonian
2
Traynor (2, 1 pen)

1
Luke Garrard
2
Jamie Beer
3
Nick Rundell
4
Adam Thompson
5
Max Hustwick
6
Simon Huckle
7
Liam Collins
8
Tommy Williams
9
Bobby Traynor
10
Carl Wilson-Denis
11
Dean Lodge
12
Neil Lampton
14
Jon Coke
15
Wayne Finnie
16
Craig Mullen
17
Luke Naughton
Simon Grier