Kingstonian 3-1 Burgess Hill Town
K'S PLAYING THREE-LY AT HOME
Inches denied Dean Lodge and Kingstonian a rampage against Sussex rivals Burgess Hill as Ks pressed home for a fourth goal.

Three goals up with one conceded minutes earlier he enigmatic Lodge chipped from his right foot 20 yards only to see the ball bounce back off the corner of the right upright. Three goals scored - this fourth would have been the cream.

First Simon Huckle headed in after Lodge cut the mid-field like butter just before the half hour. Then Bobby Traynor slotted home his third penalty out of eight goals this term. Minutes later Lodge scored from Traynor's cross as Carl Wilson-Denis fed the ball out right.

Then in injury time Lodge was denied, not by Craig Stoner who only joined in the summer from Sussex side Bognor Regis, but by the woodwork as stanchion met upright. His right-footed chip denied.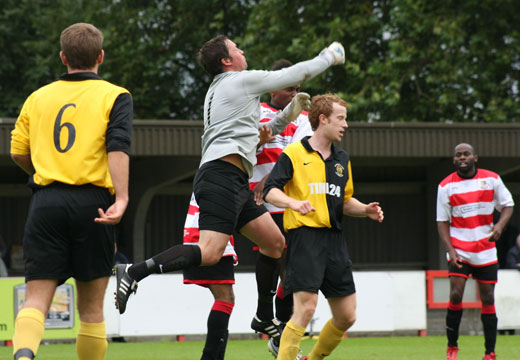 Photo: Chris Hatton - Kingstonian FC
Unbeaten in the new season, Ks began brightly with Wilson-Denis chipping over the top within 90 seconds and then Jamie Beer shooting to the left minutes later. Next Traynor won a corner.

Traynor saw his shot loop over followed quickly by Stoner's reflex save from Wilson Denis after Lodge crossed in. Continued pressure on the visitors' area saw the ball bounce off a defender after Traynor teed off his right foot low from Beer's cross in.

Finally on the quarter-hour the Hillians finally found themselves at the other end of the pitch and a stretched leg out by Ben Johnson found Luke Garrard's side netting. Minutes later he followed this up with a more dangerous quickly taken shot that went across goal. Then again Johnson was in the thick of the action as he beat Garrard from a cross by skipper Steve Harper in the 21st minute. Fortunately for the hosts the ball went wide.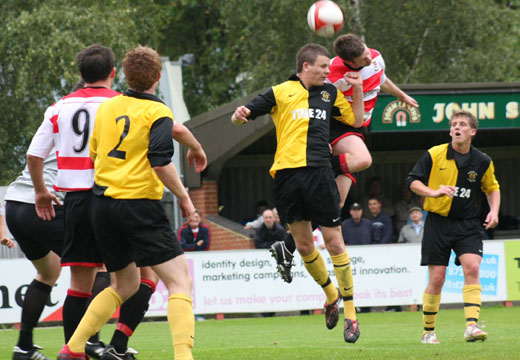 Photo: Chris Hatton - Kingstonian FC
Inevitably the ever-attacking Ks wrested control back and Lodge's header was tipped over by Stoner and then Huckle headed over from the corner. Wilson-Denis then shot over the bar after Lodge broke free of his own half from a Garrard save off Richard Greenfield.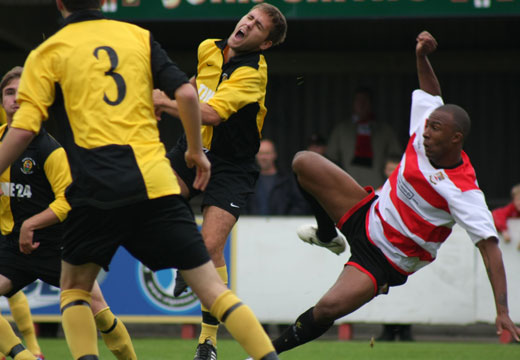 Photo: Chris Hatton - Kingstonian FC
Inevitably with chances at both ends something gave and once again a fiery Lodge broke free of markers in the midfield and Huckle was in the right place to head in and score.

And then it could have been two, two minutes later, when Wilson-Denis shot over from the edge of the D with Lodge screaming for a chance.

An immediate return to even scores was denied by goal-scorer Huckle, who then denied Harper. The half ended in the visitors' area with Traynor shooting over with a long speculative lob.

A quiet start to the restart was ended by Harper shooting across goal from Greenfield and then Lodge crossing straight to Stoner between the posts.

And then Traynor was back in action as he stepped up to the 12-yard spot with a a right-footed kick after Wilson-Denis was bought down.

A header over by Jamie Howell up front soon found Ks immediately on attack as Lodge picked up a low cross from Traynor on the right. Wilson-Denis was the instigator.

Jon Coke was then swapped with Jean-Serge Musungu but still the home side carried on pressing. Traynor and then Huckle missed. Lodge soon found himself alone against Stoner but was denied, only for Phil Williams to shoot wide. Williams had come on minutes before for Wilson-Denis. Traynor then head wide.

Still the winning side pressed their advantage with both Williams' (Phil and Tommy) going past the goal.

Photo: Chris Hatton - Kingstonian FC
With the end nigh for Burgess Hill Garrard spectacularly scooped out a shot, only for James Westlake to shoot the ball back in for a consolation.

But the game was not finished with Lodge chipping Stoner at the other end in injury time, only for the right angle of the stanchion and the cross bar to deny him.

The previous two seasons had seen Ks shoot seven goals past the same team at Kingsmeadow (and conceded four) and with Kingstonian's scoring record this season averaging three a game, this match promised a lot and Ks delivered.