Kingstonian 3-0 Chipstead
TRAYNOR HITS LANDMARKS
One of the concerns raised about K's promotion prospects was whether the attacking, verveful football of the start of the season, played on fine summer pitches, could be replicated once conditions became tougher. K's can therefore take particular encouragement from this result, as despite conditions that rendered playing attractive football difficult for players of any standard, they overcame Chipstead with three goals, two of which were of particular quality.

The first was a gift from the referee, however, in just the seventh minute. A Dean Lodge shot slammed into a defender's arm at point blank range. It was clearly ball-to-hand, but perhaps it's being top of the league that helps you get the rub of the green with these decisions. Bobby Traynor secured his fiftieth goal for the club from the penalty spot, finding the corner from twelve yards with typical accuracy.

K's got more luck from the referee, winning a free kick when it looked as if Carl Wilson-Denis had fouled Nathan Campbell. Adam Thompson went for power but fired wide, while a few minutes later Luke Garrard saved from Liam Shirley.

As the rain intensified, both sides found it hard to play attractive football, though Garrard did well to save after a goalmouth scramble. K's class would eventually tell though on 34 minutes, as Lodge beat two defenders and played Traynor in with a perfectly-weighted slide rule pass. The striker made no mistake in slotting past James Wastell with his left foot to double K's advantage.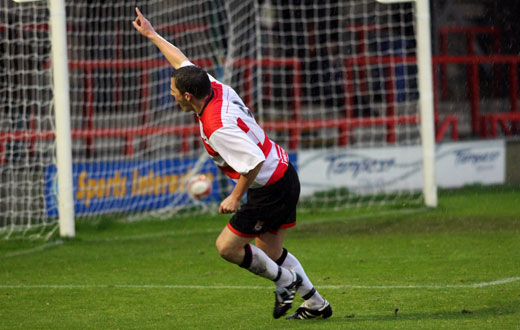 Photo: Chris Hatton - Kingstonian FC
The referee did less to endear himself to K's in first half injury time, declining to dismiss Andrew Wareing after a clear professional foul on Wilson-Denis. Wastell made two very good saves before the break, first saving well from Lodge when one-on-one and then parrying out a Traynor volley from the subsequent corner.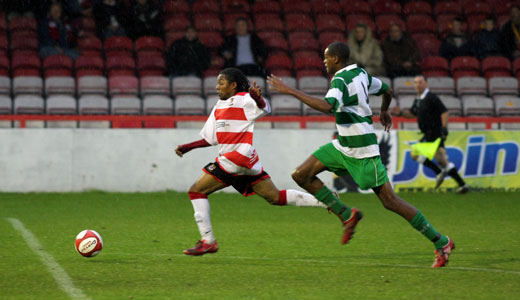 Photo: Chris Hatton - Kingstonian FC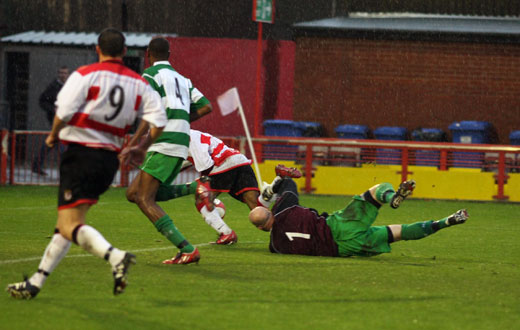 Photo: Chris Hatton - Kingstonian FC
The second half saw a lot of late tackles fly in and it was a minor miracle that no-one was carried off on a stretcher. Wastell saved well from Traynor and Wilson-Denis missed a good chance before K's made it three on 82 minutes. Lodge was again the provider, cutting inside and finding substitute Jon Neal. Neal finally managed his first goal for the club, beating Wastell with a superb turning shot.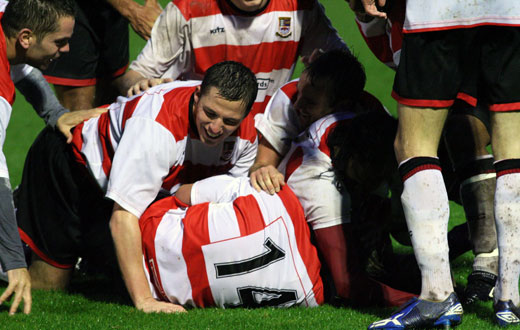 Photo: Chris Hatton - Kingstonian FC
Traynor was still searching for a birthday hat-trick, but was harshly denied a penalty late on and then curled narrowly wide in injury time after an NJ Lampton run.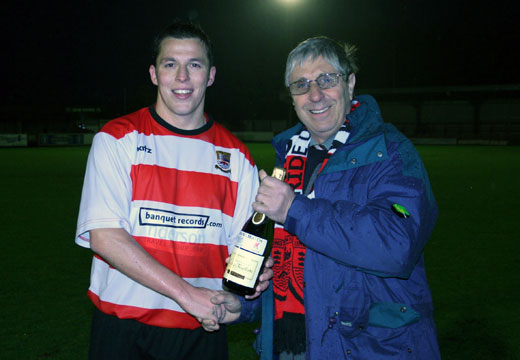 Photo: Chris Hatton - Kingstonian FC