Crowborough Athletic 1-3 Kingstonian
K'S TAKE THREE FROM THE CROWS NEST
Good performances don't necessarily means prizes; points do. Nonetheless, the manner of Kingstonian's victory at hapless Crowborough Athletic, sent down by their 3-1 defeat, will have done little to encourage K's fans that their team will pass the tougher tasks ahead.

The major talking point of the game was the K's penalty that changed it on 17 minutes. Dean Lodge's pace got him to the ball before Tom Boddy and the winger fell to the ground. Did he jump or was he pushed? Crowborough's fans were convinced it was a dive, a point of view that did not look particularly unreasonable from behind the goal.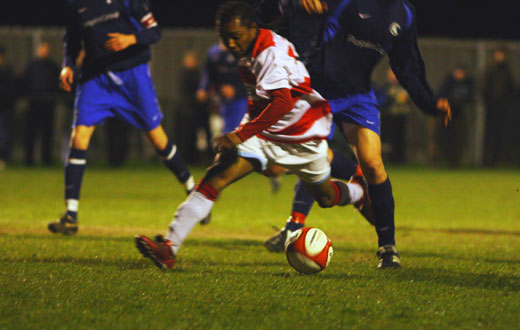 Photo: Chris Hatton - Kingstonian FC
The incident turned the game, as the hosts, a full half-season without a win, had looked the better side in the opening fifteen minutes. More attacking possession for the Crows did not yield clear-cut chances though; instead, they were limited to a series of long-range efforts which missed Luke Garrard's goal.

That was, at least, more than K's had managed before Lodge's controversial tumble. Bobby Traynor stepped up and converted the spot-kick, albeit uncharacteristically allowing the goalkeeper to get a fingertip on the ball, to give K's the lead.

Three minutes later K's doubled their lead when Simon Huckle capitalised on poor defending of a Tommy Williams corner to head home from close range.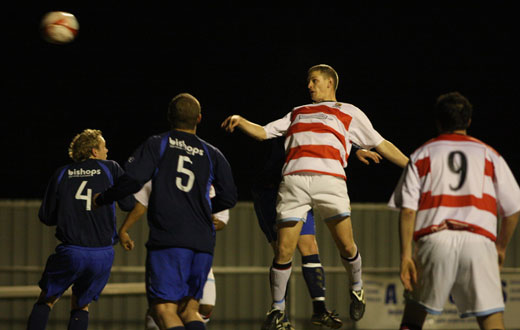 Photo: Chris Hatton - Kingstonian FC
Given the respective league positions of the teams, fans may have expected the floodgates to open. Instead, the closest K's would come before half-time was when Crowborough's Chris Smith put a Lodge cross narrowly over his own bar. Garrard had to make a superb double save to keep the lead at two as K's, perhaps resting on their laurels, struggled to find the impetus to push for further goals.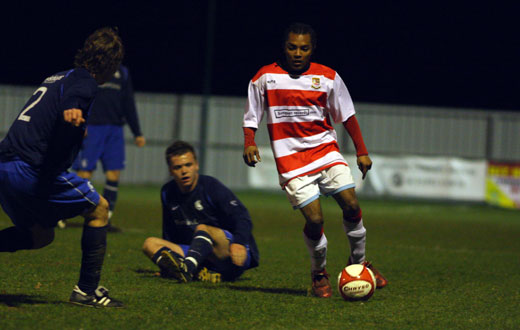 Photo: Chris Hatton - Kingstonian FC
Nine minutes after the interval, Crowborough were back in the game thanks to a goal that belied their woeful form. Tom Saunders picked the ball up around his own half-way line on the counter-attack, before running through a seemingly non-existent K's defence and slotting the ball past Garrard.

It made K's fans wary but the Crows did not look like repeating their lightning strike of quality. K's were the better team throughout the half, with Wilson-Denis forcing a good save from Gordon, Smith having to hack a Huckle effort to safety and Jamie Beer firing wide from distance. K's fans could finally breathe easily on 71 minutes when Wilson-Denis, despite the close attention of his marker, lashed home a close range volley with impressive confidence.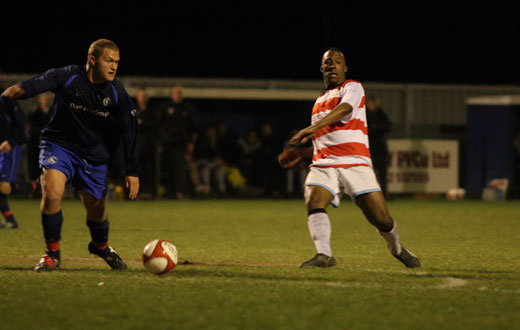 Photo: Chris Hatton - Kingstonian FC
Crowborough's spirit, and indeed their mathematical chance of remaining a Ryman league club, was broken but K's could not take their chances to boost the goal difference column. Gordon prevented a wonderful team move from resulting in a goal by saving from Beer after an exquisite Traynor back-heel; Max Hustwick headed a corner onto the post, Adam Thompson went narrowly wide from the follow-up cross and Lodge failed to hit the target with some injury-time acrobatics. Crowborough went down with good grace but in truth their young side looked out of their depth and K's certainly won't be relying on them to take points off Cray on the penultimate weekend of the season.