Croydon Athletic 3-3 Kingstonian
SPOT OF BOTHER
Free-scoring Kingstonian continued their goal-ward bound season with yet another triple haul - but facing another score-happy team away in this Bank Holiday derby, inevitably they drew.

Six goals for the away fans to watch after travelling deep into south London to Croydon Athletic, three penalties and chances galore, saw Dean Lodge and Bobby Traynor keep up pressure at the right end of the all-important league table.

A goal down, Lodge climbed high - well above a gaggle of defenders - from Tony Bedeau's cross in from the right and Lodge's head found the back of the net from 10 yards out back towards the left post on the quarter hour.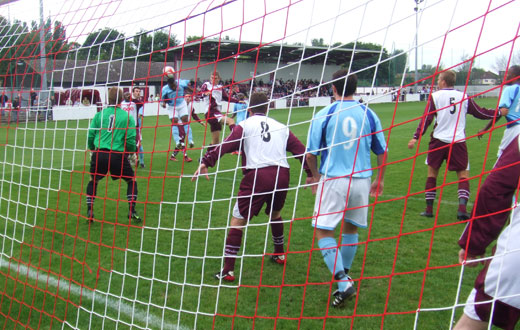 Photo: Kingstonian FC
Another goal down just before the half-hour saw Lodge bought down by Rams goalkeeper Jack Smelt in the area after a cross Carl Wilson-Dennis, collecting Traynor's up-pitch ball. Up stepped Traynor to shoot low to the left and into the goal, out-foxing Smelt.

A third goal down with a minute left in the game Lodge was once again denied by a save from substitute Bryan Glover - a defender and not the goalkeeper. Referee Peter Georgiou had no hesitation in awarding a penalty but only gave out a yellow card. Traynor stepped up to the spot and despatched the equaliser.

Still holding on to that player - the defence held on as Lodge ran up the left in injury time and crossed to late substitute Tommy Williams. His curling shot was then pushed over by the tips of Smelt's fingers.

As the game ended: so it began. A free-kick in only the second minute from Tommy Williams found Wilson-Denis. A shot across the posts found the far post before rebounding back out.

Then Luke Garrard bought down Sam Clayton according to the referee Georgiou in spite of the hands getting to the ball before the legs ran on. Omari Coleman then scored, sending him the wrong way in only the eighth minute. Two minutes a legitimate attempt at goal saw Garrard dive the right way from the ever-impressive Jeremiah Olusanya.

Five minutes later Lodge headed in an equaliser but once again Olusanya was denied - this time his head let him down. This woke up Ks as Traynor shot over by three metres. Still they had to defend as a free kick conceded by Jean-Serge Musungu 25 yards out. A strong wall was pushed back by referee Georgiou and skipper Danny Waldren found enough air space to clear it and beat Garrard, diving towards an unsighted ball.

Kingstonian, recovering, saw Bedeau head wide on the far post as a corner kick from Williams. As the pressure increased so the home side gave way. Conceding a penalty Lodge was bought down in the area from a cross by Wilson-Denis. How Athletic must have rued the corner conceded by Smelt. Smelt dived the wrong way from Traynor's spot kick.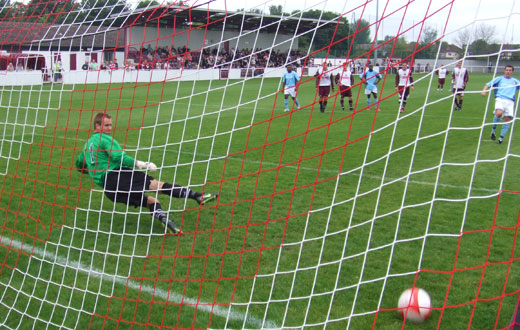 Photo: Kingstonian FC
The free flowing game continued and next it was Mark de Bolla that found the referee's card after a trip on Lodge on the half hour. The first half found both sides even, in spite of a speculative shot from Lodge in injury time.

Lodge continued this in the second half but shot wide. Minutes later Coleman headed beyond Garrard, after Clayton's cross. Bedeau nearly equalised within the minute but Smelt found the ball before the line. He then denied Traynor and Wilson-Denis within the next few minutes.

Lodge and then Max Hustwick's header from Williams' free kick. Referee Georgiou then decided that Bedeau was offside from Lodge's lob. The visitors carried on pressing.

A goal down - five goals between the two - boss Alan Dowson threw on Phil Williams and Jason Turley for Tommy Williams and Musungu, while the home side swapped Richard Blackwell for Glover. Between Olusanya headed wide to the left and then de Bolla shot to the right with Garrard equal to both.

Two minutes left Rundell was sacrificed for Jon Neal but it was Lodge that came in to rescue the match when his shot was stopped by the hand of a defender. Three all.

Another chance created by Lodge was denied with Tommy Williams' shot denied by the goalkeeper's fingertips.

Once again a controversial game at Athletics' ground - only this time Ks had three wins under the belt with nine goals under their belt so early in the season. Two points dropped or one won - the many that made it across towards Mitcham Common must decide. Still Kingstonian remain unbeaten.
Mon 25th Aug 2008
Mayfields
314
Isthmian League Division One South

Croydon Athletic
3
Kingstonian
3
Lodge, Traynor (2 pen)

1
Luke Garrard
2
Jamie Beer
3
Nick Rundell

14

4
Adam Thompson
5
Max Hustwick
6
Jean-Serge Musungu

12

7
Tony Bedeau

15

8
Tommy Williams
9
Bobby Traynor
10
Carl Wilson-Denis
11
Dean Lodge
12
Jason Turley

6

14
Jon Neal

3

15
Phil Williams

7

16
Wayne Finnie
17
Luke Naughton
Michael Underwood