Eastbourne Town 2-4 Kingstonian

In this week's Surrey Comet, Mark Hams seemed unconcerned that K's have often been starting games slowly, praising their remarkable fitness and goalscoring record in the last ten minutes of games. Whether such a pattern is sustainable over a season remains to be seen, especially if continued cup success leads to fixture congestion for K's, but it was in evidence at The Saffrons as K's plugged away to overcome bogey side Eastbourne Town with two late goals.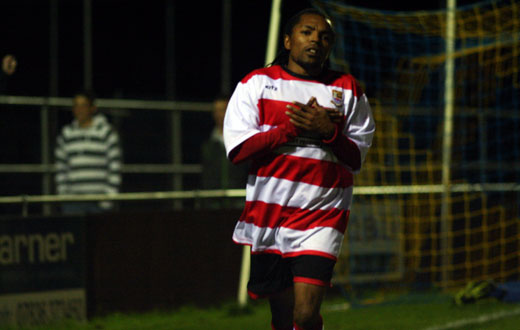 Photo: Chris Hatton - Kingstonian FC
Those who are concerned by K's slow starts were amazed by how they began this game though. Carl Wilson-Denis gave K's the lead in the very first minute but K's also showed one of the worst symptoms of their failures of the last two seasons; failing to hang on to a lead. Not once but twice, Eastbourne cancelled out K's leads, but it was testimony to the resilience of this year's side that their heads never dropped as past seasons' squads would have done, but instead plugged away to grab the lead for a third time. Alan Dowson might not have been happy with the performance - naming only Wilson-Denis and Jon Coke as having had a good game - but even he could not find fault with the character of the side.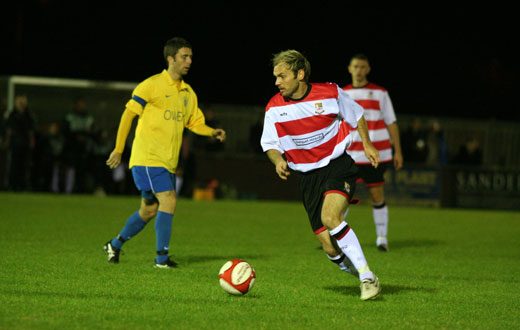 Photo: Chris Hatton - Kingstonian FC
In the post-Chapple era, K's fans have become conditioned to expect disappointment, yet this season it just refuses to arrive. K's made it twelve games unbeaten, the longest such streak since their promotion season, and have scored at least three goals in nine of those twelve. K's attacking prowess is starting to make them a team to fear, particularly at Kingsmeadow.

Going behind in the first minute was therefore the last thing Eastbourne needed. The fans were barely into position when Carl Wilson-Denis was played in behind the defence, neatly chested the ball down and impressively lobbed Russell Tanner with the outside of his boot.

K's had seemingly avoided the customary slow start but it proved a false dawn; although they had a lot of first-half possession, it was Eastbourne who dominated in terms of tangible chances. A twelfth minute header came close, Luke Garrard had to dash off his line to deny Gary Brockwell and Coke was forced to clear off the line following a set piece. The pressure paid off for Eastbourne in the 38th minute, when Garrard could only parry a fierce low shot and Danny Ellis turned the rebound in.

The star of Saturday's show, Dean Lodge, had barely been involved but in first-half injury time he would eventually contribute to K's recapturing the lead. Twice, Eastbourne had to resort to fouling him to curtail his runs, both times allowing Tommy Williams to curl free kicks into the box. The first was met with a glancing header onto the post from Adam Thompson but a minute later Max Hustwick got it right from an almost identical position.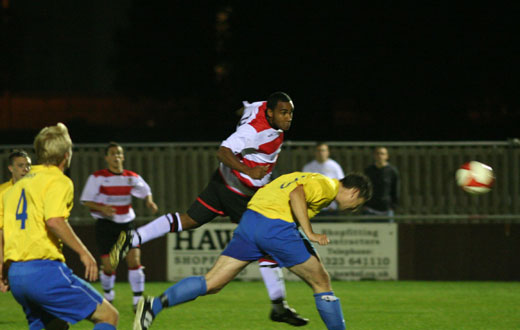 Photo: Chris Hatton - Kingstonian FC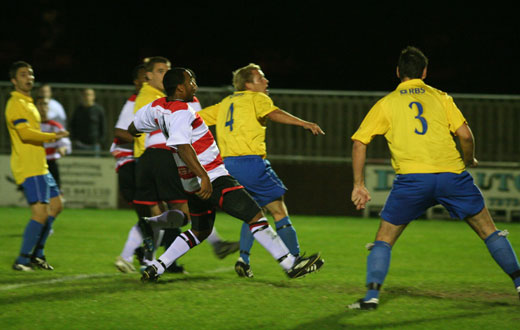 Photo: Chris Hatton - Kingstonian FC
Eastbourne were not willing to roll over though and equalised once more on 57 minutes, albeit in controversial fashion. K's substitute Julien Thompson was robbed by what was surely a foul, but Eastbourne broke with Jamie Salvidge teeing up Brockwell for an emphatic finish on the counter-attack.

K's teams of the past would have been unlikely to win from here and may well have lost. This side however remained calm, plugged away and were eventually rewarded. Lodge had two efforts saved and Eastbourne increasingly resorted to cynical fouls to restrain K's, before in the 87th minute the visitors eventually retook the lead.

A deep free kick from Coke was flicked on by Simon Huckle and Thompson blasted it home at the far post with such power that had he missed, it may well have landed in the English Channel. K's were ecstatic but Eastbourne still hadn't given up. K's resolutely defended some set pieces however, and in injury time Lodge broke through the exposed defence and rounded Tanner to make it 4-2 before launching himself into the crowd in celebration.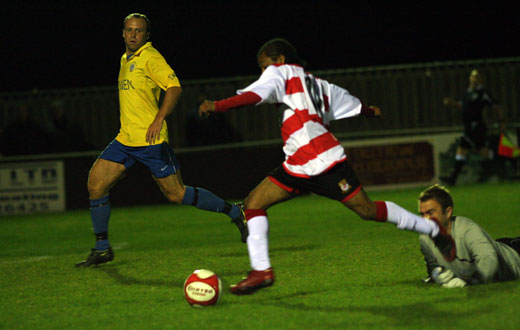 Photo: Chris Hatton - Kingstonian FC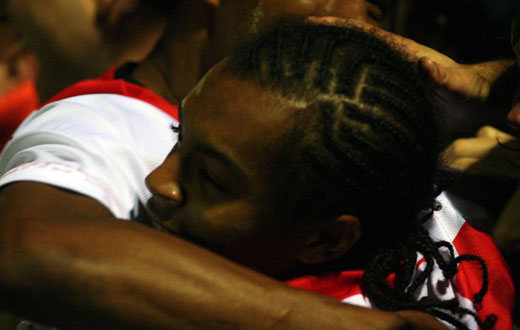 Photo: Chris Hatton - Kingstonian FC
It was an important win for K's, who don't play another league game for almost a fortnight thanks to cup commitments. It also saw them record a win over an opponent who proved a regular bogey side last year. The K's bandwagon rolls on and on.