Kingstonian 2-1 Fleet Town
SPIRITED COMEBACK FOR THE K'S FAITHFUL
Even as someone sitting at the very bottom of the journalistic totem pole, one is loathe to use the time-worn cliche that K's versus Fleet was a game of two halves.

Yet, how else to describe it? The unbridled optimism of K's following their 4-0 win over Sittingbourne seemed incredibly misplaced, as for 45 minutes they were played off the park by a rampant Fleet Town. The skill and creativity of Fleet unlocked K's time and again, while the home side could make no impression on the game at all against their opponents, who closed them denied them any time and space on the ball to remarkable effect.

In truth, K's were lucky to go into the break only one goal down but after the interval the game was turned on its head entirely. Perhaps Alan Dowson put something in the half-time oranges or perhaps he merely reminded them that K's had (at least) eleven good players on their books who were not in action. Whatever it was emphatically worked, as K's looked far improved in the second half and took all three points thanks to long range strikes from Bobby Traynor and Carl Wilson-Denis.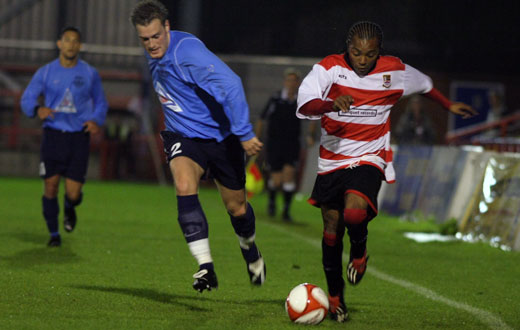 Photo: Chris Hatton - Kingstonian FC
The home side were just totally unable to get into the first half however. They could barely muster a shot on target against an imposing Fleet defence who marked tight. The creativity of neither side was helped by a referee who was ultra-fussy all night (presumably because an assessor was present) but it was Fleet who did manage to create some chances.

Damien Smith shot wide of the near post early on and then captain James Field came close twice, the second time with an impressive long range chip that would not quite dip under Garrard's bar. K's were behind on 24 minutes though, falling asleep as Eddie Smith beat Max Hustwick to a direct ball and placing the ball across Luke Garrard in the one-on-one situation.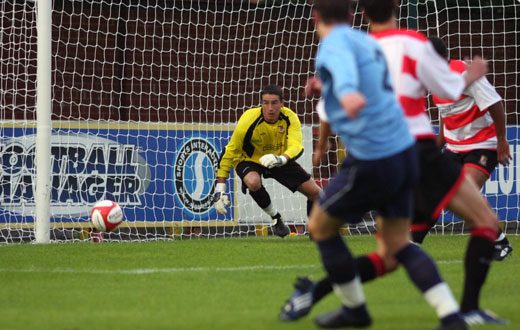 Photo: Chris Hatton - Kingstonian FC
K's seemed the more affected by the inclement weather and at no point seemed like finding an equaliser. Eventually their first clear-cut chance came on 40 minutes after an excellent run and chip from Dean Lodge but Tony Bedeau went for pure power with the finish and missed the target.

Fleet had been unable to take chances to double their advantage and after half-time ran into a rejuvenated K's. Wilson-Denis shot over just after the break but it was only on 49 minutes that the equaliser came. Wilson-Denis was again involved, having a shot blocked, but Traynor followed up with a shot that achieved impressive power considering how off-balance he was and powered Paul Smith into the top corner.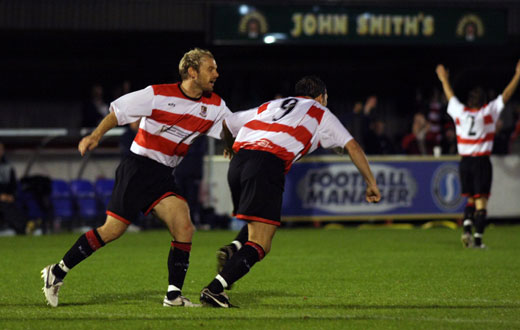 Photo: Chris Hatton - Kingstonian FC
Lodge and Tommy Williams fired good chances over for K's but Fleet were not about to roll over, with Field coming close again and then Garrard doing well to get down at the near post to save a stinging low drive. The winner came on 79 minutes though through a long-range effort from Wilson-Denis. It may have brushed Traynor on its way towards goal but Smith could not keep it out.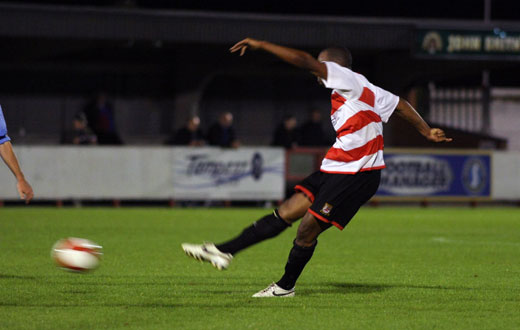 Photo: Chris Hatton - Kingstonian FC
There were moments of panic as K's had fifteen more minutes to defend but no clear-cut chance for Fleet, who on the pitch at least, were probably deserving of at least a point. Off the pitch, a great deal of acrimony would appear to still exist between the clubs - what really rubbed salt into the controversy of the game at Kingsmeadow The Beveree two years ago was Fleet walking away with all three points. Thankfully this year, they were not allowed to walk all over K's again.