Kingstonian 0-8 Fulham
8-ball
After the penalty heartache against local rivals AFCW Wimbledon, Kingstonian's friendly road show once again saw them against higher opposition as Fulham came to town and put on a premiership masterclass.

With six internationals amongst the team consisting of some first team players the top tier opponents came to win and 90 minutes and eight goals later they had.

It did not take long before Luke Garrard was picking the ball out of the back of the net. Clint Dempsey found Erik Nevland as the defence was left flat-footed and duly scored in the seventh minute. At that stage the visitors had already squandered two chances with Dempsey's low shot collected and then Hameur Bouazza shooting across goal. In the 11th minute Iranian international Andranik Teymourian then shot just wide with a 20-yard looping shot.

Just after the quarter hour Kingstonian began to fight back from being a goal down. Dean Lodge started one of his trademark runs up the before crossing in. Up popped NJ Lampton, only to see his header go over.

Again the Fulham defence found itself under pressure when Tony Bedeau nearly added to his goal tally already for Ks. Rounding the defence in the 22nd minute, he lost out to the diving Filipino shot-stopper Neil Etheridge 15 yards out to the left.

Minutes earlier Dempsey had a chance go awry but in the 26th minute Garrard forced him wide to the right after Wayne Brown's through shot. Garrard then took the ball off him.

Almost immediately Garrard launched a counter-attack and with Lampton out on the line a cross found Bedeau but he was then dispossessed. Within a minute Lodge came running up the left before shooting over the defence to the far post, only Etheridge denying the equaliser with his fingers.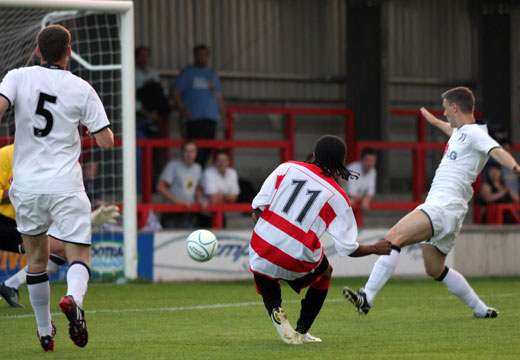 Photo: Chris Hatton - Kingstonian FC
Still the hosts, belying their non-league position against their loftier opponents, continued to search for the elusive goal. Lodge was dispossessed from a poor cross in. Then Adam Thompson, having won a corner, shot over the top from Lodge.

Bedeau's header down was then saved well by Etheridge in the 39th minute.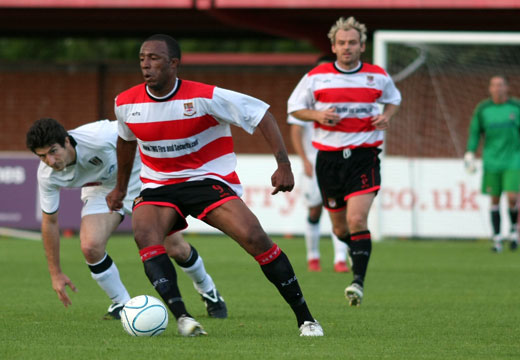 Photo: Chris Hatton - Kingstonian FC
Ominously Fulham began to re-exert their class and Boauzza first looped a shot over the top from Robert Wilson two minutes later and then with the clock ticking out the half he shot past Garrard after picking up a cross from Andranik.

Any ideas that Fulham would then play out the second half as a training exercise was thankfully disabused within two minutes of the re-start. Brown floated in a low shot from the right past Garrard to make it three.

Alan Dowson replied with a double substitution in the 50th minute. Bedeau and Jon Coke were replaced by Phil Williams and Jamie Beer respectively.

On the hour Nevland made it four as his second goal chipped Garrard from 15 yards out. For Garrard this the last action of the match he saw as Luke Naughton then came on and almost immediately was called into action as he faced Dempsey from the 12-yard spot after Andranik was bought down in the area.

More substitutions followed with Lewis Cumber and Lewis Smith coming on for Brown and Joe Anderson. Sol Patterson-Bohner also left the field of play for Jean-Serge Musungu.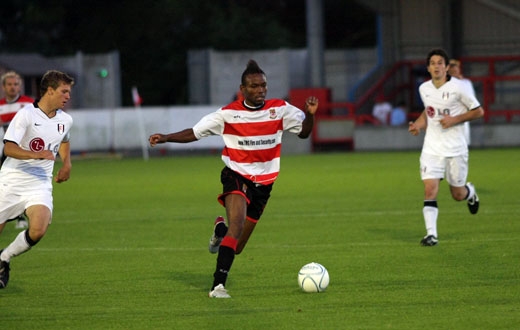 Photo: Chris Hatton - Kingstonian FC
Bouazza then scored in the 73rd minute when he picked up a cross from the left and from close range shot past Naughton. Four minutes later Smith, having come on earlier, made it seven with a low shot on the left through a crowded defence, leaving Naughton unsighted until the last moment.

With Kingstonian looking shell-shocked Lampton gave some hope when his header found Etheridge's hands a minute later. Max Hustwick followed this up with a whipped shot in from 35 yards but once again Etheridge was at the other end of the ball. Williams continued the revival with a great run up the left only to be denied by the 'keeper.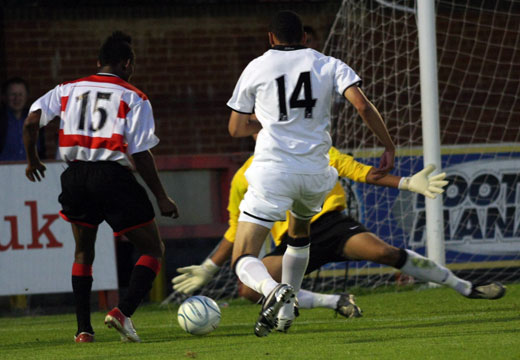 Photo: Chris Hatton - Kingstonian FC
Inevitably Fulham scored again, with Dempsey following up his penalty earlier with a second goal in the 82nd minute with low shot. Fulham finished the game with two more chances, Dempsey going wide when on for a hat-trick while Naughton denied Volz.

This was always going to be an unequal contest, even with Fulham bringing a group of reserves, albeit packed with international experience and the score line would seem to confirm this. But for Kingstonian to be only down by one goal with half-time approaching and having been denied from scoring twice would make the seven-goal fest in the last 46 minutes seem unfair on them. Never quite giving up, this was a useful workout for both sides and it is a shame that so few were there to witness it.