Kingstonian 1-1 Godalming Town
LODGE MOVES NORTH WHICH LEAVES K'S SHORT
The start of a brave new world at Kingstonian, trying to remain on top of the league having lost the services of Dean Lodge, began with a lacklustre draw against Godalming Town.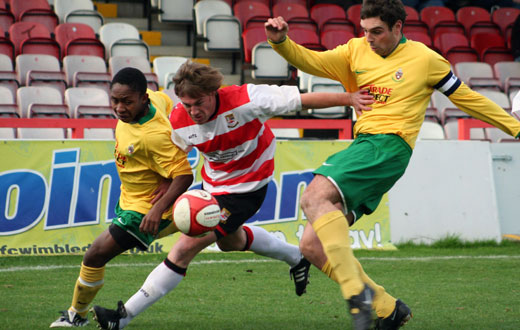 Photo: Chris Hatton - Kingstonian FC
Whether related to the loss of Lodge or not, the players seemed lacking in energy and creativity, while not for the first time this season Alan Dowson beat himself up about his choice of tactics after the game. Following a reorganisation, the second half would prove better than the first, though not before a sloppily conceded goal from a Richard Taylor long throw had put K's behind just after the break.

New signing Jamie Byatt had the impossible task of filling Lodge's shoes and he had K's first two chances of the game but Rodney Chiweshe saved the first while the second missed the target. Max Hustwick headed K's only other chance of the first half wide, while for the visitors Shaun Elliott produced a save from Luke Garrard and ex-K's man Brahim Eloumani, a constant menace throughout the game, twice came close.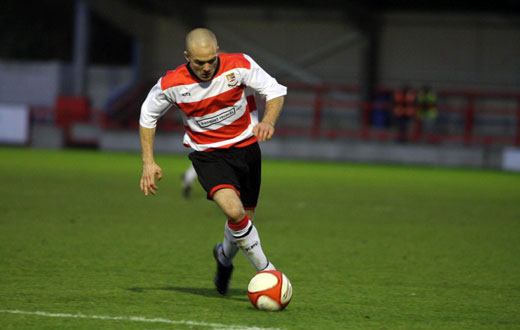 Photo: Chris Hatton - Kingstonian FC
As Taylor played for K's for three years, including the beginning of Dowson's reign before the genial Geordie jettisoned him, K's were aware of his long throw threat. Nonetheless, they failed to defend one in the 47th minute, continuing the frustrating recent habit of conceding just after the break, when the ball was flicked on to leave an unmarked Glen Stanley an easy finish.

The introduction of Carl Wilson-Denis helped K's gather some impetus as they pushed for an equaliser, which came on 64 minutes. Perhaps unsurprisingly considering the dearth of chances that were coming from open play it was courtesy of a set piece, though it was nonetheless one of the better goals that K's have scored this season.

Tommy Williams passed short to Bobby Traynor on the corner of the box, from where K's leading talisman floated his eighteenth of the season into the far corner. It was a sublime finish from a move that K's have unsuccessfully attempted on a few previous occasions this year, though Chiweshe was annoyed that Richard Brightwell had allowed it by abandoning his station on the far post.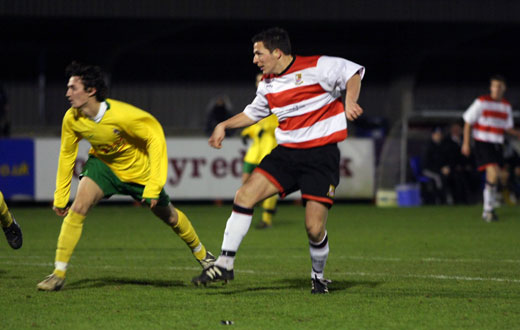 Photo: Chris Hatton - Kingstonian FC
K's pushed for a winner, with Chiweshe pushing away a hooked Williams volley and Liam Collins heading wide, before the introduction of Phil Williams threw the game wide open. First, he fell over the ball and allowed Godalming a fine chance that Garrard had to save superbly with an outstretched right leg. A minute later though, he plucked an exquisite move from a school playground in Rio de Janeiro, somehow ghosting between two defenders to force a save from Chiweshe. This perfectly encapsulated the enigma that is Phil Williams, though he has a long way to go before he is anywhere near being a replacement for Lodge or Mazin Ahmad.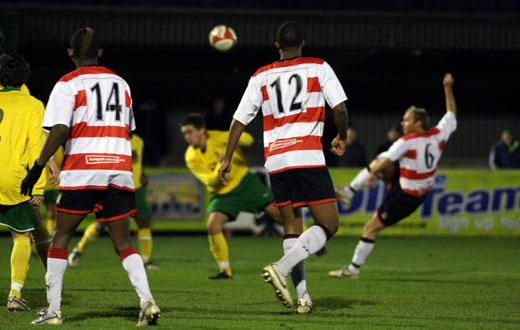 Photo: Chris Hatton - Kingstonian FC
Whereas at the start of the season K's were overrunning teams in the last ten minutes, perhaps their fitness advantage is starting to be eroded as the season progresses, because this was a game that fizzled out. Hustwick went down in the box in injury time but the referee waved play on and a draw was certainly not a result that K's could complain about.