Kingstonian 1-3 Hayes & Yeading
K'S HEADING OUT
Kingstonian's impressive fitness has seen them dominate the closing stages of league games this year but against Conference South high-flyers Hayes & Yeading, they themselves were over-run in the closing stages of a game that had been quite equal.

The game was always likely to be the hardest of K's cup run so far and indeed it proved to be a step too far, a brace of penalties seeing K's off at the end of a fractious second half.

K's had the better of the early proceedings, with Carl Wilson-Denis and Adam Thompson nearly bundling the ball home from goalmouth scrambles and visiting goalkeeper Delroy Preddie saving a header from the former.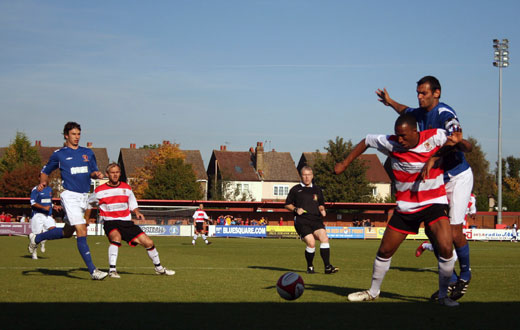 Photo: Chris Hatton - Kingstonian FC
The visitors began to provide more of the threat that K's were expecting mid-way through the half though, with Steven Gregory forcing Luke Garrard to tip over from 20 yards and Luke Scott getting inside Wayne Finnie to force Garrard to rush out bravely at his feet.

Lodge forced Preddie to tip over before Wilson-Denis missed a golden chance to put K's into the lead. Bobby Traynor flicked on a long ball and the big striker took it around Preddie, only to skew the ball over the top on his left foot.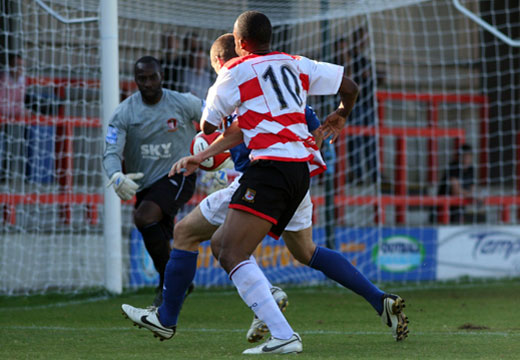 Photo: Chris Hatton - Kingstonian FC
Just as against Whitstable the previous week though, K's fell behind shortly after the break. Nevin Saroya stole into a gap to wrong-foot the K's defence by heading the ball into the path of Will Hendry, who went for pure power in blasting a volley past Garrard.

K's would be on level terms before the hour mark though. Dean Lodge beat Neil Martin for pace and the referee adjudged that Martin brought him down in the box before he could cross. Traynor pushed his luck with his remarkable record from the penalty spot in his K's career, but his risky effort - powerfully, right in the top corner - came off and gave Preddie absolutely no chance.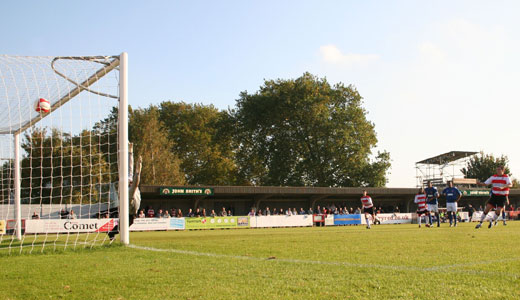 Photo: Chris Hatton - Kingstonian FC
Tempers began to become frayed, with a number of yellow cards dished out and manager Garry Haylock sent from the touchline following an altercation with Lodge. Josh Scott should have restored the visitors' advantage but blazed a good chance over and then Thompson fired wide at the far post following a Jamie Beer free kick.

Preddie saved neatly from Tommy Williams before Hayes' fitness and concentration saw them win in the last ten minutes. James Mulley sprinted into the box past NJ Lampton, only to be brought down by the K's midfielder. Scott sent Garrard the wrong way, leaving K's facing an uphill battle.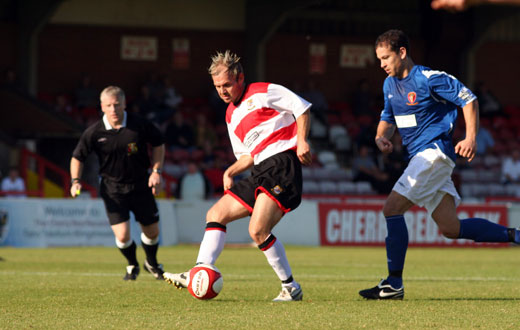 Photo: Chris Hatton - Kingstonian FC
Lodge forced Preddie into a smart save but things soon got worse for the hosts. Somehow, the referee declined to award a penalty after Garrard tripped Esmond James, but shortly afterwards he did point to the spot after Mulley took a tumble going round Wayne Finnie. That one had not looked like a penalty, but with the two incidents things evened themselves out and Hendry converted from twelve yards to put Hayes & Yeading in the next round.

Dowson was proud of his players afterwards, but just as against Whitstable, defensive lapses proved costly. Eight goals conceded in three games is, as the manager conceded, a major worry. Glory in one of the major cups might have eluded K's this year, but they are still more than capable of winning promotion.