Hillingdon Borough 0-3 Kingstonian

A freezing cold December night in Ruislip might not have seemed like a night to be breaking records but this game did just that - the record for the lowest crowd ever at any Kingstonian first team game, just 71.

Those souls who braved a journey into the middle of nowhere, sub zero temperatures and the recession to see K's in yet another cup competition were in fact treated to a fine display, however. Arsene Wenger's fringe team might have been unable to win three games on the bounce but K's did manage to, despatching a desperately poor Hillingdon Borough side 3-0.

The first half gave the spectators the unique experience of watching paint dry while suffering from frostbite. Barely anything of note happened, with K's scrambling a couple of Hillingdon attacks away and Jon Neal and Craig Mullen both missing the target, until stoppage time. Rob Sheridan's attempt to score with a back-heel saw it blocked for a corner but after the set piece was played short, Wayne Finnie appeared at the far post to head K's one up. The goal, which came right on the stroke of half time, finally put the centre-half onto a net goal tally of +1 in a K's shirt.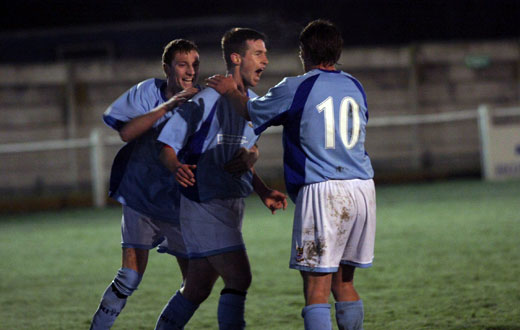 Photo: Chris Hatton - Kingstonian FC
K's were more dominant in the second half and eventually ran out three-nil winners. Ben Harris saved from Jon Neal but Jason Turley scrambled the ball to Jamie Byatt, who skewed his close-range effort wide. K's ratcheted up the pressure, with Max Hustwick inadvertently blocking an effort from a corner and then Harris saving impressively from Sheridan's follow-up.

On the hour mark, Craig Mullen produced a double save from the home goalkeeper before he increased K's lead a minute later. The rookie striker ran onto an excellent through-ball from substitute Tom Dilloway, also a K's Youth product, before dinking the ball over Harris with the outside of his boot. It was the sort of sure-footed finishing that the first team have been crying out for in recent weeks.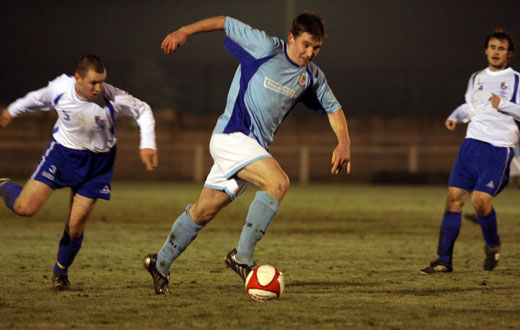 Photo: Chris Hatton - Kingstonian FC
Luke Naughton was called into a action to deal with some Hillingdon long-shots but the hosts, bottom of their league, looked outclassed and never truly threatened. Mullen might have had a second, also assisted by Dilloway, but failed to give Byatt a shout and the winger headed wide when he should have left it.

Debutant James Moran fired a great chance wide, but on 83 minutes K's put the tie beyond all reasonable doubt by adding a third. Hillingdon, mistakenly thinking they had heard a whistle, stopped playing which allowed Jon Neal to break free of goal with far more time than was necessary. He took the ball round Harris only to be felled in the process, leading to the dismissal of the unfortunate goalkeeper. Neal himself was eager to take the penalty and duly beat an outfielder, substituting in goal, to record his second of the season.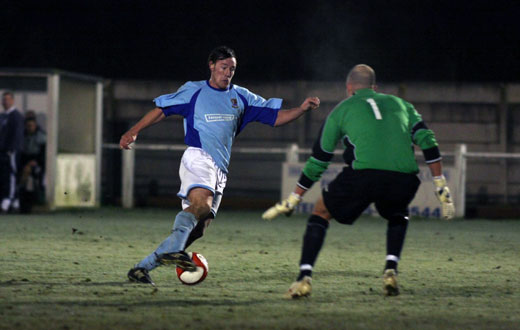 Photo: Chris Hatton - Kingstonian FC
K's were totally dominant and whichever opponent they draw in the next round is likely to be tougher than Hillingdon. In the meantime, the fringe players are putting more pressure on the faltering starters for a place in Dowson's strongest eleven.
Tue 2nd Dec 2008
71
Isthmian League Cup 2nd round

Hillingdon Borough
0
Kingstonian
3
Finnie, Mullen, Neal (pen)

1
Luke Naughton
2
Jamie Beer
3
Nick Rundell

12

4
Rob Sheridan
5
Max Hustwick
6
Wayne Finnie

15

7
Liam Collins

14

8
Jason Turley
9
Craig Mullen
10
Jon Neal
11
Jamie Byatt
12
Dumer Rivera

3

14
James Moran

7

15
Tom Dilloway

6

17
Luke Garrard
Simon Grier