Kingstonian 4-1 Leatherhead
PUSHING FOUR-WARDS
The more the season progresses, the more Kingstonian seem to become chock full of confidence. In brushing aside Leatherhead, K's did not even endure their customary lethargic start, taking the lead in just the fourth minute through Phil Williams. The confidence bordered on naivety at times in the first half, with Luke Garrard forced into a number of fine saves, but K's were rampant in the second as they recorded yet another highly resounding victory.

After the tough grind of the 1-0 win at Walton Casuals, K's were back to a far more open style of play. Chances were never scarce; even if they left themselves woefully exposed at times, and when Dean Lodge came off the bench the floodgates truly looked as if they could open. K's could have won by considerably more than 4-1, though equally, if not for the heroics of skipper Garrard, they might not have won at all.

Alan Dowson must be tiring of his men waiting for a half-time dressing down before hitting form. It would have come as a great relief then, that they took such an early lead in this encounter. Simon Huckle threaded the ball through the Tanners defence, where Phil Williams, never short of flair, lobbed visiting goalkeeper Neil Etheridge before tapping into the empty net. Quite the exquisite opening.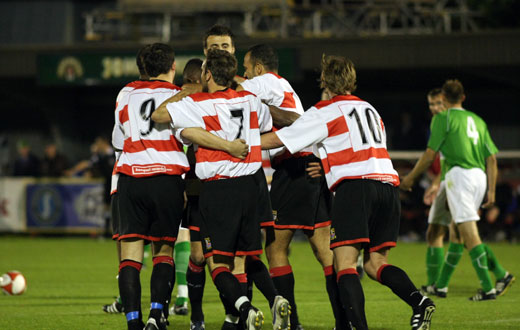 Photo: Chris Hatton - Kingstonian FC
The on-loan Etheridge made quite an impression on his last visit to Kingsmeadow, keeping K's at bay in a pre-season friendly for a Fulham XI. The Filipino international enjoyed this performance far less however, being tested time again behind a struggling defence.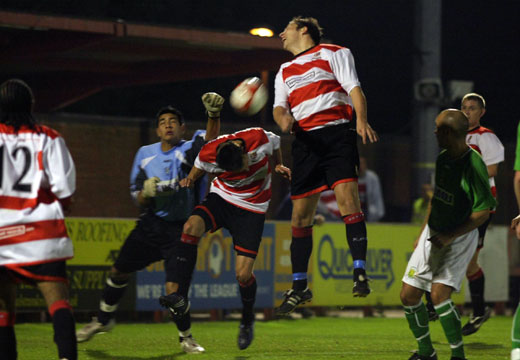 Photo: Chris Hatton - Kingstonian FC
Leatherhead played some good football in the first half however and K's allowed them far too many free shots. Will Jenkins came close with a header from a free kick and then had an even better chance, firing a close range shot too close to Garrard who saved with his legs. It was definitely a let-off for K's.

On 16 minutes K's had the ball in the net, when Etheridge took a quick goal kick into Jamie Beer's back and it bounced straight in. Had it been a free kick then the goal may well have stood - however a goal kick has to leave the penalty area to be deemed valid and it was thus ruled out. A minute later K's were denied a penalty when Ryan Palmer bravely made the faintest of contacts with the ball to deny Bobby Traynor a one-on-one chance.

Billy Marshall, who eventually was substituted in less than a good mood, forced Garrard into a tough save at the near post and Stewart Holmes tested him from distance. K's dominated the last ten minutes of the half but their best chance was thwarted by Ryan Gray - who left K's just last week after Dowson deemed him surplus to matchday requirements. Gray swept up to deny a lurking Huckle a tap-in after Jon Neal tackled Etheridge, while Traynor fired one effort wide and had another saved. Leatherhead might have punished K's on the stroke of half-time but Jon Coke cleared a header off the line.

Coke was involved again just four minutes after the break, crossing superbly for Huckle to head home the second at the far post. The game was all about K's from that point on, as they grew in confidence and caused more and more problems for the Tanners, especially after Lodge's introduction. Holmes accidentally handballed in blocking a cross for a corner after one Lodge run and the winger's pace caused plenty of problems. Jamie Beer was getting in on the act as well, bursting forward and teeing up Tommy Williams for a saved twenty-yard effort.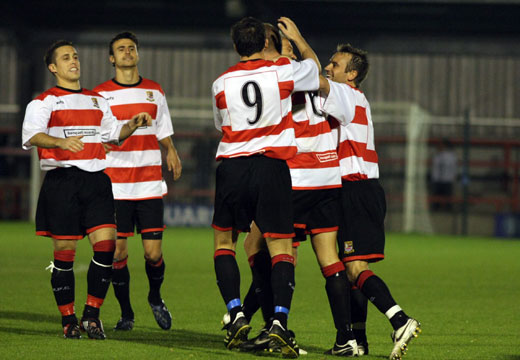 Photo: Chris Hatton - Kingstonian FC
Holmes and Tommy Hutchins missed the target for Leatherhead and Traynor forced Etheridge to save before Lodge made sure of the result on 86 minutes. Gray cleared a Huckle header off the line from a Tommy Williams corner but Lodge picked up the rebound and slotted it through the gaggle of bodies in the box with remarkable calmness.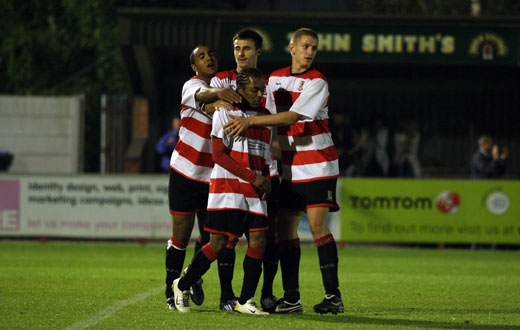 Photo: Chris Hatton - Kingstonian FC
Aaron Cole-Bolt was lucky not to pick up his second yellow card for a lunge at Lodge and from the resulting free kick K's came close again. Lodge got in behind the defence down the left and teed up Neal, who lifted the ball over Etheridge. Neal deserved a goal as reward for his hard work all game but Gray was there to once more clear off the line. The fourth would eventually come though, after Traynor teed up a Beer cross for Tommy Williams to volley home from the edge of the box. Williams might have started the season slowly but he has hit emphatic form in the last few weeks and richly deserved his goal after a performance in which he was dominant all over the pitch.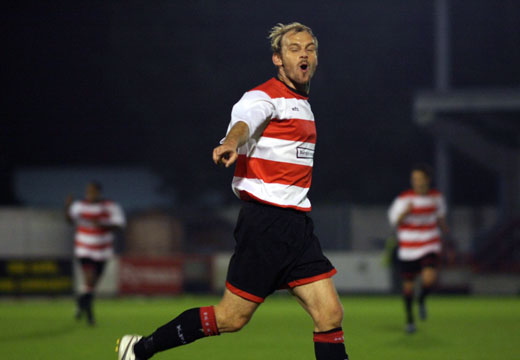 Photo: Chris Hatton - Kingstonian FC
For Leatherhead, Gray had also had a strong performance, being the best performer in a struggling defence and denying K's goals on a number of occasions. He may have felt he had a point to prove to Dowson, and he had proven it with a fine display even before he curled a sumptuous free kick past Garrard to grab the visitors a consolation in the dying seconds.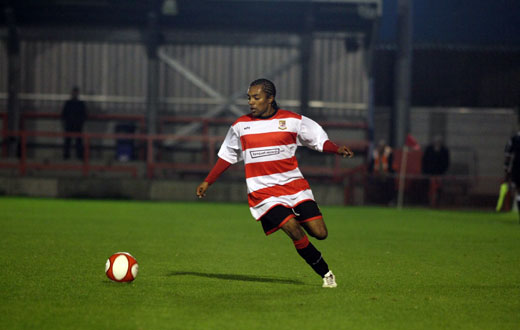 Photo: Chris Hatton - Kingstonian FC
On tonight's performance though, Dowson must be more than satisfied with the players he has. Leatherhead join the growing list of teams who K's have blown out of the water so far this season while the trips to the two Waltons have shown they are more than capable of scrapping too. The form may or may not last all season but K's fans are certainly enjoying it while it lasts.