Kingstonian 6-0 Leyton
K'S STRIKE LEYT-ON FOR SIX
With the warm-up event of a live televised FA Cup game out of the way, Kingsmeadow braced itself for the contest they had all been waiting for, the visit of Leyton in the London Senior Cup.

The last time K's won a game by six goals was eight years ago in the famous FA Trophy semi-final against Sutton. This game will live far shorter in the memory, not least because only 103 people, equalling the lowest crowd at Kingsmeadow, witnessed it.

Kingstonian chose to re-enter the London Senior Cup last year only to get some experience for their reserve team. Alan Dowson picked the team firmly from the fringes of his squad but to their immense credit, they performed fantastically, routing an abysmal visiting side to stake their claims to a first team slot.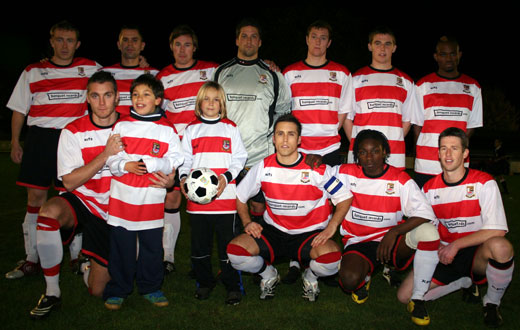 Photo: Chris Hatton - Kingstonian FC
Last time Leyton visited Kingsmeadow the game was memorable for James Rose elbowing one of their players in the face. Today however, Leyton did nothing to cause any K's player such frustration as the home side brushed them aside with consummate ease. The match was essentially a pre-season friendly without good weather or an interesting opponent - this is a competition so devoid of credibility that even Ford United have won it three times.

It is not the players' fault that the competition is what it is though. Given the chance they'd be playing on a bigger stage and could not have done any more to convince Dowson to give them that opportunity. Right from the start they outclassed the hapless East Londoners, with an NJ Lampton free kick from deep in his own half setting Paul Harkness free to beat Sam Tanner and give K's a sixth minute lead.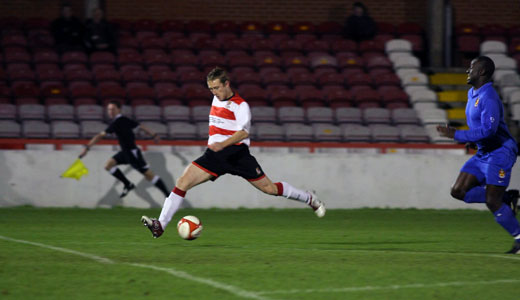 Photo: Chris Hatton - Kingstonian FC
Rob Sheridan was next to score his first for the club, volleying home a Lampton corner that Leyton defended embarrassingly poorly. Craig Mullen was next in on the act, finishing off the best move of the game by slotting a Ross Chalke cross through Tanner's legs on 45 minutes.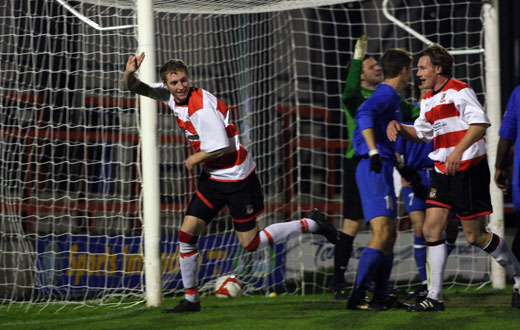 Photo: Chris Hatton - Kingstonian FC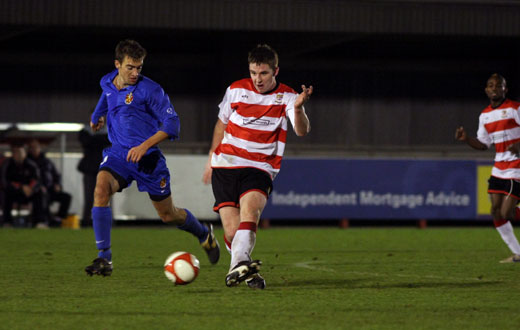 Photo: Chris Hatton - Kingstonian FC
Harkness headed onto the bar in the 70th minute and as Leyton tired late on, K's turned their misery into humiliation. Wayne Finnie, one of the few home players who features at least semi-regularly in the first team, bundled a Phil Williams free kick in at the far post to put K's four to the good.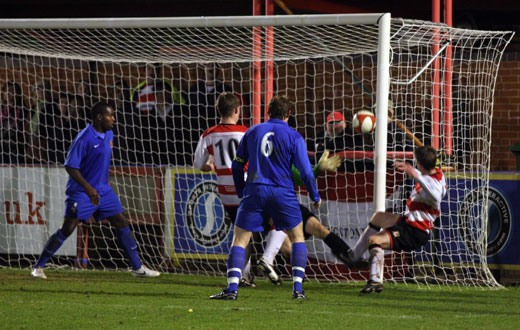 Photo: Chris Hatton - Kingstonian FC
Substitute full back Tom Dilloway showed how powerful his left foot is, blasting an unstoppable free kick in off the underside of the crossbar before Harkness teed Williams up to put a sixth on the board in injury time.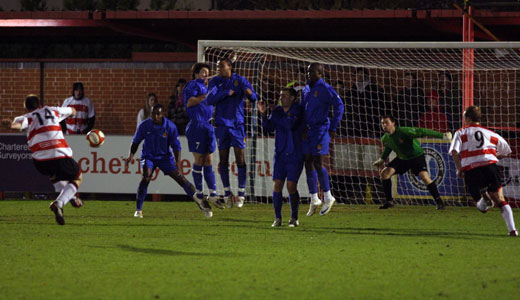 Photo: Chris Hatton - Kingstonian FC
In lieu of a reserve team, such games are the only chance K's get to truly experiment with youth, though quite how useful such a one-sided contest is is open to debate. Someone has to win the London Senior Cup and it may as well be K's, but it should firmly remain what it was tonight, a vehicle for those on the outside of the league XI to force their way in and absolutely nothing more.