Kingstonian 1-1 Metropolitan Police
MET WITH STUBBORN RESISTANCE
The exertions of Saturday's FA Cup drama might have taken their toll on K's, as lacking the verve they have become accustomed to displaying this season, a jaded home side battled for a very tough point.

Ironically, with Met Police FC now being so full of non-league journeymen, there were probably more Metropolitan Police officers at Kingsmeadow on Saturday - for the Garry Haylock debacle - than there were for the visit of the team that supposedly represents Ian Blair's Boris Johnson's finest.

Indeed it was one such journeyman, former Walton Casuals and AFC Wimbledon man Craig Carley, who wiped out K's lead with a second half header. Met Police had many chances throughout the game though and K's goalkeeper Luke Garrard deserved his man of the match award for keeping all bar one at bay. Alan Dowson was so disappointed by K's play that he confessed he was glad when the full-time whistle went and K's had secured a single point.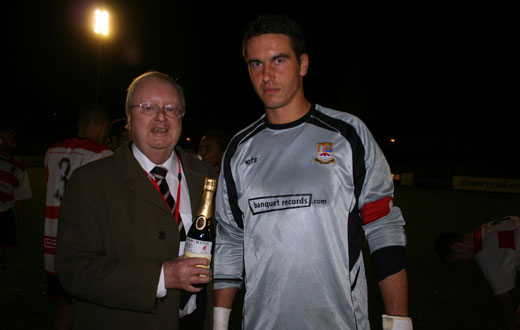 Photo: Chris Hatton - Kingstonian FC
After a quiet opening though, K's had taken a nineteenth minute lead, not exactly in keeping with the run of play. A Tommy Williams free kick crashed into the wall but Dean Lodge floated a sublime chip over the defence and Williams stole in behind Stuart Harte and side-footed deftly past Mo Maan. It was an excellent piece of football but the visitors would dominate the rest of the first half thereafter.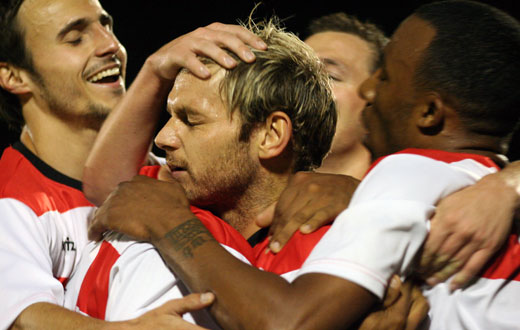 Photo: Chris Hatton - Kingstonian FC
Rob George fired narrowly wide for the Blues (in fact wearing a dayglo yellow number more suited to directing traffic) and Steve Goddard, one of a number of former K's players, headed over Garrard's bar. Max Hustwick cleared an effort off the line, Garrard saved from Goddard and the only time K's would come close before half time was when Carl Wilson-Denis lobbed over Met Police's crossbar.

As seemingly happens against every K's opponent these days, Lodge was the victim of a number of late challenges throughout the game. The worst came on 40 minutes, with Tommy Moorhouse being the somewhat predictable culprit. Moorhouse was lucky to only be booked for a two-footed effort which did little to endear him to his former club's fans, though the boos did little to effect his performance.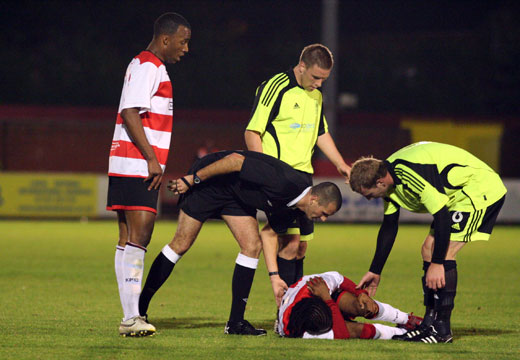 Photo: Chris Hatton - Kingstonian FC
The second half continued much as the first had left off, with Met Police well in control of the game. They had two excellent chances after errors by the K's centre-halves; first Goddard extraordinarily fired wide from a great position after Adam Thompson's weak back-header and then Garrard had to make a tremendous save at full stretch after some dithering on the ball by Hustwick.

Lodge forced a save (which the referee failed to acknowledge by denying K's a corner) after latching onto a long ball but on 69 minutes Met Police unsurprisingly equalised. Rob George's cross was met by the substitute Carley who, unmarked, headed past Garrard from close range. It was little surprise and certainly no less than Met Police deserved for the pressure they had put on the league leaders throughout the match.

Both sides had chances to win the game; the best for K's saw Williams blast over the top after Jamie Beer and Lodge had combined to tee him up, while Garrard did very well to deny Carley a winning goal for the visitors.

Photo: Chris Hatton - Kingstonian FC
Dowson admitted after the game he was happy with a draw based on the performance and it is hard to argue with his assessment that Met Police were more deserving of the win. K's are now definitely into a form slowdown and a victory against Corinthian-Casuals, complete with football's most important hyphen, on Saturday will be essential to make sure that Dowson's boom isn't followed by a bust.