Shoreham 1-3 Kingstonian
K'S SHORE UP THEIR CUP FORM
Kingstonian's road to Wembley continues after a 15-minute goal-fest from a goal down.

After last year's cup forays ended in first-game loss and a technicality, boss Alan Dowson threw on a strong side against Sussex League minnows Shoreham Town and then saw his choice players dominate.

A goal from the hosts' Kevin Keehan in the 26th minute from a free kick off Rob Boddy was finally cancelled out by sub Phil Williams in the 77th minute.

Bobby Traynor then added a second three minutes later for the senior side with a left footed low shot from Williams' free-kick.

Then in injury time Carl Wilson-Dennis latched onto Williams cross as he ambled out along the left wing. A third goal was scant reward for the dominance that the visitors had throughout most of the match - only poor shots from inside the last third letting the Surrey team down.

With Kingstonian expected to win, unsurprisingly they came out from the start dominant. Williams went wide early then Dean Lodge forced a corner in only the 12th minute before Jean-Serge Msungu was just too low for a header from Nick Rundell's chip. Jason Turley only added to the pressure with another header wide as Kingstonian seemed intent on finishing the game early.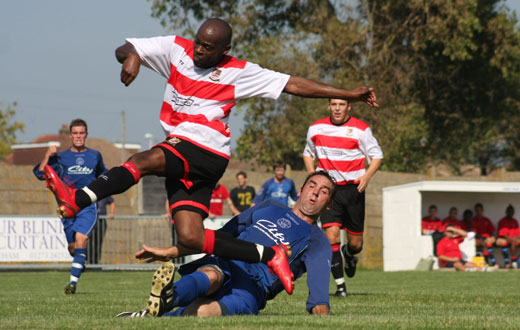 Photo: Chris Hatton - Kingstonian FC
Finally Shoreham took to the land with Keehan heading wide before Max Hustwick chipping beach-wards and finding Michael Hunt in goal. But then Kingstonian found themselves at sea as Luke Garrard was beaten by Keehan from a free kick on the right by Boddy.

Neil Kane could have easily beached K's hopes but was denied within minutes of the restart by Garrard. Counter-attacking Lodge was stopped and then Hunt denied Msungu. Turley and Lodge then closed out the first half by shooting wide as the majority of the 281 crowd - that had travelled to the coast - finally began to smile under the baking cloudless sky.

Again Shoreham pressed, starting the second half with the same confidence that their opponents had 45 minutes earlier. Garrard was forced into an early save from Kane's header off Boddy's touchline free-kick.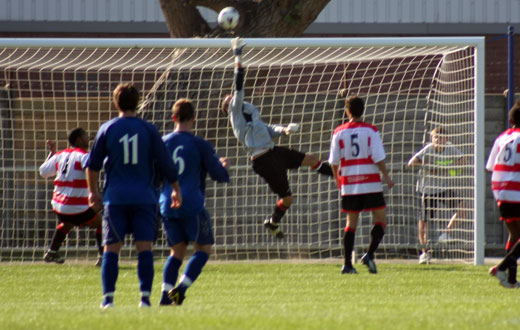 Photo: Chris Hatton - Kingstonian FC
Soon after Msungu was sacrificed for Phil Williams by the bench.And then normal traffic began. Traynor went wide before Williams' free-kick went straight to Boddy before being cleared out. Minutes later it was the turn of the home side as a long shot by Mark Burt went wide.

Williams went close twice in reply with his 68th minute shot rattling the crossbar. Huckle then picked up a card and from the free kick Garrard was forced into a top shelf save for Burt and the resulting corner saw Grant Phillpott and then another also go wide.

Kane then picked up another save off a busy Garrard when a poor clearance put back pressure on the defence. And with the match looking to be heading for another cup exit Lodge wrested control with a run and then passed back to Phil Williams who shot low passed Hunt in the 77th minute.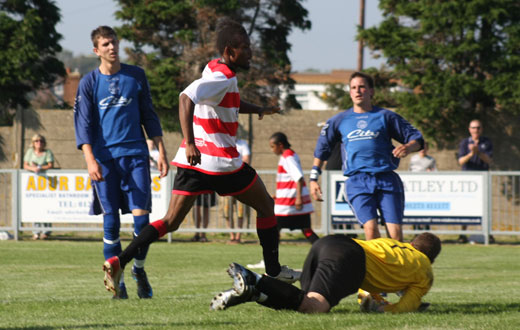 Photo: Chris Hatton - Kingstonian FC
Two minutes later Lodge was at it again only this time his 30-yard shot went wide. Then Wilson-Denis was bought down on the edge of the box central to the goal. Traynor stepped up for the free kick and shot low and across the goal into the back of the net and Kingstonian had managed to take a lead that had looked unlikely less than 10 minutes before.

With the sea breeze in their faces but flying high the visitors continued to press for another goal. Wilson-Denis' 25-yard low shot went wide in the 83rd minute. Minutes later Lodge was denied by a point-blank save from Hunt before Wilson-Denis picked up the rebounding ball and then shot just wide. Rundell then headed over from Tommy Williams' pass.

And in injury Wilson-Denis finally got his goal when Phil Williams dribbled the ball out of defence along the right and continued to run before crossing in for Wilson-Denis.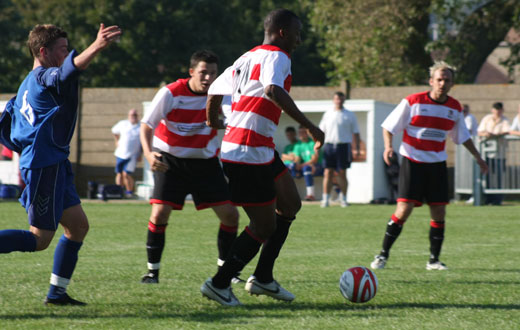 Photo: Chris Hatton - Kingstonian FC
The last four years Ks have begun their Road to Wembley on the road to Sussex more often than not literally, with the match against Pagham two seasons ago being the exception as the Sussex side were visitors. Last season's first round to Eastbourne Town was the only loss and for periods of this game this looked likely to be repeated but once Ks regained control so the superiority showed. The game could have been sewn up in the first half and other teams would have made Ks pay - Garrard being kept busy at times.

The next step in the Cup is at home to Ashford Town and in the same last four years Ks have lost to teams from Kent at this stage. A fortnight from now Ks have the chance to break this run and progress.