Kingstonian 1-2 Sittingbourne
BOURNE OUT OF FRUSTRATION
The league leaders losing at home to the side tenth in the league should, on paper at least, be a shock result. Yet somehow this result was not a particular shock; Kingstonian might be top of the league but their home form has been so poor that nobody could have been truly surprised when Sittingbourne, with the league's best away record, came away from Kingsmeadow with all three points.

Kingstonian looked toothless through most of the game with only one recognised striker in the sixteen. Simon Huckle looked uncomfortable as a makeshift forward while his replacement by Adam Thompson, after the Brickies had gone 2-1 up, seemed downright desperate. This would not have mattered though had K's defended better after a superb opportunistic strike by Bobby Traynor had given them the lead. As it was, two impressive, but certainly preventable, strikes from Tom Bradbrook ensured that the Kent side would turn over their faltering hosts.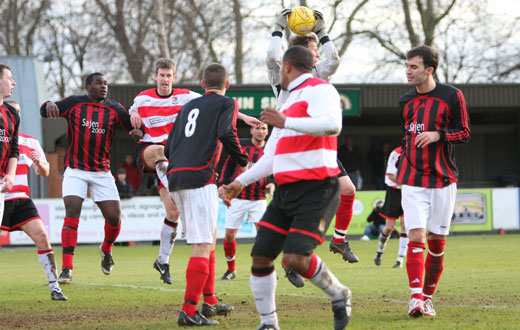 Photo: Chris Hatton - Kingstonian FC
As has often been the case this season at Kingsmeadow, the first half produced little to report. Hicham Achazzam produced a good save from Luke Garrard and Joe Horlock blazed over when in a good position while K's failed to muster a significant shot on target in the first 45 minutes. They were however, the victim of the referee, who extraordinarily failed to award a penalty kick after Ian Varley handled while lying on the ground, seemingly blocking a Bobby Traynor effort.

The break was followed by K's only good period of the game, culminating in a goal for Traynor, despite a scare when Garrard made a mess of a backpass and just about scrambled to save his own bacon. Matt Reed saved from Jamie Byatt after a Liam Collins chip had teed him up, Thompson fired a free kick narrowly wide and Reed did superbly to tip a Traynor effort over via the top of the crossbar. Traynor was on target in the 54th minute though, stealing into a gap to convert an Anthony Joseph pass with a delightful 25-yard lob.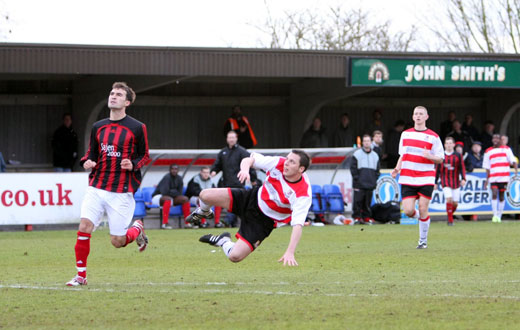 Photo: Chris Hatton - Kingstonian FC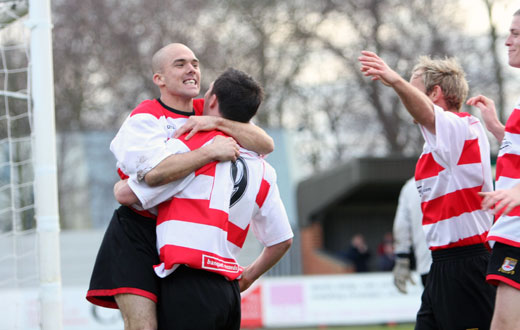 Photo: Chris Hatton - Kingstonian FC
K's were jubilant but that was as good as it got, with Sittingbourne bossing the rest of the game and finding the two goals they needed. Garrard did very well to save a free kick and although a Byatt effort briefly threatened to double K's lead, Bradbrook was quickly on hand to wipe it out. Horlock cut deep into the K's box from the left with ridiculous ease and teed his team-mate up for an unchallenged tap-in. Yet again, K's full-backs proved unable to deal with opposing wingers driving into their box.

Byatt missed the target with another decent chance but on 74 minutes the Brickies took a lead that was far from undeserved. Bradbrook's 20 yard effort did not appear to be struck with a mass of power but it crawled inside Garrard's near post nonetheless to put the visitors ahead.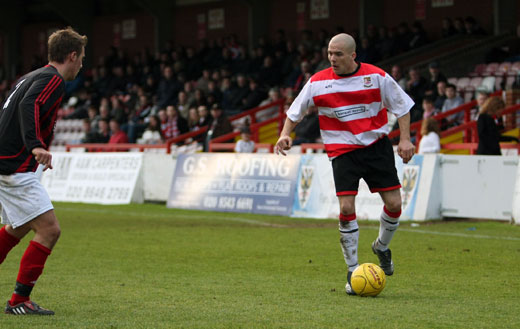 Photo: Chris Hatton - Kingstonian FC
A deflated K's never looked like equalising and in fact were lucky that Sittingbourne didn't add to their lead, as Garrard saved well from Elie Kayembe and Achazzam and Colin Richmond both missed the target with good chances. Alan Dowson is still desperately searching for a way to improve K's faltering home form.