Walton Casuals 0-1 Kingstonian
TYSON SUFFERS KNOCK-DOWN
A late goal from Tommy Williams gave Ks a deserved win just as the game seemed to be heading for a no-score draw.

Skipper and goalkeeper Luke Garrard hoofed the ball up-filed to Carl Wilson-Denis, stuck in the midfield area. A lob this time found Williams beating the offside trap and with only the opposite goalkeeper Craig Bradshaw to beat from 20 yards out and he slotted the ball in low to the right.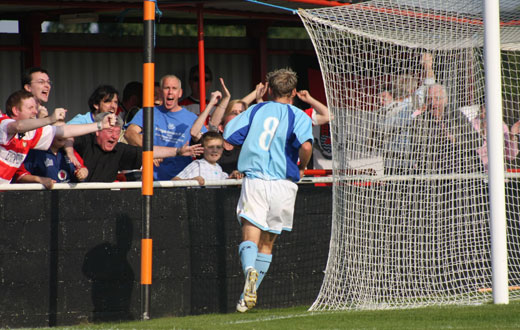 Photo: Chris Hatton - Kingstonian FC
While not quite route-one football from the 1990s, it was one of the least fanciful moves from the visitors on a day when many attacks consisted of a beautiful passing game only to wilt under the baking sun in the last third of the pitch.

This was in spite of being a player down after Simon Huckle was shown a straight red card in only the 25th minute after he jumped up to head a loose ball near the half way line. Referee John McGann produced a red card without hesitation even though only Steve Tyson, who felt the force of a wayward elbow, appealed.

Their second trip to Walton in less than a fortnight and facing a team they had only dropped points to once in six meetings [in January this year] Ks ought to have started the game brightly but a throw in, which found Gary Meakin and then Liam Grier, who could only sky the ball upwards and out.

Minutes later Garrard had to make the first of rather too many fingertip saves when John Ambridge's header, from ex-AFC Wimbledon player Sonny Farr's free kick, shot low. Still the home side took a less than casual attitude and Garrard took the ball from a header back after a cross by Victor Asombang. And then Tyson went down as he went for another cross by Asombang. Referee McGann waved away the few half-hearted appeals.

Still the Stags piled on the pressure, albeit intermittently, with Asombang forcing another save off Garrard. Only this time with the ball coming then out of defence Phil Williams forced a corner at the other end.

Photo: Chris Hatton - Kingstonian FC
The corner having gone nowhere Tommy Williams then was denied by Bradshaw in goal. Soon after the man in black decided to cash in his red card for the game with Huckle being sent off for a challenge that would have more often than not been ignored.

The second half continued in this vein until Grier found Garrard at a weak point. The latter's fumble from a header in the 52nd minute was then picked up by Garrard again. Then Chris Kiganda shot low to the left again to find Garrard's safe hands. Grier was unable to follow up.

Finally the visiting team woke up and Nick Rundell headed wide followed by a 25-yard shot going wide by Traynor. Then Wilson-Denis went wide after a trademark long throw by the just-substituted Wayne Finnie. Within a minute eventual man of the match Bradshaw jumped onto the ball after a poor pass back by John Ambridge was taken up by Traynor.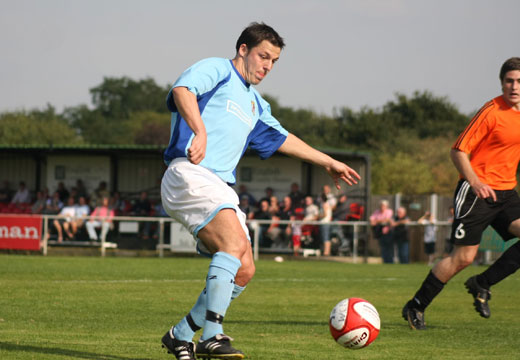 Photo: Chris Hatton - Kingstonian FC
While not firing on all cylinders Ks were getting into their stride and Jamie Beer was twice denied before Jon Coke found himself beaten by Bradshaw in goal, from a late cross by Finnie to Traynor.

Bradshaw then made possibly the save of the game with a reaction stop low down from Adam Thompson's shot close up. Traynor was then denied by the linesman as he ran onto Wilson Denis' ball from Finnie's grass-cutting pass up-field. Wilson Denis then found himself heading over in the 75th minute.

A corner kick minutes later conceded by Rundell only saw Garrard launch the winning counter-attack, the goal coming from Tommy Williams.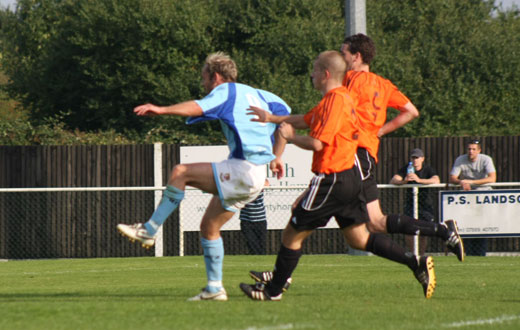 Photo: Chris Hatton - Kingstonian FC
Almost at this point Jon Neal came on for Wilson Denis. With 11 minutes to go, Grier shot tamely from 20 yards to Garrard. Minutes later Farr shot even more weakly towards the goal from Grier's pass.

At this point with only one red card and a no other booking to his name, referee McGann then proceeded to start writing. Ex Ks Craig Lewington was followed by Traynor and Thompson within three minutes.

In injury time Bradshaw came up field to take a free kick but the 35-yard shot bounced straight off the defensive wall. Minutes later, with injury time still running, Garrard produced another top-drawer save with the tips of his fingers from Tyson. Immediately Neal over-ran the ball from Traynor. And finally it was over with the referee finding five minutes from somewhere.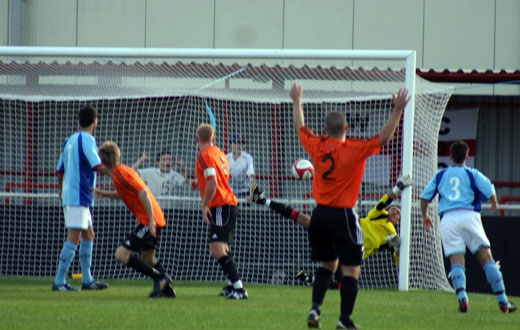 Photo: Chris Hatton - Kingstonian FC
Apart from Met Police, Kingstonian remain the division's only other unbeaten side. The difference is two less draws and while Ks continue to toil they are also not dropping points.