Kingstonian 4-2 Walton Casuals
STAGS HUNTED DOWN
Alan Dowson did not bring Carl Wilson-Denis to Kingsmeadow primarily for his goalscoring pedigree, but the form he's found in front of goal in recent weeks has been an added bonus to his well-renowned strength and ability to hold up the ball. Two goals and two assists against Walton Casuals marked his best display in the hoops so far, as once again he proved more than just a foil to Bobby Traynor in helping K's despatch the men from Franklin Road for the third time this season.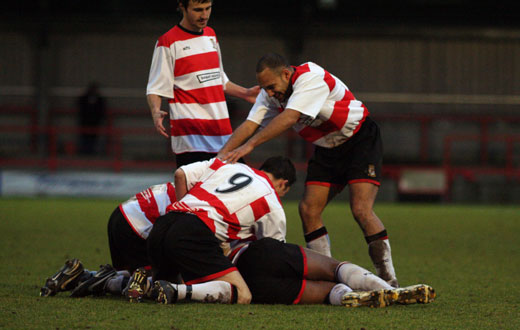 Photo: Chris Hatton - Kingstonian FC
The game also marked the end of Kingstonian's run of failures to win at home, though hardly in the sort of convincing style their fans would have wanted. With his men two goals down at half-time, Dowson might have been expected not just to have been giving his players the hairdryer treatment but to have thrown the hairdryer at them, along with anything else not nailed to the dressing room floor. Whatever was or wasn't thrown, they responded in perfect style, with Wilson-Denis leading the revival in ten remarkable second-half minutes.

The first half was as bad as K's have played in some time, featuring just a single shot on target for the home side - a deflected effort from Adam Thompson that lucked past Craig Bradshaw only to be cleared off the line.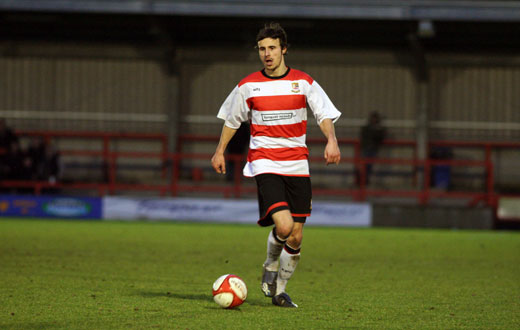 Photo: Chris Hatton - Kingstonian FC
Either side of this sole effort were a brace of Casuals goals. First Nana Badu, who reportedly rejected the chance to sign for K's in the summer, outmuscled the K's defence and blasted past Luke Garrard in the eleventh minute. Four minutes before the break came a far better goal for the visitors, as Liam Grier drove in from the right flank and blasted the ball into Garrard's top corner from outside the penalty area.

K's had had no luck in breaking down Casuals' two banks of four before the break but eventually got on the scoresheet in the 51st minute. This was not, however, before a pair of let-offs just after the interval that would surely have killed the game for the visitors. An almighty goalmouth scramble after a Garrard error somehow failed to result in a Casuals goal, while from the resulting corner giant centre-back Francis Duku headed wide.

Casuals were really left to rue their missed chance two minutes later, when Traynor halved their lead. Wilson-Denis was the provider, with a strong run down the right and after pacy substitute Phil Williams had lured the defence out of position, Traynor slid in at the far post to register his first goal in over four weeks.

A minute later the scores were level. Liam Collins threaded a slide-rule pass behind the bewildered Stags' defence and Wilson-Denis shot powerfully through Bradshaw's legs to wipe out the lead that Walton had fought so hard to earn.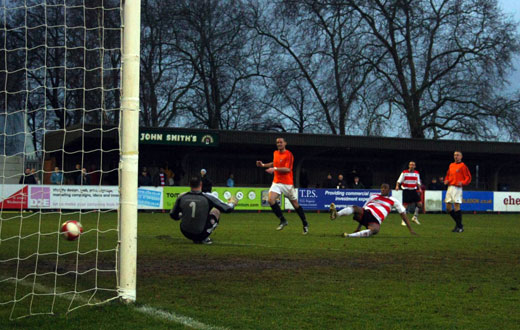 Photo: Chris Hatton - Kingstonian FC
Momentum was with K's but any thoughts that the victory would be a formality were given a reality check by Anthony Gale, whose 60th minute free kick struck Garrard's crossbar. A minute later they were really rueing their luck, as a quickly taken free kick again caught the visiting defence out and Wilson-Denis powered the ball inside Bradshaw's near post to give K's the lead.

K's made sure of the result on 71 minutes, when a long ball was knocked down by Wilson-Denis and Tommy Williams powered it low into the corner from twenty yards.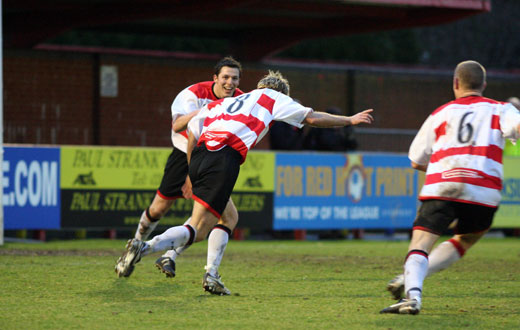 Photo: Chris Hatton - Kingstonian FC
The shell-shocked visitors would have two more chances but neither Duku nor Gavin Bolger could hit the target. The Williamses were pushing for a fifth K's goal meanwhile, with a Tommy free kick hitting the post and Traynor having a shot saved after a remarkable run by Phil that combined the skill of Diego Maradona with the pace of Usain Bolt. Or was it the other way round?

It mattered not, as the whistle soon went to put K's five points clear at the top of the league. And yes, as if you haven't worked it out, it was indeed a game of two halves.