Whitstable Town 2-4 Kingstonian
TRAYNOR HAT TRICK SINKS OYSTERMEN
It has been some time since a K's side played with such an attacking spirit as the current one, even if they are not necessarily in the habit of making things easy for themselves. When it comes to teams in the lower half of the table though, K's seem quite content to takes risks that lead to them conceding a couple of goals, apparently confident in their ability to respond with three, four or even more.

But for all the scores of three or four this season, no opponent has truly been routed. Two goals down inside five minutes and in defensive disarray, it therefore looked like Whitstable might finally be that team. Yet somehow, even with the Oysters reduced to ten men, K's were clinging on to a one goal lead two minutes from time before Bobby Traynor finally made sure of the points by completing a hat-trick. What might have been a thrashing became only a moderately convincing win but with Cray tripping up at home to Fleet, it restored K's lead to eight points nonetheless.

Traynor's goal tally now stands at 17 for the season, a truly exceptional rate of return. He wasted no time in getting on the scoresheet in this encounter, being played in on goal in the very first minute and beating Kevin Fewell at the near post to give K's the lead.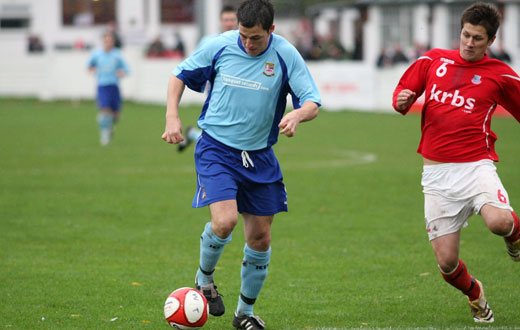 Photo: Chris Hatton - Kingstonian FC
When he added a second four minutes later, sidefooting home a low cross from Dean Lodge, K's fans were wondering just how many they would rack up against the division's worst defence.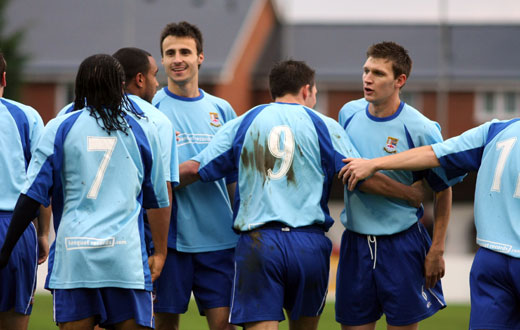 Photo: Chris Hatton - Kingstonian FC
Twice more in the next twenty minutes K's found the net, though neither effort was deemed valid by the match officials. Lodge again broke into the area and set Carl Wilson-Denis up for a tap-in but the linesman deemed him offside. Next it was Lodge who appeared to score, bundling in a low Simon Huckle cross, but this effort too was adjudged to be offside. It seemed harsher than the previous disallowed goal, as it appeared that Huckle's cross went backward rather than forward.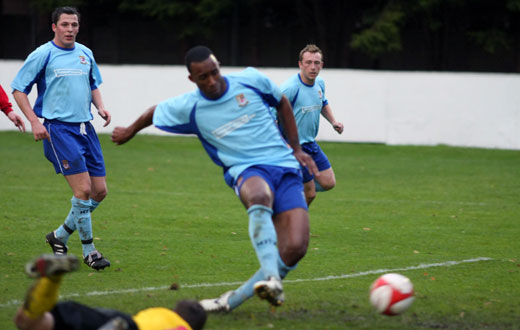 Photo: Chris Hatton - Kingstonian FC
Meanwhile, Fewell made saves from Wilson-Denis and Traynor while the impressive Jack Tanner curled over for the home side.

K's had not killed the game off though and from a dominant position, they suddenly found themselves back in a fight. Dan Dolton beat Jamie Beer down the left and Dan Wisker powered his excellent cross past Luke Garrard.

K's began to feel the pressure and once again were nearly victims of their defensive dallying. With Garrard on the floor having made a fine save, Adam Thompson picked that moment to start trying to play total football within his own penalty area. He was dispossessed and K's lead was only maintained thanks to the efforts of Beer in blocking Dolton's shot.

Next it was Whistable's turn to have a goal chalked off, with Wisker turning the ball in after a weak punch from Garrard. Fortunately for K's, the referee deemed that the goalkeeper was compromised by a foul and the league leaders remained 2-1 ahead. Somewhat under the cosh, their third goal, against the run of play, could not have come at a better moment than the stroke of half time. Lodge snuck in behind a static defence to place Nick Rundell's cross past Fewell and the visitors again breathed a sigh of relief.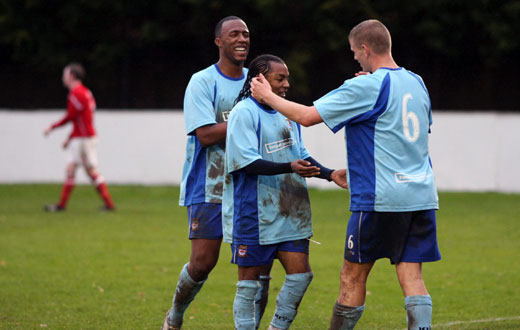 Photo: Chris Hatton - Kingstonian FC
It still wasn't enough to put the determined hosts to bed though and after Rundell curled a free kick wide, a quite sublime goal again dragged the Kent team within a goal of K's. Tanner's volley from the edge of the box gave Garrard no chance and deserved a far bigger stage than Ryman 1 South, in front of a crowd of just 89 [sic] spectators.

Lodge pulled a fine chance badly wide for K's and Wisker fizzed an effort narrowly over Garrard's bar as the game remained an open affair. Lodge was increasingly causing problems for Whitstable though, which they increasingly solved by taking a leaf out of everyone else in the league's book and fouling him. Eventually they did it once too often though and Clark Gooding saw a straight red card for a particularly pre-meditated hack on the flying Lodge, offering some well-educated thoughts to the K's fans on his way to an early shower.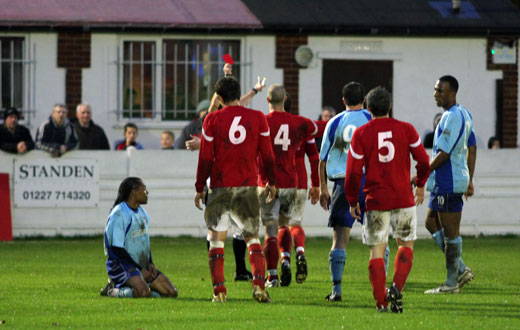 Photo: Chris Hatton - Kingstonian FC
Traynor nearly made the most of the man advantage on 73 minutes, latching onto a weak back-header from Liam Quinn but only managing to lob wide of the goal. Tempers in the game became increasingly frayed, with Quinn lucky to only be booked for what looked like a professional foul on Lodge and then a frustrated Thompson picking up yellow for clattering an opponent.

Wilson-Denis should have secured the win but was denied by Fewell before eventually K's sealed the points. A Wayne Finnie long throw found Simon Huckle, who played a clever one-two with Lodge before teeing up substitute NJ Lampton. Lampton's blocked shot found Traynor, whose first effort was parried out before he turned the rebound home.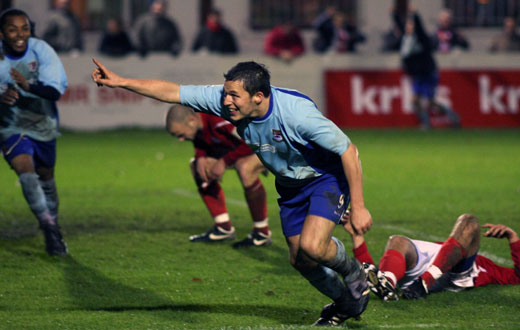 Photo: Chris Hatton - Kingstonian FC
Wilson-Denis, who held the ball up well all game but missed too many chances, was once more culpable in injury time when he blazed over the bar but the final whistle soon blew to leave K's celebrating a victory that was a lot harder fought than it might have been.