Kingstonian 2-3 Whitstable Town
OYSTERMEN THROUGH BY A WHISKER
Two goals in two minutes at the start of the second half saw visitors Whitstable dump Kingstonian out of the FA Trophy.

Three previous games between them and three wins for Kingstonian, the home side riding on an unbeaten start to the season, saw them favourites and then up by two goals to one at the half-time break certainties to win, particularly with their reputation as a second half team this term.

Photo: Chris Hatton - Kingstonian FC
But Ian Pulman, a first half substitute, had other ideas with an equalising lob after Adam Thompson slipped over in a light dusting of a shower at the start of the first half. Then Pulman was bought down, within minutes by Max Hustwick in the area in one of the few attacks by the Kent side.

Up-stepped Jack Tanner for the penalty in the 50th minute only for Luke Garrard to dive low to his right and push the ball out straight to the influential Jake Gess, who slotted home on the rebound with the defence slow to react. And so the score remained with Ks then spending the second half unable to break a nine-man defence - only Pulman up front.

Former double winners of the Trophy and unbeaten this season, Kingstonian were favourites at the start and within minutes they could have taken an early win with Hustwick just too late from Dean Lodge. A cross in by Hustwick was too strong for Carl Wilson Denis and then Kevin Fewell denied NJ Lampton from Bobby Traynor's pass. All this was within the first six minutes.

And then a pressed Whitstable found Dan Wisker swivelling in mid-air scoring past a diving Garrard in the seventh minute.

Kingstonian, very much a dominant side in spite of the score line, and soon won a corner. During this James Campbell from the visitors collapsed to the ground with a head injury. He was lead off the pitch with Paul Ainsworth coming on. Williams' subsequent corner, after the delay, was punched away by Kevin Fewell and Nick Rundell's 25-yard shot went over the bar.

The goal kick eventually found the ball collected up by Ks in defence and a pass back resulted in Garrard kicking out into the wind only to find Gess on the edge. His low left-footed shot went straight to the near post past a diving Garrard only to miss by inches.

Still Ks pressed and Lodge's header down found Wilson Denis who shot just wide. In the 17th minute an acrobatic-looking attempt at an overhead kick from Lodge was caught easily by Fewell.

For Whitstable things began to get worse, or so it seemed, when striker David Cory came off injured and Pulman was bought on. Gradually the visitors pulled back their remaining striker to play Pulman up front on his own.

Twice in a matter of seconds Traynor had two chances. First in the 25th minute he missed the ball unmarked feet from the goal from Lodge's by-line cross out on the left and then picking himself up he came in from the right but was denied by Fewell.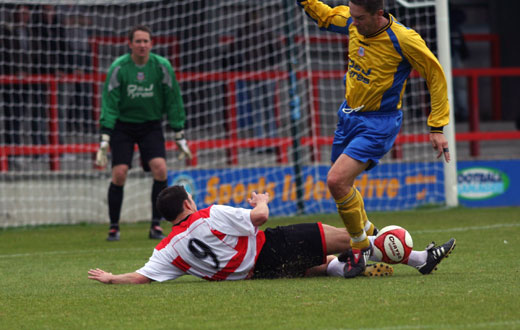 Photo: Chris Hatton - Kingstonian FC
A rare attack by Whitstable towards the Kingston Road End saw Garrard snatch the ball away from an advancing Jack Tanner as he went for a cross from Gess.

Still K's pressed and Williams went wide and then Thompson headed wide. Inevitably the defence was breached and a low shot from Williams bought the scores level in the 39th minute. Lodge again was the instigator as he was bossing the midfield and a cross in found Traynor who then curled in a pass to Williams.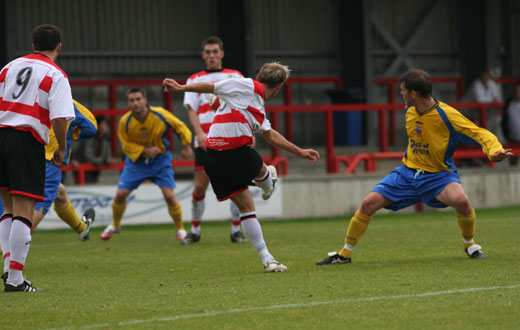 Photo: Chris Hatton - Kingstonian FC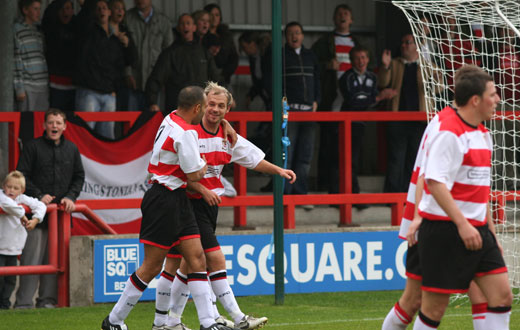 Photo: Chris Hatton - Kingstonian FC
A minute later only Fewell denied a certain second one - this time point blank from Lodge - who weaved through a defence after picking up a short corner off Williams. NJ Lampton then looped a long 30 yard shot over the goal after a stretched defence stopped another attack. On the stroke of half time Traynor headed past Fewell to give Ks a well-deserved lead after he jumped up for Williams.

There was still time for Gess to try to bring the scores level with three minutes in injury time but he kicked well over with Thompson coming in for the tackle.

The second half began with Ks rampant and in the 46th minute Beer shot wide after Traynor crossed back to him on the right.

If things looked positive right then, most of the 294 fans were soon to be disabused by three minutes of self-destruct. With a lone attack from Pulman seemingly about to be stopped short of the goal area, Thompson slipped over on the greasy surface and with Garrard coming up to cover Pulman lobbed over to bring the visitors to an unlikely draw.

Then a couple of minutes later an emboldened Pulman launched an attack only to be bought down in the area by Max Hustwick and Tanner took the penalty with a low shot to the left, only to see Garrard brilliantly parry it away. Gess came in from the left before anyone else and immediately shot over Garrard to score an unlikely winner.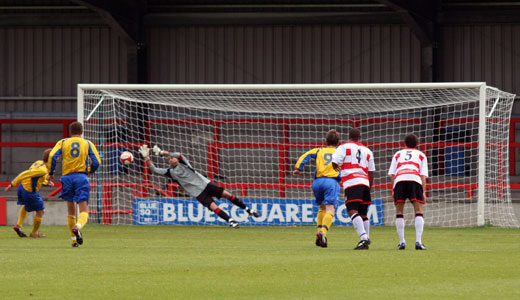 Photo: Chris Hatton - Kingstonian FC
This becalmed the game, in spite of the blustery southerly wind. Substitute Ainsworth was replaced himself by Rob Thomas in the 54th minute and only two attempts by Williams kept the game alive but both were far from convincing. Then Williams was clattered in to by Tanner and frustrations began to boil over. Later Lodge was to be booked as an increasing frustrated home side let it show.

Finally Traynor let his boots do the talking when his free kick 25 yards out was pushed away by Fewell in the 67th minute. A very speculative shot by Wilson Denis later went high over the bar. At this point boss Alan Dowson had had enough and bought on Wayne Finnie for Rundell, Beer followed soon after with Phil Williams and then Lampton left with Jason Turley coming on -vall in the space of eight minutes. A long throw by Finnie with minutes to spare saw Hustwick head onto the cross bar with Fewell beaten.

Still the customary late charge continued began and Wilson Denis' free kick was converted over the cross bar followed by Traynor failing to control a falling ball. Then Lodge was denied not by Fewell but referee Eric Mackrell who gave a free kick against Ks. And finally a corner kick saw Garrard sprinting up to the penalty area, Schmeichel style, only to see Traynor shoot wide.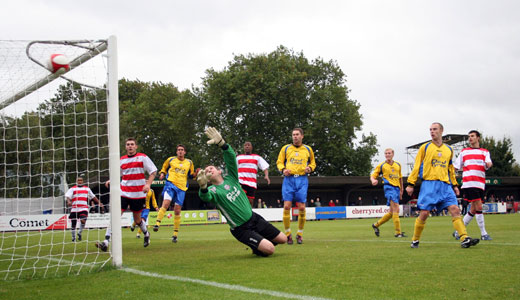 Photo: Chris Hatton - Kingstonian FC
So for the first time this season Kingstonian had lost and, for the first time, they were beaten by Whitstable. Still the goals kept coming and on the balance of play only Fewell in the goal and sub Pulman denied them as the visitors soon took a defensive line-up, justifiably after losing two players so early on.

There is always the cash cow that is winning each FA Cup tie - next week at home to former Conference South table toppers Hayes and Yeading - and the league, which is two days later on the Monday. Most followers of Kingstonian would prefer wins in the league and the promotion before May 2009.