Kingstonian 3-0 Whyteleafe
THREE OUT OF THREE
Three goals and a red card saw Kingstonian record another three points on a balmy August afternoon.

Having survived a first half of huffing and puffing, Kingsmeadow erupted from the break as first Tony Bedeau, then Bobby Traynor and then Phil Williams scored to continue a victorious start through the start of the season.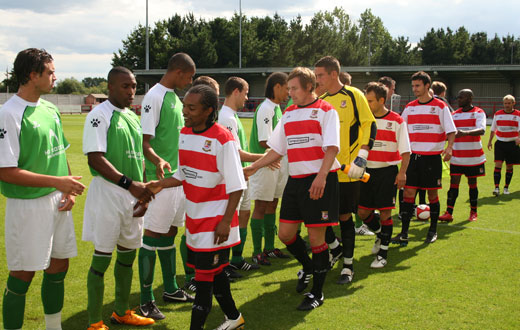 Photo: Chris Hatton - Kingstonian FC
Dominating the first half, it was not until the 58th minute before Whyteleafe goalkeeper Rob Tolfrey finally had to pick out the ball from his own net. A throw in from Dean Lodge found Traynor who crossed long and high forwards to the right of goal and Bedeau who directed the ball low beyond Tolfrey and in. Five minutes later Lodge picked up a short pass from Jamie Beer out of defence and crossed it in to Traynor. This time the ball had no choice as it hit the back of the net from 20 yards.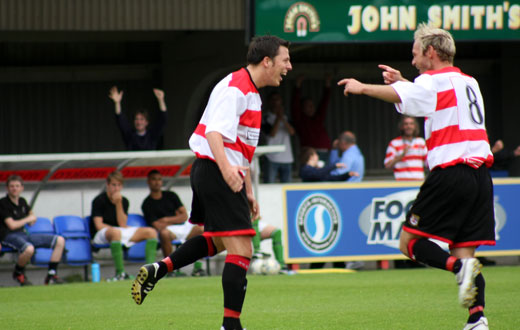 Photo: Chris Hatton - Kingstonian FC
A last minute goal by Williams after following up from a very lively Traynor added icing to the gateau that was Kingstonian. And with extra time running out both Bedeau and Traynor were denied.

While the red card for a second bookable offence exposed the visitors, the win was deserved with the hosts providing a great deal of attacking from the start. The score line perhaps flattered Whyteleafe even.

Within the first 10 minutes both Lodge and then Jon Neal troubled Tolfrey enough with a 25 yard lob and a low effort. Traynor was unable to pick up the pieces from the latter.

Minutes later Whyteleafe found their feet with striker Richard Williams shooting wide past an untroubled Luke Garrard. Then Steve McNamara from a free kick saw the ball deflected over the goal from a small wall. The corner by leafe skipper Robert Smith was not held by Garrard and Sean Rivers was unable to capitalise on the loose ball. The resulting corner kick went over the top.

Then McNamara was booked for a moment of petulance as he kicked the ball back into touch after a throw in was conceded. A second offence later saw him sent from the field early.

Lodge then had two goes on breaking the no-score draw. First a 19th minute swivel on the left saw his right foot misfire and then in the 25th a long shot created space but also went wide.

The first half ended with a series of Jamie Beer throw-ins gaining ground up the right but no goal and then Tommy Williams skewed left 20 yards out. In injury time Neal forced an excellent save by Tolfrey with a cross from Nick Rundell.

Almost as the first ended so the second began as Kingstonian continued to attack. Lodge's shot went wide of the near post. Then Bedeau was denied as Tolfrey failed to hold an easy shot, only the latter's ankles saving his blushes as he dived. Lodge continued to press minutes later as he picked up a pass from Nick Rundell but the shot converted five feet over.

With so much pressure deadlock finally was broken courtesy of Lodge taking a quick throw in downfield and Traynor's pass to Bedeau beat Tolfrey in goal.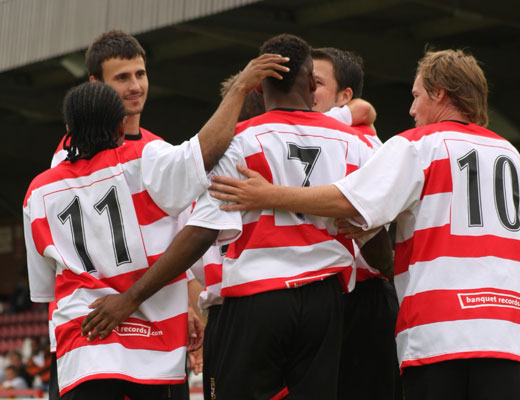 Photo: Chris Hatton - Kingstonian FC
Almost immediately Whyteleafe defender McNamara was then sent off for a second bookable offence. Soon after manager Alan Dowson took off Jean-Serge Musungu, a yellow card to his debit, Jason Turley coming on.

Still the home side pressed, buoyed by another start to their campaign. Lodge was denied after Tolfrey stopped Traynor's header from a cross park shot off Bedeau. A minute later Traynor found the back of the net with a shot that could have broken the netting. Dribbling Beer found Lodge and a cross inwards found Traynor 20 yards out and low.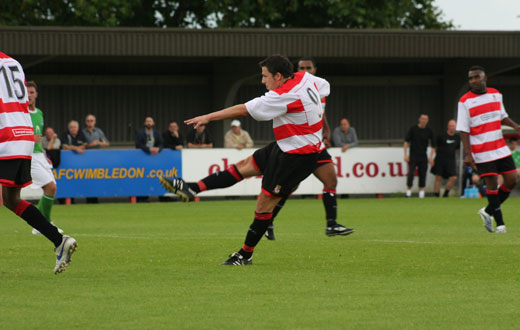 Photo: Chris Hatton - Kingstonian FC
Nick Rundell nearly made it three and so did Traynor but in the case of the latter Neal was unwilling to slot home. Max Hustwick, strong in defence, then forced a headed save off Tolfrey.

A series of substitutions saw Neal and Lodge off for Thompson and Phil Williams and also Whyteleafe's Sean Rivers for Jamie King. Upping the pace from Whyteleafe King then tried to lob Garrard two minutes in from coming on in the 79th minute, but his shot went wide to the ride.

Again Kingstonian held the upper hand - Tolfrey denied Bedeau with a scoop to the right. Tolfrey found himself busy with a late cross from Bedeau and then both Traynor and Williams before Thompson beat him in the last minute from a corner.

And it could have been more with stoppage time shots kept out.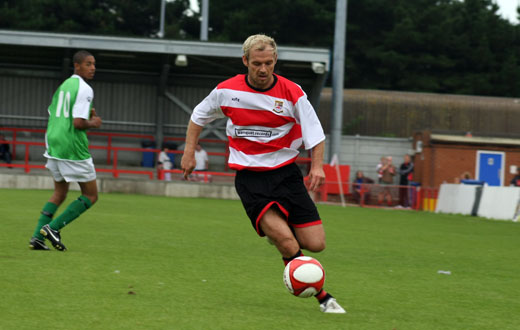 Photo: Chris Hatton - Kingstonian FC
With so much gold from Beijing and three wins so far, another top shelf performance was needed - but bronze medal won the match. Kingstonian were below par but still dominated the game so the result flattered the losing visitors.