Kingstonian 2-1 Wingate & Finchley

On the final day of George W Bush's presidency, the Kingstonian second string once again proved they were not to be misunderestimated by overcoming Wingate & Finchley in the London Senior Cup.

With the torrential morning rains subsiding, the pitch was in good condition and there was no need to test the former president's assertion that the human being and the fish can coexist peacefully. It was the visitors who had the first chance of the game though, with captain Marvin Samuels heading over in the first minute.

The next half-hour was cagey, with Liam Collins producing an easy save from Gavin King and Bobby Aisen forcing Luke Naughton to save from a header.

Rarely is the question asked, 'Is Kingstonian learning?', but by the half-hour mark they had worked out a way through the visiting defence in spectacular style. A long ball was headed out only as far as Collins, who saw King off his line and side-footed a perfect lob into the top corner - a goal deserving of a bigger audience than the 107 fans dotted around Kingsmeadow.

K's, who are signing more and more of their imports from other clubs, could have had a penalty four minutes later when Aisen appeared to trip Julien Thompson from behind when the striker was in on goal. The referee waved play on though, much to the frustration of the home side.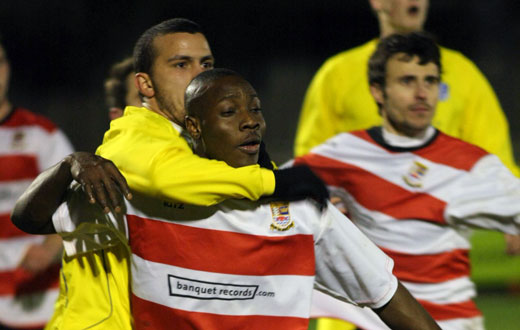 Photo: Chris Hatton - Kingstonian FC
There's an old saying in Wingate - I know it's in Texas, probably in Wingate - that says, fool me once, shame on, shame on you. Fool me - you can't get fooled again. The visitors were fooled again though, conceding a second goal just five minutes after the first. The enigmatic Phil Williams was played in on goal and neatly rounded King to put K's two to the good with consummate ease.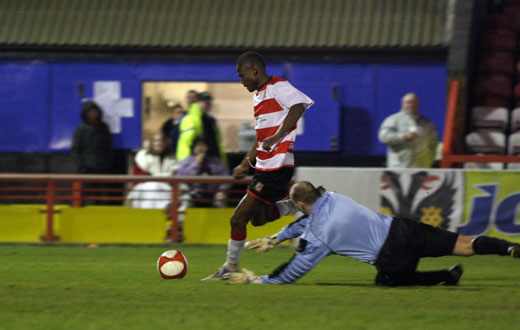 Photo: Chris Hatton - Kingstonian FC
Wingate & Finchley were innovative and resourceful, and so were K's. They never stopped thinking about new ways to test Luke Naughton, and neither did K's, sloppily allowing a low cross through their six yard box which Chris Chase bundled in to make it 2-1.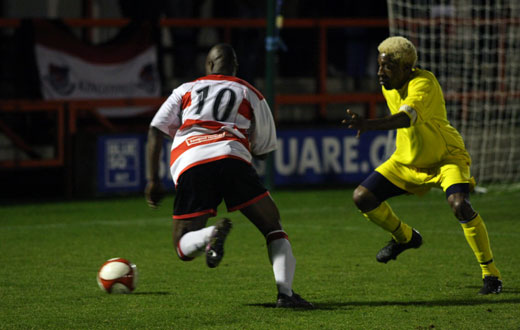 Photo: Chris Hatton - Kingstonian FC
Williams came close before the break after linking up sublimely with Thompson but the second half was a far less interesting affair. King made a save from Williams which impressed everyone in the ground except for the referee, who declined to award a corner, while Naughton saved from Michael Sacks. Aisen and ex-K Ahmet Rifat also came close to breakthroughs for the visitors as the storm clouds on the horizon gathered directly overhead.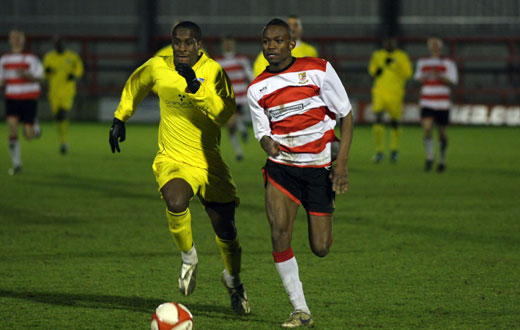 Photo: Chris Hatton - Kingstonian FC
Mainly though, players, officials and fans alike just spent 45 minutes getting increasingly cold and hoping there would not be extra time. Thankfully there wasn't, and K's are now in the quarter-finals of the London Senior Cup. Not even Bush could be convinced though that that makes them one of the best eight teams in London.