Worthing 4-1 Kingstonian
REBELS BREAK THROUGH K'S DEFENCES
For the second time this season, Kingstonian were comprehensively outplayed by Worthing, sinking 4-1 in what Alan Dowson admitted was their worst performance of the season.

Even a second minute let-off could not help K's; Karl Akehurst smashed an early penalty wide after handball by Adam Thompson but they were still on the end of their heaviest defeat in over a year. Early hope was given when a Tommy Williams free kick hit the bar but in the seventh minute the visitors were behind. Akehurst made amends for his penalty mishap, slamming the ball past Garrard from twenty yards after a poorly cleared cross.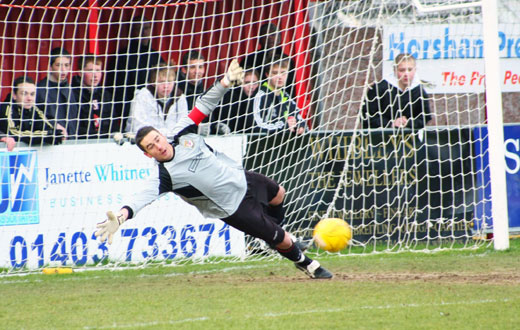 Photo: Chris Hatton - Kingstonian FC
Two minutes later K's managed to equalise but it would prove a false dawn. Adam Thompson headed into the penalty area and Phil Williams worked the ball low past Alan Mansfield.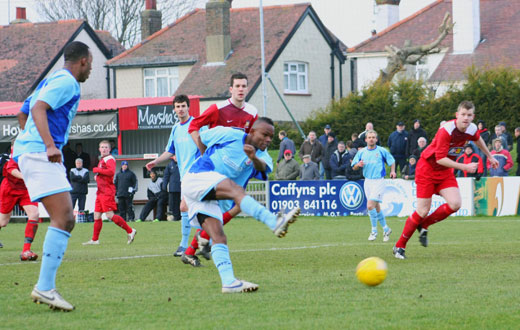 Photo: Chris Hatton - Kingstonian FC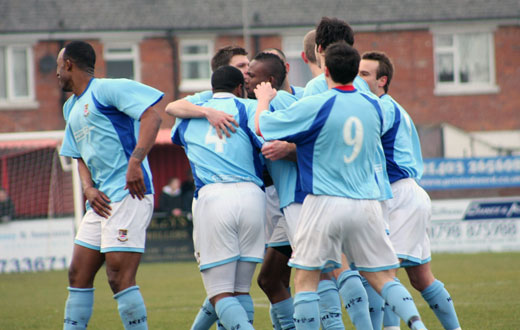 Photo: Chris Hatton - Kingstonian FC
By the fourteenth minute the hosts were back in the lead though, this time not to relinquish it, with Ben Andrews converting a superb cross by Mickey Demetriou.

Andrews came close again after the referee ignored a foul that caused Jon Coke to be stretchered off while Williams came close for K's after a good run. Soon Worthing were 3-1 up though, Paul Kennett converting another cross that the K's defence failed to deal with. A rout threatened, with Akehurst having a fourth scrubbed off for offside after a Jamie Brotherton effort was cleared off the line.

Next it was K's turn to be aggrieved at the referee as Carl Wilson-Denis was denied a penalty and Williams had a goal ruled out for offside, before Andrews missed a glaring chance to make it 4-1.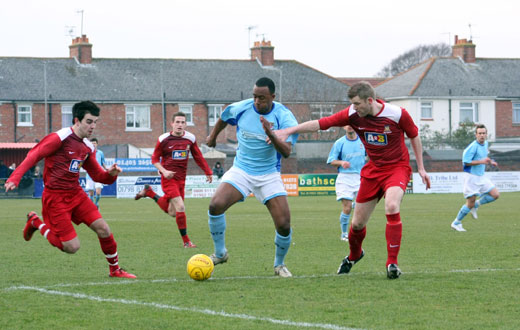 Photo: Chris Hatton - Kingstonian FC
After the break, Worthing were even more dominant, allowing K's no time and space to launch meaningful attacks. Brotherton and Akehurst both came close again while Demetriou added a spectacular fourth to compound the misery in for K's.

All they could muster in the second 45 was a close lob from Bobby Traynor and with Worthing now just five points adrift, K's are coming under increasing pressure at the top of the league.