Carshalton Athletic 1-2 Kingstonian
KS KNOCK OVER THE ROCKING' ROBINS
While many of Ks championship-winning squad have found the step up to Premier Division to be tough, that has not been the case for Bobby Traynor. A brace in the dying minutes took his goal tally to the season to five in six games and left much-fancied Carshalton wondering how they had lost a game that they led as late as the 89th minute.

After taking the lead in the thirteenth minute, the Robins controlled most of the game but after the referee sent Barry Stevens off for a 62nd minute foul on Des Boateng, this control slipped further and further away before they finally capitulated at the end of the game.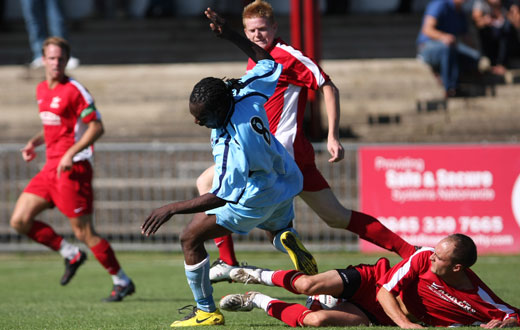 Photo: Andy Nunn
Traynor's goals were typical of his diverse ability as a striker. The first saw him latch onto a through ball behind the home defence and angle a perfect finish across Matt Reed into the far corner. The second, well into stoppage time, was a classic poachers' goal; a feint touch on a Max Hustwick header following a corner was enough to divert it beyond Reed and the defenders on the line to earn Ks six unlikely points over the long weekend.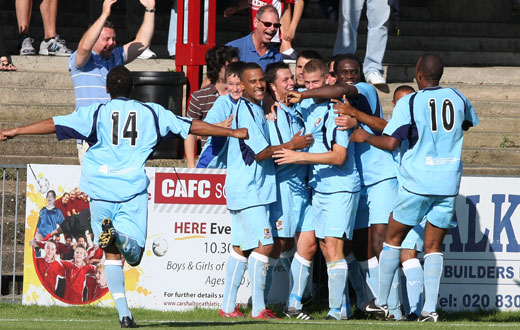 Photo: Andy Nunn
Carshalton were well on top in the first half and their much-heralded strike force of Richard Jolly and Charlie Ide terrorised Ks. Ide beat Garrard with a fine volley from the corner of the penalty area only to see it rebound off the underside of the cross bar before Jolly put Hayden Bird's men ahead just four minutes later. Ks failed to adequately clear a succession of corners and crosses and with the defence in a degree of disarray, Liam Harwood was allowed far too much time and space to pick out Jolly with a cross. The former AFC Wimbledon striker, who won last year's Premier Division golden boot award, expertly volleyed home from close range.

Carl Wilson-Denis, who worked tirelessly all game for Ks despite regularly receiving close attention from the defence, was the first to test Reed with a turning shot. Traynor came close midway through the first half but his low twenty-yarder was deflected wide before Stevens hooked a volley wide of Garrard's goal after Jolly had played him into a good position.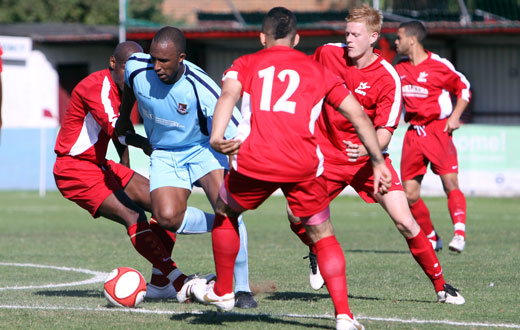 Photo: Andy Nunn
The most important event of the remainder of the half was the incorrect decision to book Stevens for an alleged foul on Boateng when he won the ball clearly, breaking up a potential Ks attack. A quarter of an hour after the break the Carshalton midfielder picked up a second yellow card for a two-footed tackle on the same player; the referee may or may not have shown him a straight red had he not picked up the first half booking.

Three minutes later Traynor, who had squandered a good chance just after the break, forced Reed into a good save from fifteen yards. Ks upped the pressure but the ten men of Carshalton seemed happy to protect their one goal lead and did so in an organised fashion. Ks won a number of corners and free kicks around the Carshalton penalty area but struggled to turn territory and possession into tangible chances.

Dowson made three substitutions in the second half; the introductions of Simon Huckle, Lewis Cook and Karl Beckford seemed to add fresh legs and fresh impetus as Ks went after Carshalton with a more attacking formation.

In the last ten minutes, the pressure increased as Carshalton sought hard to protect their lead. Huckle twice headed wide from good positions and Beckford looked for his second goal of the weekend but saw Reed tip his twenty-yarder away for a corner.

Just as it seemed Ks' endeavour would go unrewarded, Traynor struck to level the scores.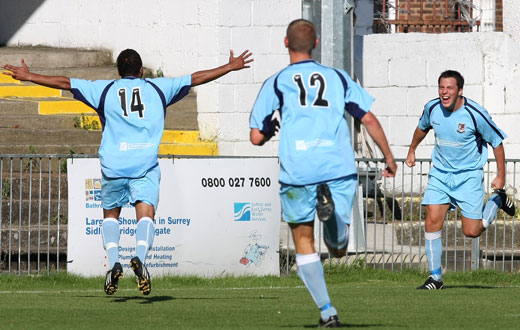 Photo: Andy Nunn
Carshalton, exhausted from playing with ten men on a hot and sunny day, allowed their heads to drop and Ks went for the jugular with Traynor heading home his second to cap a remarkable weekend.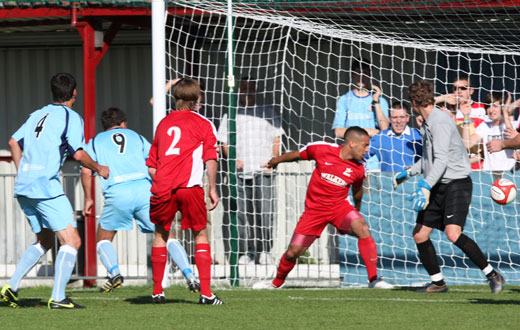 Photo: Andy Nunn
Quite what Waltham Abbey will expect from Ks is anyone's guess but the mood around the club is certainly a lot better than it was last Friday.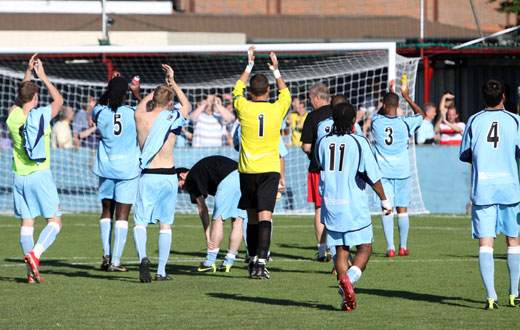 Photo: Andy Nunn