Kingstonian 0-2 Chippenham Town
CHIP LEADER
A goal in each half by Jon Davies ensured Kingstonian's run in the FA Trophy ended before the first round proper as the home side failed to overcome Chippenham Town.

The first in the dying minutes of the first half and then one more in the 65th minute was a fair result as the Zameretto Premier outfit was able to dominate Ks.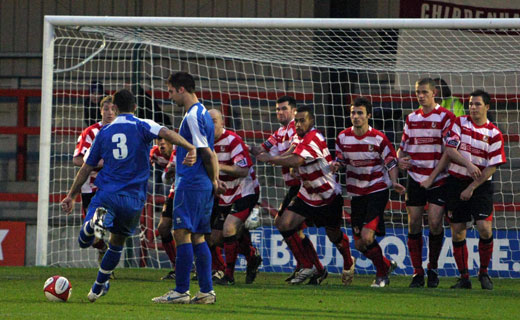 Photo: Andy Nunn
Davies made his intentions clear from the off when in only the fourth minute his cross field shot had to be kicked away and then minutes later Scott Lye took the ball off Mo Harkin before dribbling the ball and shooting wide. Lewis Ponell then tried his luck with a shot over the bar.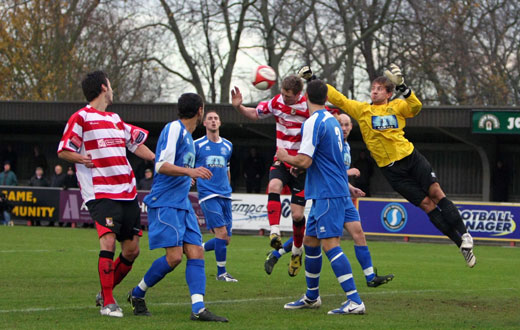 Photo: Andy Nunn
The Chips continued to press and two more shots by Ponell and Davies saw the ball go over and then Luke Garrard save low.

In fact it was until the 29th minute when the other goal saw any action as Harkin finally rattled the bar. Gradually Ks attempts at trying to defend began to pay dividends as they were able to push the visitors further up and Lewis Cook was denied as he picked up Matt Gray's 25-yard pass. However Cook's shot went wide of the far post.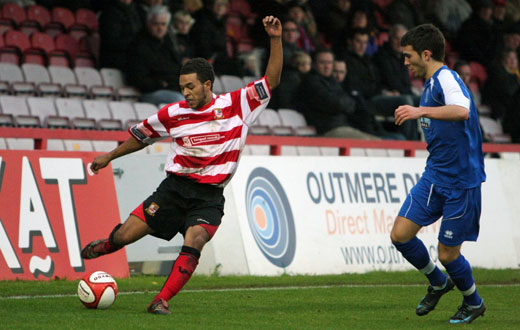 Photo: Andy Nunn
Then in the 40th Lee Hall shot wide through a crowded area. And that was as good as it got with Davies being released at the other end and scoring after Lye's pinpoint pass in the 43rd minute.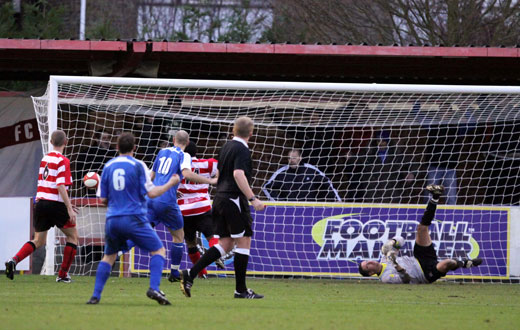 Photo: Andy Nunn
The second half did not start any brighter as Davies once again shot goalwards on for it to hit the outside of the upright.

Before the hour was out Carl Wilson-Denis came on for Christian Jolley but still Town continued to push. Ponell's shot went wide as he tried a speculative attempt. However at last Davies applied the coup-de-grace with a low shot after a pass out from the back found Simon Huckle, who promptly lost the ball which was passed in to the area again.

A bit of sustained pressure at the other end saw Gray's shot blocked off the line by the keeper Ian Gill. However minutes later the game was summed up for Ks when Huckle was booked even though the team had won a free kick.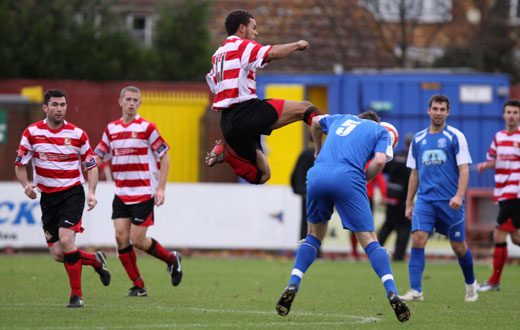 Photo: Andy Nunn
Bobby Traynor saw a shot go wide and Huckle headed weakly over but by then Davies had been substituted for Sam Alison. And in the final minutes Ponell got hold of the ball and ran towards the goal, only to be denied by Garrard.

A poor game by Ks saw them well-beaten and out of the FA Trophy, with only the Surrey Senior Cup and the league to concentrate on.