Kingstonian 3-5 Harrow Borough
'ARROW-ING AFFAIR
Kingstonian's last season in the Ryman Premier was a miserable affair, as the club suffered drubbing after drubbing on the pitch while seemingly falling apart off it. Fans could be forgiven for expecting more this season after the way the club has gradually rebuilt, but an abject defensive display against perennial strugglers Harrow Borough brought back memories of 2004/5's calamities.

Despite taking the lead twice in the first eight minutes, K's were 3-2 down in the 14th and after seeing parity restored with a Bobby Traynor penalty, Harrow managed to seal their leaky defence in the second half whereas K's emphatically failed. 5-3 was the eventually margin of victory for the visitors and although both Kwasi Frempong and Dewayne Clarke were lucky to avoid red cards, nothing can excuse K's shipping five goals at home for the first time since a Mazin Ahmad-inspired Dulwich Hamlet managed the feat in February 2007.

K's did at least attack with a degree of success reminiscent of their promotion season, including taking the lead in the very first minute. Before the break, the Harrow defence proved just as inept as the home one and a Dean Lodge cross was inadvertently flicked on to Bobby Traynor who beat Andray Baptiste with a far post header.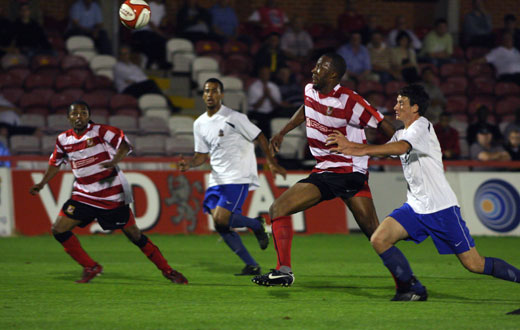 Photo: Chris Hatton - Kingstonian FC
Harrow captain James Fraser wiped the lead out just two minutes later though, wiping out any hopes K's had of having an easy day against a side whose fans had admitted they looked short of a cutting edge up front in drawing 0-0 with Canvey Island two days before. Another false dawn soon arrived though on eight minutes, when Carl Wilson-Denis scored at the second attempt after Baptiste had blocked his first shot.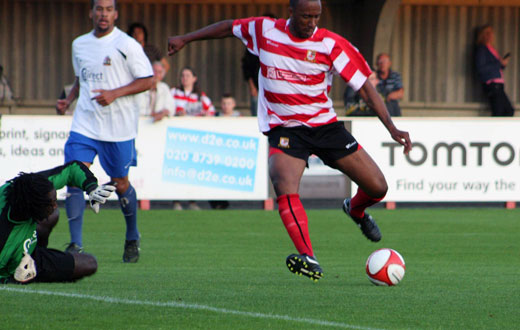 Photo: Chris Hatton - Kingstonian FC
Once again, K's held the lead for a mere two minutes, with Kenta Nakashima hopelessly unmarked and able to comfortably side-foot past Luke Garrard. On just 14 minutes, K's unbelievably found themselves 3-2 down after Clarke beat Wayne Finnie and squared for Dean Fenton to easily finish from close range. The defence seemed incapable of closing anyone down and Harrow's attack had far too much time and space to pick their spots past the hapless Garrard.

K's were stunned but still had some fight in them. Tommy Williams rattled the bar with a vicious 20-yard volley and on 22 minutes the score became 3-3. Dean Lodge ran at Charlie Wassmer, and was sent sprawling. Baptiste got a hand to Traynor's penalty but was unable to keep it out.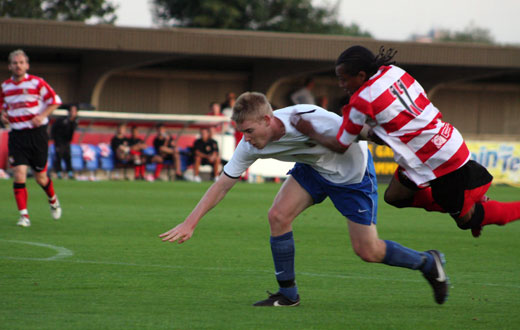 Photo: Chris Hatton - Kingstonian FC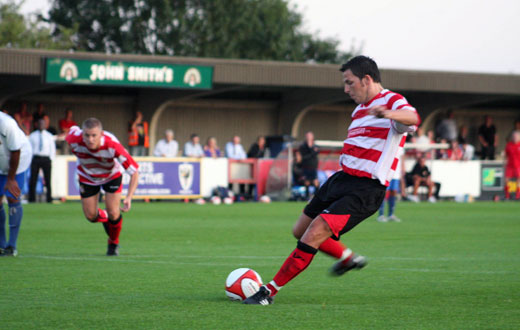 Photo: Chris Hatton - Kingstonian FC
Borough continued to carve K's open with Fraser and Fenton coming close before Lodge went close at the other end. The game became fractious near the end of the half, with Frempong appearing to kick Williams after the two had tangled. The referee, just five yards away, thought differently and decided instead to give both men a talking to.

A bad foul on Lodge after the break saw Clarke lucky only to be booked but Borough were looking the better side by this point. Garrard made a fantastic reaction save to deny Clarke after a Rocky Baptiste cross and then a more comfortable save from Fraser. Adam Thompson hit the bar for K's with a header but Clarke secured the points on 66 minutes after being unmarked once again and beating Garrard from close range.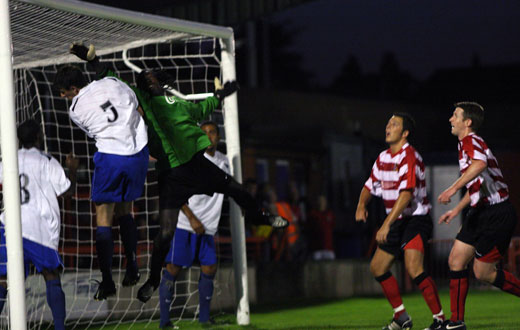 Photo: Chris Hatton - Kingstonian FC
This time K's seemed to have no stomach left for a fightback. Harrow looked like adding more, coming close from a corner before Wassmer headed a free kick home to make it 5-3. K's were left to contemplate that life in the Ryman Premier will perhaps be harder than they were expecting and try to reorganise before the visit of recently-promoted Aveley on Saturday.