Kingstonian 3-0 Hendon
HENDON FREEZE AS K'S GO 3
Kingstonian convincingly beat Hendon to give themselves the opportunity to go second in the league on Tuesday night - a suggestion that would have seemed preposterous just ten weeks ago, after the disaster that was Ks' first four games of the season.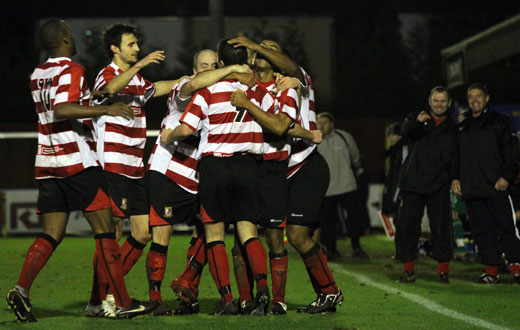 Photo: Simon Roe
Since then, they have won ten of their fourteen league games. While Ks have been imperious away from home though, their form at Kingsmeadow has somewhat let them down. This performance will therefore be particularly reassuring - for the second league game in a row, Ks won while keeping a clean sheet. They also looked far more convincing than in some of their tighter victories of late; Alan Dowson may be anxious to manage expectations by claiming he will be happy with a mid-table finish, but if his side maintain the form they have shown for a good three months now, they will do considerably better than that.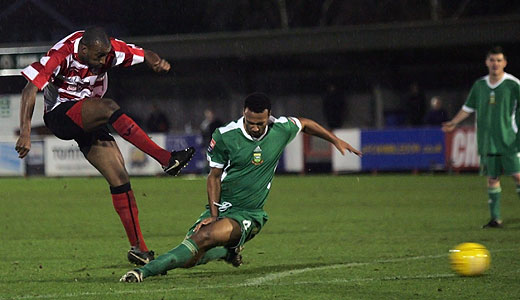 Photo: Ken Sparks
Hendon threatened to score first, with two early chances. First Rob Tolfrey saved well at the near post from Wayne O'Sullivan; the resulting corner was flicked on to the far post where Dave Diedhiou headed against the upright, giving the home side an early let-off.

The visitors would not come so close again and gradually Ks took control of the game. A Matt Gray free kick set Simon Huckle up to force James Reading to save and then ten minutes later the goalkeeper denied Max Hustwick. Bobby Traynor fired wide and Carl Wilson-Denis over, twice, and late in the half Reading made a great low save from a Gray free kick - great in the eyes of most people in the ground, but not young referee Craig Hicks, who missed it entirely and awarded a goal kick rather than a corner.

Hicks also denied each side a penalty in the first half - ruling a possible foul by Hustwick and what appeared to be handball by James Parker as legal. He was also somewhat generous in awarding only yellow cards to Bashiru Alimi and James Burgess after the two came to blows following a foul by the latter.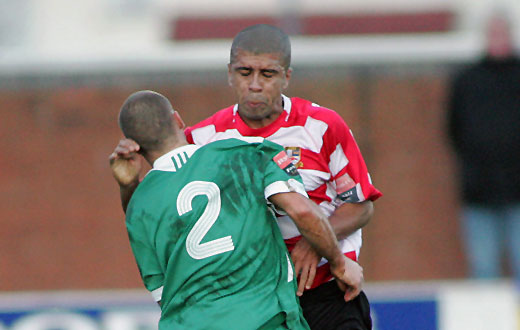 Photo: Ken Sparks
Despite a good performance the first half was one of frustration; the second, on the other hand, was more reminiscent of the dominant displays in which Ks blew sides away en route to promotion last year. Again, it started with two good chances for the Dons, the latter of which saw Tolfrey save superbly with his legs, but from then onwards Ks were dominant.

The breakthrough came on 53 minutes. Lee Hall's diagonal long ball allowed Traynor to muscle inside Burgess and square the ball to give Wilson-Denis the simplest of finishes from six yards out. Although it was Wilson-Denis' ninth goal of the season, it was the first since he scored against the same opposition in the FA Trophy on 31 October and he will have been relieved to end his drought.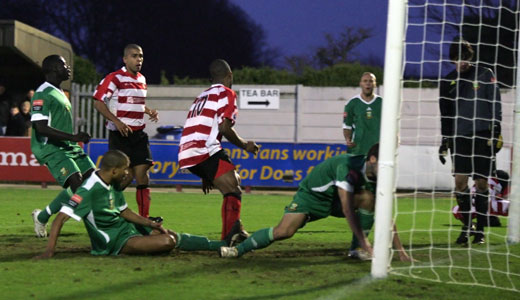 Photo: Ken Sparks
Hustwick headed over as Ks pushed for a second and it eventually came in some style. Mo Harkin picked out Traynor on the edge of the box; he turned, and perfectly placed his curled shot into the far corner of Reading's goal.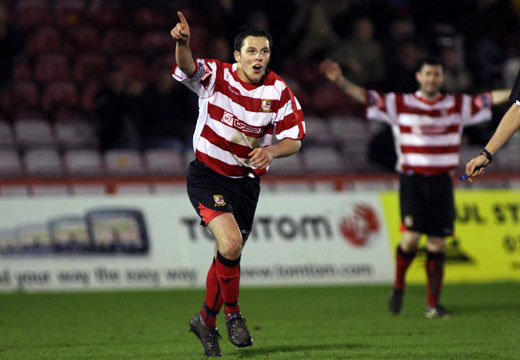 Photo: Simon Roe
Seven minutes from time, Traynor was played through on goal only to be felled, outside the box, as he attempted to go around Reading. He had taken the ball away from goal, so the referee was correct only to book the goalkeeper. Nonetheless, it was a great chance for Traynor and a good outcome for Hendon, something that Reading and defender Bradley Thomas surely realised as they subtly embraced behind Hicks' back.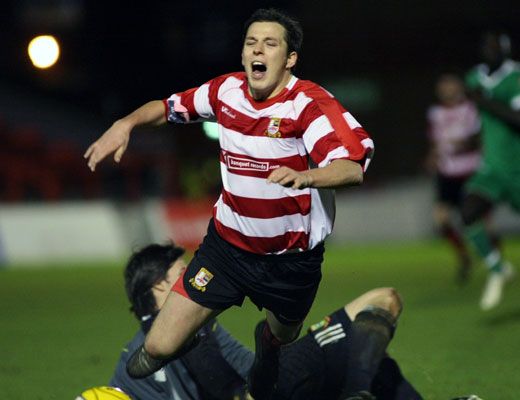 Photo: Simon Roe
It was academic though, as a minute later Traynor made all three points Ks' with a shot from the edge of the box that squirmed through Reading's hands.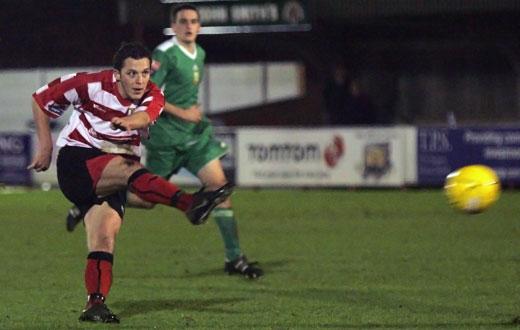 Photo: Ken Sparks
After four meetings this season, the only way these two sides can meet again this term is in the playoffs. For Hendon this looks distinctly unlikely; for Ks it is starting to appear much more of a possibility.