Sunday 30th March 2003
Supporters' Club meeting - Monday
The Supporters' Club are holding a members only meeting on Monday evening at Kingsmeadow. The evening will take the form of a Q & A forum with supporters having the chance to ask question to a panel of speakers including Tom Dixon, Kim Harris and Ivor Hiller from AFC Wimbledon.

The evening starts at 7.45pm and we look forward to seeing you there.
Chesham match report
The report of yesterday's four-nil win is now available, with thanks to Simon M.
Leatherhead match report
The report of Tuesday's penalty shootout triumph is now available.
Ford match report
The report of the two-two draw at Ford ten days ago has now been completed.
Braintree match report
The report of the four-one defeat has been put into words.
Saturday 29th March 2003
Scott Smith signs/Chris Whelan to depart
Kim Harris revealed in his K's Web interview today that he has signed New Zealand international defender Scott Smith from Woking.

Meanwhile, Chris Whelan is to leave the club following a job relocation back to Liverpool.
Chesham United 0-4 Kingstonian
K's completed an emphatic double over Chesham at Meadow Park today, beating Colin Lippiatt's side by a four-goal margin once more. Tim Sills opened the scoring early on from the penalty spot and Chris Whelan stepped up to head in his first goal for the club minutes later. Sills ended the half with a well-taken goal and substitute Scott Edgar completed the scoring with a headed effort in the second half.

The line-up and man of the match voting form are now available.
Kim Harris on Chesham
Kim Harris spoke to us after the game and his thoughts can be heard via the audio page.
Results round-up
In a day otherwise full of tight results Bedford went rampant in the second half against relegation-threatened Enfield, coming out eight-two winners. Kingstonian's four-nil win at Chesham sees them leapfrog Purfleet - held two-all by K's upcoming opponents Ford - in the table. Immediately below Chesham, Aylesbury and Heybridge suffered losses at Maidenhead and Bishop's Stortford respectively.

In an interesting twist at the top of the table, Aldershot's one-nil defeat at Hayes allowed Canvey Island and St Albans to move within three points of the lead following a win at Harrow and draw at Braintree respectively.
Friday 28th March 2003
Gold Bond results - week 13
Week 13 - Drawn 28/03/03




5000 Jackpot AG4710 P Decamps

500 S.1722 Mr Dumbleton

200 T.0433 J Beavers

200 A.1720 H Schofield

100 M.1913 Mrs Huzzard

100 K.5507 Mrs Satterthwaite

100 B.5281 Mrs Fitzpatrick

100 GG6117 L Brooks

100 E.6175 Mrs Humphreys

100 Q.1856 Mrs Highan

100 K.4855 Mrs Holt

50 K.0771 W Wood

50 P.4860 D Pinkney

50 A.5168 S Cottam

50 R.2112 L Gardner

50 AB0000 J Clubb

50 A.4341 M Crewdson

50 P.4253 Mrs Coakley


Plus over 400 other prizes each week, see full result sheet for details.

Promoter G. Warburton. Reg with the Gaming Board
Wednesday 26th March 2003
Bryco League Cup Final
This season's Bryco League Cup final will be contested between Canvey Island and Yeading following both sides' 6-4 aggregate wins over Hendon and Dulwich Hamlet respectively in the semi-finals.
Tuesday 25th March 2003
THE K'S TRUST
The following statement has been issued by The K's Trust:

THE K'S TRUST

A group of Kingstonian supporters is to establish a Trust which hopes to take control of the Ryman Premier League club at the end of the current season. Following last night's vote for AFC Wimbledon to buy Kingsmeadow, Kingstonian will find themselves as tenants in their old ground, and with their chairman - Mr Rajesh Khosla - stating that he is happy to cede control to the fans.

Over the past few weeks, Mr Khosla has said on more than one occasion that he is happy for the club to be run by such a body, and several planning meetings have already been held to establish the Trust in time.

With the help of Supporters Direct - a government funded initiative which helps people "play a responsible part in the life of the football club they support" - The K's Trust is to be launched at a special meeting at Kingsmeadow on Monday 14th April at 8pm. Anybody with an interest in Kingstonian FC is encouraged to attend.

The agenda for the meeting is still to be set, but all Kingstonian fans agree that the only way forward is for a group of people who have the club's best interests at heart to take charge. The Trust Board will be elected by the supporters and will be directly responsible to them.

Current chairman of the Kingstonian Supporters' Club, Colin Deadman, said: "With the current upheaval at the club, we felt that the formation of a Trust had become a necessity. I'm pleased to say that the Kingstonian supporters have pulled together to form a body that is capable of taking this club to the next level.

"The beauty of a Trust is that anybody and everybody can get involved - from the youngest kids to the older members of the family. By pulling together I am sure that we can make Kingstonian stronger, and allow Kim Harris and the team to continue the fantastic work that they have done this season.

"Within our fan base, we have accountants, solicitors, journalists, marketing experts - in short all of the sorts of people that we will need. We hope that we will be able to work in partnership with the Dons' Trust to allow both AFC Wimbledon and Kingstonian to thrive."
Leatherhead 2-2 Kingstonian (6-7 on penalties)
Kingstonian progressed to the final of the Surrey Senior Cup after beating Leatherhead 7-6 on penalties after a two-two draw. The Tanners took a two goal lead before Phil Wingfield and James Pinnock scored for K's.

The penalties went to sudden death before Liam Collins stepped up to score the decisive kick after Lance Key's second save.

The final takes place on Wednesday 7th May, at Imber Court - home of Metropolitan Police - and will be against either Dulwich Hamlet or Sutton United.

The line-up and man of the match voting form are now available.
Scott Steele and Liam Collins speak
Scott Steele and penalty-hero Liam Collins spoke to us after the game. Their thoughts can be heard via the audio page.
Hampton and Richmond Borough relegated
Following Braintree's win at Billericay, Hampton and Richmond have become the first club to be relegated from the top six levels of English football. Our commiserations to them.

The latest league table is, of course, always available.
Monday 24th March 2003
AFC Wimbledon vote to buy Kingsmeadow
The Dons Trust voted overwhelmingly to buy Kingsmeadow at a meeting at Wimbledon Theatre tonight. They needed the votes of two-thirds of those present, and they got the required amount without even the need of a count.

A number of speeches were made throughout the evening expressing concern about the treatment of Kingstonian FC, and assurances were given that they would be treated correctly. These views were greeted by the loudest applause of the evening. One person who suggested changing the name of the ground to "Plough Lane" was shouted down by a large number of people.

The deal is subject to the Dons Trust Board, and their advisors, being satisfied with all financial and legal issues, but the deal looks set to go through by Wednesday of this week. The Trust have said that they will need to raise 3 million pounds in order for the deal to go ahead, but they are confident of achieving that figure.
Sunday 23rd March 2003
Harrow match report
The report of yesterday's three-one defeat is now available.
Saturday 22nd March 2003
Kingstonian 1-3 Harrow Borough
Grant Payne's third goal in as many games saw K's take the lead at Kingsmeadow this afternoon, but a brace from James Osborn, and a late third from Pat Gavin saw the points go to Harrow.

The line-up and man of the match voting form are now available.
Kim Harris and Scott Steele on Harrow
Both of the management duo happened to be around to talk about today's match, as well as give their views on the pitch. The interview can be found on the multimedia - audio page.
Result round-up
Today's defeat sees K's remain in ninth position in the table, still just five points off a top five finish, and with two games in hand over many teams above them.

Canvey missed their chance to re-capture second place, only drawing one-one at home to Bedford this afternoon. Aldershot are now four points clear, having played fewer games than their closest rivals.
Friday 21st March 2003
Gold Bond results - week 12
Week 12 - Drawn 21/03/03




2000 Jackpot AC3339 J Strachan

500 AD1657 A Holerhan

200 N.3690 A Thorpe

200 R.5949 K Millership

100 D.4619 Mrs Hepton

100 S.5491 G Boden

100 P.2531 E Marks

100 ZZ5992 J Waddington

100 E.2490 J Wood

100 U.2503 Mr Manuel

100 Y.2088 Mrs Scott

50 D.5474 M Lechthaler

50 T.2120 J McCall

50 Q.3996 H Starkey

50 H.6845 R Stead

50 F.2027 Mrs Thompson

50 D.3524 D Hearn

50 X.3134 P Rigby


Plus over 400 other prizes each week, see full result sheet for details.

Promoter G. Warburton. Reg with the Gaming Board
FA NATIONAL LEAGUES RESTRUCTURING STATEMENT
The following is a press release from the FA:

FA NATIONAL LEAGUES RESTRUCTURING STATEMENT

After several recent meetings between The Football Association, The Football Conference and the three Feeder Leagues, a number of agreements have been made with regard to the future structure of the National Leagues System.

On the 13th March, a major breakthrough was achieved when all four competitions - Nationwide Football Conference, Ryman Isthmian League, Dr Martens Southern League and UniBond Northern Premier League - agreed to the formation of a new Football Alliance that will operate as an extension of the Nationwide Football Conference.

The new Alliance will be formed by each of the four competitions, taking a 25% stakeholder position in decision making, with two members of each competition forming a new eight-man board.

During recent meetings, there has been a significant acknowledgement by both Football Conference and Feeder League clubs to extend the Football Conference by creating two feeder leagues into the Football Conference.

The FAs proposal for restructuring has always maintained that a 2 Feeder plus 4 Feeder system was the best structure for the future (known as proposal C). The FA National Leagues System Committee today reviewed the Football Conferences request to extend its competition and supported the creation of a structure that is in line with The FAs original proposal.

As a result, the creation of a new Conference North and Conference South Division, feeding into The Football Conference will commence from the beginning of season 2004/05, subject to ratification by FA Council in May 2003.

FA National Game Director Steve Parkin said:

"During the past 2 years, one of The FAs key objectives has been to make the National Leagues System more competitive, exciting and consistent.

"This agreement has been achieved through teamwork between The FA and all Leagues down to Level 4; they should be commended for their positive cooperation in helping to shape the future of football at this level.

"The FA will now work with the Football Conference, Isthmian League, Southern League, Northern Premier League and Level 3 and Level 4 clubs to finalise all details and establish selection criteria for entry into the two Feeder Leagues, ensuring that all clubs have this information before the start of season 2003/04."

In addition, The Football Conference today invoked an existing Football Conference regulation, requesting permission from The FA to increase its membership for season 2003/04 from 22 clubs to 24 clubs.

This proposal has today been sent to the 3 Feeder Leagues for their consideration and consultation, prior to a FA National Leagues Sanctions Committee meeting before the end of the current season.
Thursday 20th March 2003
Conference expansion
From confguide.com:

Yesterday's Conference Chairman's meeting voted narrowly for an increase to 24 clubs for the Conference next season.

The proposal was put forward by the chairman of a certain club currently battling against relegation (you don't need me to tell you who, do you?!). He claimed that it was a proposal from the Conference Management Committee, but at least one other chairman on that committee said he knew nothing about it until yesterday's meeting.

The expansion was passed narrowly, 12 out of 22 voting in favour.

The suggestion that three clubs might still be relegated, with five coming up from the feeders, was rejected. This leaves just one club to drop out of the Conference at the end of this season. Unless...

Unless some way is found to keep one of the feeder league's champions out. Say, on ground grading. Accrington Stanley would seem to be the most likely candidate. The various promotion candidates had their facilities inspected last week, although I do not yet have definite word on the results - but a source close to one conference club believed that Accrington will miss out - meaning no relegation at the end of this season from the Conference.

The expansion to 24 clubs has to be ratified by the FA, but this is expected later today, along with news on the proposed 2nd division of the Conference.
Wednesday 19th March 2003
Kingstonian v Aylesbury re-arranged
This is to confirm that the home match versus Aylesbury United has now been rearranged for Thursday 24th April 2003 - kick-off 7.45pm - as they have reached the semi-final of the FA Trophy.
Kingstonian Reserves v Sutton
Tomorrow night the Kingstonian Reserve side face Sutton United at Kingsmeadow in the Suburban League Premier Division. Kick-off is at 7.45pm and entry will cost 4 for adults and 2 for concessions.
Tuesday 18th March 2003
Dons Trust/AFC Wimbledon press release
THE following press release was issued jointly by the Dons Trust and AFC Wimbledon at 5pm Tuesday 18 March 2003 by agreement with Anup and Rajesh Khosla.

Dons Trust To Decide Future Home of AFC Wimbledon

On Monday 24 March, the Dons Trust, owners of AFC Wimbledon, will hold a special general meeting (SGM) at Wimbledon Theatre. The SGM will decide whether to continue in a groundsharing arrangement for three years or to buy a stadium, which would enable AFC Wimbledon to progress at least as far as the Nationwide Conference. All Dons Trust members in attendance will have the opportunity to vote on the immediate future of the club.

Members will be asked to consider three options a new groundshare agreement at Imperial Fields, home of Tooting & Mitcham United, a renegotiated groundshare at Kingsmeadow or the purchase of the long leasehold interest in Kingsmeadow. This last option could mean that the fans of AFC Wimbledon, who consider themselves the rightful inheritors of the history of football in Wimbledon, will have a ground of their own.

To qualify for promotion to the Ryman League from the Seagrave Haulage Football League, AFC Wimbledon requires at least a three-year ground agreement. As the deadline for having such an agreement in place was 31 January, the club renegotiated the groundshare agreement at Kingsmeadow and, with Brentford having an option to play at the ground next season, explored other options, which resulted in a groundshare agreement with Tooting & Mitcham United.

At a planning committee meeting of Merton Council on Thursday 13 March, permission was denied for AFC Wimbledon to play at Imperial Fields.

Since the signing of these agreements, The Dons Trust and AFC Wimbledon were also offered the opportunity to purchase the long leasehold interest in Kingsmeadow.

Members of the Dons Trust are being posted details of all three proposals.

Louise Carton-Kelly, Chair of the Dons Trust, said: "This is democracy in action. Our members can now debate the options in detail and then vote for whichever they prefer, knowing that the outcome of the vote will be binding on the club. For the first time, our fans have the power to decide and that has to be good for AFC Wimbledon in particular and football in general."

Kris Stewart, AFC Wimbledon Chairman said:"We will be asking members to consider all three propositions with care and will present the benefits and drawbacks of each. We have reached an important milestone in the history of the club and it is fantastic that, as owners of the club, the Dons Trust has the power to make this decision."
Ford United 2-2 Kingstonian
Grant Payne gave K's the lead, but two goals from the home side saw Ford lead at the interval. The sending off of John Buffong early in the second half helped the K's cause, and James Pinnock scored a fine equaliser.

The line-up and man of the match voting form can be found here.
Kim Harris on Ford
Kim Harris spoke about tonight's match versus Ford United. His views can be found on the audio page.
Monday 17th March 2003
Purfleet match report
The report of Saturday's one-nil win in Thurrock is now available.
Sunday 16th March 2003
Mr Khosla to make a statement during the week
We have been informed that Mr Khosla will make a statement during the week regarding the on-going administration period and yesterday's rumours regarding AFC Wimbledon and the ownership of Kingsmeadow.
Surrey Senior Cup final
It has been confirmed that this season's Surrey Senior Cup final will be played on Wednesday 7th May at Metropolitan Police. The two semi-finals see Kingstonian travel to Leatherhead and Sutton United at Dulwich Hamlet.
Saturday 15th March 2003
Purfleet 0-1 Kingstonian
Grant Payne's first goal from the club - scoring with his eye-brow 3 centimetres out after Scott Edgar connected with a corner - was enough to earn K's a fine away win at Purfleet.

The line-up and man of the match voting form are now available.
Scott Steele on Purfleet
Scott Steele gave his thoughts on the win at Purfleet after the game. The interview is available via the audio page.
Friday 14th March 2003
Club shop management
The following statement has been passed to us by the new management team at the club shop - Gary & Sandra Winters:

Some of you may have noticed recent changes in the club shop, where we have taken over from Brian Giffard & family - whom we would like to thank for their hard work over recent seasons.

We have set about re-organising the shop and are in the process of arranging new stock for the summer. Your opinions and ideas would be welcomed, so please pop in on a matchday for a browse and to say hello. Alternatively, you can email us at clubshop@kingstonian.net.

Thanks,
Gary & Sandra Winters
Gold Bond results - week 11
Week 11 - Drawn 14/03/03




2000 Jackpot K.1165 M Hawthorn

500 Y.3964 Miss Keeling

200 C.0384 P Worthington

200 W.5158 N Marsden

100 X.3430 M Scott

100 X.6928 A Pawson

100 C.1124 C Bateson

100 XX3954 Mrs Gilmore

100 Y.6726 Mr Ashton

100 N.5926 R Reynolds

100 BB2667 Mrs Thomas

50 G.6744 A Green

50 Q.2492 Mrs Lormond

50 EE1091 Mrs Page

50 AC3442 K Jennings

50 W.2487 Mrs Thomas

50 H.0999 C Mercer

50 G.0983 Mrs Jackson


Plus over 400 other prizes each week, see full result sheet for details.

Promoter G. Warburton. Reg with the Gaming Board
Thursday 13th March 2003
Wembley 2000 framed prints
In conjunction with Colin Edwards Photography, K's Web are proud to present a selection of exclusive limited edition FA Trophy 2000 prints. More details can be seen on the special framed prints page.
K's Web is five years old!
On Saturday 22nd March 2003, K's Web is five years old. To celebrate our longevity we are sponsoring the matchball for the home match with Harrow (with proceeds from the text alert service) and offering you - our loyal and articulate readers - the opportunity to win free entry to the match.

The latest in a series of two (so far) caption competitions is now available here and we would like you to send us your funniest/wittiest/"rollest caption. The winner will be the person who sends us the funniest caption by the evening of Wednesday 19th March 2003. Our decision is final and our sense(s) of humour are not up for discussion.

The prize is free entry for you and a guest to the home match versus Harrow where you will also receive all of the benefits of being the matchball sponsors - apart from the ball which we will keep and play with in our garden. Or possibly use as a prize later in the season.

Thank you for all of your support over the last five years - and look out for more birthday fun over the next couple of weeks!
Tuesday 11th March 2003
Kingstonian 1-4 Braintree Town
A four-goal first-half blitz from Braintree secured a vital three points for the relegation threatened side at Kingsmeadow this evening. The K's goal came from a Tim Sills penalty fifteen minutes from time.

Matt Flitter failed a late fitness test, Liam Collins was taken to hospital after the ball smashed him in the head within the first five minutes and Braintree made three goal-line clearances in the second-half.

The line-up and man of the match voting form can be found here.
Kim Harris on Braintree
Kim Harris spoke about tonight's four-one defeat - the interview can be heard via the audio page.
Monday 10th March 2003
Matchday mascots
A special promotion has been launched with Junior K's members offered the opportunity to be matchday mascot for free until the end of the season, provided that they have a Kingstonian shirt.

Details on the Junior K's scheme can be found here.
Hendon match report
The report of the Bryco League Cup quarter-final is now available.
Ash match report
The report of the Surrey Senior Cup quarter-final is now available.
Sunday 9th March 2003
Maidenhead match report
The report of yesterday's two-nil win is now available.
@kingstonian.net email addresses
Now available - and now working! - you can now sign up for your own @kingstonian.net email address. Go straight to the K's Web Mail page and click on the sign-up link to get your free @kingstonian.net email address.

If you think you should already have one please contact us.
Saturday 8th March 2003
Kingstonian 2-0 Maidenhead United
Two first-half Tim Sills goals proved enough to beat Maidenhead United this afternoon. Grant Payne is still looking for his first goal for the club, but he came mighty close when he struck the bar just before the break.

The line-up and man of the match voting form can be found here.
Kim Harris on Maidenhead
The manager speaks about this afternoon's match against Maidenhead, as well as last Tuesday's defeat at Hendon in the interview which can be found on the audio page.
Kingstonian FC - A Supporters Trust?
The following was handed out to the majority of supporters at today's match:

Kingstonian FC - A Supporters Trust?

On Thursday last, March 6th, a group of Kingstonian supporters met with Dave Boyle - from the government funded organisation "Supporters Direct" - to find out the possible benefits of, and work involved in, setting up a "supporters' trust" at Kingstonian.

Dave gave a detailed presentation on the work that Supporters Direct have done at other clubs, from the Premiership right down to the Ryman League, and he gave basic information on the roles and objectives of those trusts.

The supporters - listed below - were invited to meet Dave by Andrew Carberry, who writes the Kingstonian match reports for the "Non-League Paper." We attended because we are anxious that the football side of the club gets whatever support it needs, to achieve our collective aim of a successful football team.

Clearly, the situation at Kingstonian makes it impossible to gauge what sort of organisation could be set up here, or precisely what it could do, but we are undertaking some detailed research into supporters' trusts to enable us to answer the questions we all have on how best to help Kim Harris and the team, post-administration.

Unfortunately it is not possible to be more explicit at this time. The process is at a very early stage, but we intend to hold an open public meeting, hopefully once the administration situation has been resolved but certainly before the end of the season. In the meantime, if anybody has any questions, please feel free to contact anybody listed below.

Andrew Carberry, Colin Deadman, Gary Ekins, Ali Kazemi, Mark Murphy, Oliver Steel
Friday 7th March 2003
Gold Bond results - week 10
Week 10 - Drawn 07/03/03




2000 Jackpot U.3635 C Gange

500 GG6657 C Robinson

200 C.1627 R Maghoo

200 AN2477 B Westcott

100 D.4400 Mrs Cross

100 Y.5400 Mrs Mawson

100 M.0603 R Macdonald

100 X.4847 Mrs Sherington

100 S.5511 Mrs Abbott

100 U.0562 Mrs Docwra

100 V.2161 T Jones

50 J.6744 J Bradley

50 B.6206 Mr Mann

50 T.0174 P Sayer

50 MM4781 M Davidson

50 M.2584 A Hill

50 V.1152 J Dennis

50 Z.0883 M Knight


Plus over 400 other prizes each week, see full result sheet for details.

Promoter G. Warburton. Reg with the Gaming Board
Thursday 6th March 2003
kingstonian.net email
If you have used the K's Web Mail (online @kingstonian.net email) service, please let us know your whole address - either by emailing gary.ekins@kingstonian.com or by posting on the forum, as we have been forced to change the provider. More details to follow in the next few days.
Wednesday 5th March 2003
Julian Sills' injury
It has been confirmed that unfortunately Julian Sills broke his leg during the second-half of last night's match with Hendon, meaning that he will be out for the remainder of the season. We wish him well and hope for a speedy recovery.
Fixture re-arrangements
The final two league matches have now been given dates. Kingstonian will play host to Aylesbury United on Tuesday 8th April, kick-off 7.45pm. This match will however be moved to Thursday 24th April should Aylesbury overcome Gloucester in the FA Trophy on Saturday week.

Kingstonian will play host to Hendon on Tuesday 29th April, kick-off 7.45pm.
Tuesday 4th March 2003
Hendon 1-0 Kingstonian (after extra time)
A goal in the opening period of extra half was enough to send Hendon through to the semi finals of the Bryco League Cup (to face Canvey Island) in a game of few chances at a blustery Claremont Road.

The line-up and man of the match voting form can be found here.
Surrey Senior Cup semi-final
K's will play away at Leatherhead in the semi-final of the Surrey Senior Cup after they defeated Crystal Palace 5-4 on penalties last night, after the match ended nil-nil after extra time.

This match will be played on Tuesday 25th March 2003 at Fetcham Grove, Leatherhead at 7.45pm. Our home league match versus Aylesbury United has now been postponed.
Reserves defeated
The reserves lost three-nil at home last night to Brook House, contributing much to their own undoing with some sloppy defending.
Monday 3rd March 2003
New venue for Youth Team
Kingstonian's Southern Youth League team will now be playing it's fixtures at Godalming & Guildford FC after a mutual agreement between both clubs and the Southern Youth League. This will hopefuly guarantee that, with more dates available for use by the reserves, both the Kingstonian Reserves and Youth Teams will be able to finish the season on time and prepare properly for next season.
Sunday 2nd March 2003
Under 12s in free - next two matches
The club is pleased to announce that, following the postponement of yesterday's match with Briantree Town - where under 12s were to be allowed in for free - the next two home matches will be subject to the same offer.

Therefore those under 12 will be able to come to this Saturday's home match versus Maidenhead United, and the re-arranged match with Braintree Town, for free as long as they are accompanied by an adult.
Upcoming reserves game
The reserve team return to Kingsmeadow Stadium in another Suburban League six-pointer this Monday to host Brook House, having beaten Hendon in a Dorking thriller and lost to Corinthian Casuals on a sodden pitch in the past week. Manager Trevor Jones has indicated that Scott Steele will be involved, as will be a couple of other player from the first team ranks.

Kick off will be at 7.45PM and all support will be greatly appreciated. Admission prices will be 4 adults and 2 concessions, with season tickets holders free.
Braintree match re-arranged
The club have re-arranged the following fixture:

Tuesday 11th March 2003, KO 7.45PM
Kingstonian vs Braintree Town
Saturday 1st March 2003
Kingstonian v Braintree postponed
This afternoon's home match with Braintree was postponed at 2.30pm when the referee decided that the pitch was unplayable. A large amount of rain fell just before this and there was a fair amount of water on the pitch (see below).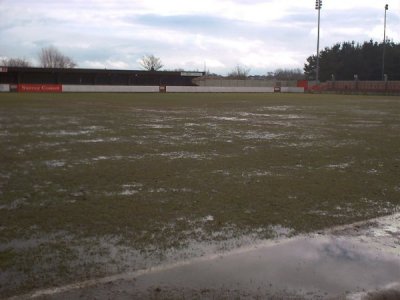 Reserves defeated
The reserves lost two-one at Corinthian Casuals this afternoon, despite taking the lead through Josh Francois. Their next match is on Monday night, at Kingsmeadow, versus Brook House.