Monday 30th April 2007
Burgess Hill match report
The report of Saturday's win is now available.
FA Carlsberg Trophy Final
This season's FA Trophy final between Kidderminster Harriers and Stevenage Borough on Saturday 12th May will be the first competitive game at the new Wembley Stadium and a record attendance is being anticipated for the non-league showpiece event.

Tickets will be on general sale from this Tuesday at www.TheFA.com, with prices set at £20 for adults and £10 for juniors.
Sunday 29th April 2007
Mark Anderson's thoughts on the season
Chairman Mark Anderson spoke to us on all manner of things after yesterday's game. Please note that this interview is almost twenty minutes long...
Saturday 28th April 2007
Kingstonian 5-0 Burgess Hill
The final game of the season saw Kingstonian record their biggest win of the campaign, with three teenagers scoring in a five-nil win against Burgess Hill Town.

Danny Summers opened his account with a close range finish in the 36th minute before Simon Huckle struck a second just two minutes later.

David Shin converted a rebounded effort off the post to extend the lead three minutes after half time before David Francis rifled home his first goal for the club five minutes later. Substitute Glenn Boosey completed the rout in the 73rd minute with a speculative long range effort.

Full details are available here.
Alan Dowson on Burgess Hill
The manager spoke to us after the game and you can hear what he had to say via the audio player.
Friday 27th April 2007
Staff XI 3-4 Supporters XI
The Kingstonian Supporters continued their unbeaten run this season with a hard-fought four-three win against a Staff & Guests XI.

A hat-trick was struck by players from both sides, with James Carlin for the Supporters and goalkeeper-come-striker Adrian Blake grabbing a treble for the Staff (with two from the penalty spot). Phil Wingfield, these days literally a terrace favourite, demonstrated guile a-plenty as a second half substitute for the Supporters, scoring the only other goal of the game.

Thanks to everyone who was involved in a great game, which also raised £230 for physio supplies for next season.
Monday 23rd April 2007
Ross Chalke
Kingstonian FC are delighted to announce that Ross Chalke will feature in the first team squad for Saturday's match against Burgess Hill Town.

Ks manager Alan Dowson said: "I'm delighted that Ross has made his way into the squad, he thoroughly deserves it. It's proof that a local lad can join the club at eight years old and eventually work his way into the first team squad."

Ross first played for K's at Under 9s level, and has won championships for Kingstonian Youth at Under 13s level and was a member of last season's Under 16s championship winning squad. This season, Ross has played 24 times for the Ks Under 18s, in the midfield or up front, and has scored 16 goals.
Sunday 22nd April 2007
Maidstone United 2-1 Kingstonian
Maidstone took another step towards the title with a two-one win at Sittingbourne yesterday. An own goal just after the break brought K's back into the game, but in truth Maidstone were worthy winners.

Full details are available here.
Alan Dowson on Maidstone
Alan Dowson spoke to us after the game and you can hear what he had to say via the audio player.
Maidstone match report
The report of Saturday's defeat is now available.
Friday 20th April 2007
Pre-season friendlies
The club have made arrangements for the bulk of the summer's pre-season friendlies as follows:

Sat 14th Jul - Away v Colliers Wood Utd (1pm reserves, 3pm first team)
Thu 19th Jul - Away v Bookham (6pm reserves, 8pm first team)
Sat 21st Jul - Away v Cobham (1pm reserves, 3pm first team)
Sat 28th Jul - Away v Ramsgate (3pm first team)
Tue 31st Jul - Away v Carshalton Athletic (7.30pm first team)
Tue 7th Aug - Away v Ashford Town Middx (7.30pm first team)

Meanwhile, Alan Dowson is hoping to lure a couple of professional clubs to Kingsmeadow for home fixtures as part of the schedule. He has been in contact with AFC Wimbledon about this and has been told to expect dates for the first two weeks of August.
The big match
Next Friday evening will pit Martin Tyler's staff and associates against Simon Bell's finest from the terraces, in a match kicking off 7.30pm at Colliers Wood Utd.

Organiser Alan Dowson has revealed some of the names expected to take part for the staff team, "I've scouted the supporters team and they're a real threat so I've got some experience in to help the backroom boys. My mates Glenn Cockerill and former K's skipper Matt Crossley will be there and we've also put in an approach for Dave Leworthy, though we're fighting the supporters for his allegiance. We had a problem in goal as Adrian Blake might not be able to make it so we've turned to our chairman Mark Anderson who claims he used to be a 'keeper for Tranmere Rovers as a kid so well see if he can park one of his coaches in the goal!

The first teamers are unlikely to feature with a league match the following day, though Dowson has ensured their involvement, "The boys will be there to support the teams and they have kindly agreed to cover the cost of the match so admission will be free."

"I've also got a raffle going on the night to raise a few bob to get some supplies for our physio Steve Snelling for next season. Steve's one of the best in the game and he does what he does for the love of it, so the least we can do is fill his case with materials."
Thursday 19th April 2007
End of season clean up
Our counterparts at AFC Wimbledon are aranging the usual close-season clean up in and around Kingsmeadow Stadium, and their appeal for volunteers is extended to Kingstonian fans.

There are always plenty of jobs to be done and if you are able to bring your own tools, especially forks, spades, shears, flymo or equivalent, brooms and buckets, that would help even more.

The work is scheduled for Saturday 26 May & Sunday 27th May. If you can help on either or both of those days, please contact the AFC Wimbledon club office on 020 8547 3528 (between 10am and 4pm on a weekday) so that they can make the necessary arrangements.
Sunday 15th April 2007
Club to build on reserves and U18's
The club are delighted to announce the formation of a reserve side for season 2007/08.

Although initially only playing regular friendly fixtures, the team is seen as a vital element in the rebuilding of the club. Manager Alan Dowson was quick to point out the difference between fitness and match fitness and the fact that a number of fringe players will benefit from now playing on a regular basis. Furthermore the management team will be able to look at a number of the youth players seeking to progress into the first team by way of the reserves and players returning from injury will also get games to aid their rehabilitation.

The formation of the reserve team comes at a time when the whole structure of the club and its relationship with Kingstonian Youth FC is under review. This positive step will help to ensure the long-term future of Kingstonian FC and will act as a stepping-stone for young players progressing through the youth system to reach their goal of playing for the first team.

The U18's role within the club is now the subject of much friendly discussion between the two bodies and the search for a number of sponsors to help fund the team for next season is underway. If you or your business would like to help then please contact Adrian Withers on 07956 559601 or Ian Brady on 07879 662005 and they will be delighted to provide you with more information.
Godalming match report
The report of yesterday's four-nil victory is now available.
Saturday 14th April 2007
Kingstonian 4-0 Godalming Town
A comfortable four-nil win for Kingstonian saw opponents Godalming Town relegated from the Ryman League in front of the smallest home crowd of the season today.

Bobby Traynor opened the scoring in the ninth minute with a deft finish before Wes Goggin passed the ball into the back of the net to double the advantage just before the hour mark. Saheed Sankoh and David Shin both saw shots squirm past visiting goalkeeper Andy Parkinson in the final ten minutes to complete the K's biggest win of the season.

Full details are available here.
Alan Dowson on Godalming
The manager spoke to us after the game and you can hear what he had to say via the audio player.
Friday 13th April 2007
Staff v Supporters match
Alan Dowson has arranged a staff team, featuring his backroom team and some of the squad, to play an end of season match against the in-form supporters team. This will be played at Colliers Wood United on Friday 27th April, kick off 7.30pm.

Anybody interested in playing for the supporters who hasn't done so yet this season should speak to team manager Simon Bell at tomorrow's game - he will be the steward located in the far corner at the Kingston Road End.
Thursday 12th April 2007
End of season presentation evening
The Supporters Club are pleased to announce the end of season party and presentation evening will take place on Friday 4th May, doors 7.30pm, in the main bar at Kingsmeadow. There will be a disco this year, along with the usual raffle and bar. Full details will follow shortly.

Meanwhile, voting forms will be available from the club shop on Saturday for the Supporters Club player of the season.
Wednesday 11th April 2007
Leatherhead match report
The report of Easter Monday's victory is now available.
Monday 9th April 2007
Leatherhead 0-1 Kingstonian
A looping 33rd minute Simon Sobihy header proved the difference between the sides at a sunny Fetcham Grove today.

Bobby Traynor and substitute debutant Dave Francis meanwhile had a goal apiece disallowed towards the end of either half.

Full details are available here.
Martin Tyler on Leatherhead
Coach Martin Tyler spoke to us after the game and you can hear what he had to say via the audio player.
Sunday 8th April 2007
Alan Dowson on Dartford
The manager spoke to us after yesterday's game and you can hear what he had to say via the audio player.
Dartford match report
The report of yesterday's one-one draw is now available.
Saturday 7th April 2007
Kingstonian 1-1 Dartford
A stupendous flicked effort from Bobby Traynor levelled the score against high-flying Dartford at Kingsmeadow this afternoon leaving the teams to share the points.

Full details are available here.
Thursday 5th April 2007
Quartet commit to club
With Bobby Traynor and Wes Goggin having recently signed contracts for next season, four more players have pledged their immediate futures to the club - Simon Sobihy, Luke Garrard, Jon Coke and Wayne Finnie.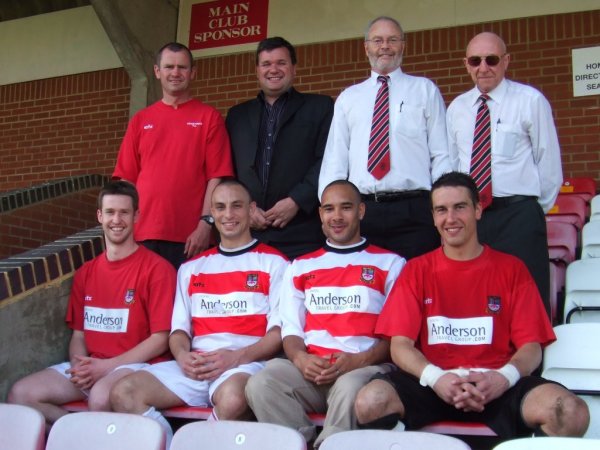 Manager Alan Dowson comments, "The commitment from these four is excellent news as I am building up a strong core of local players who show a real affinity for the club. We're already making plans for next season and this is another move in the right direction for us."
Tuesday 3rd April 2007
Easter soccer school
If you have not yet organised anything for the kids this Easter why not send them on Alan Dowson's Kingstonian Soccer School, running from Tuesday 10th April - Friday 13th April at Hinchley Wood Secondary School in Esher. The course is open to children of all abilities from the ages of 6 to 14.

The K's manager will be working with the assistance of Martin Tyler along with some of the first team squad. The cost is £15 per day or £50 for the whole four day programme. For further details please download an application form from here.
Corinthian-Casuals XI 1-2 Kingstonian XI
Goals from teenage strikers Danny Summers and Dave Francis secured a two-one win for a Kingstonian XI at last night's friendly against Corinthian-Casuals.
Monday 2nd April 2007
Casuals match report
Michael Underwood's report of Saturday's enthralling nil-nil draw is now available.
Sunday 1st April 2007
Paul Wetherall and Dave Francis
With the passing of the league transfer deadline yesterday, the club are played to welcome Paul Wetherall back to the K's from Molesey.

Teenage striker Dave Francis has also signed for the club, after impressing in last week's friendly at Colliers Wood. Dave's last club in the Ryman League was Walton & Hersham.

Meanwhile, Julian Sills has been released from his registration in order to sign for Ashford Town (middx).
Corinthian-Casuals friendly arranged
A Kingstonian XI will return to Corinthian-Casuals tomorrow night, Monday 2nd April, for a friendly fixture. Kick off is scheduled for 7.30pm.
Corinthian-Casuals 0-0 Kingstonian
Kingstonian and Corinthian-Casuals played out a scoreless draw at a windy King George's Field yesterday.

Full details are available here.