Thursday 30th August 2007
Dorking 1-1 Kingstonian XI
A Kingstonian XI played out a one-all draw at Dorking this evening. Danny Summers gave K's the lead in the early stages, rising to head home an Akwasi Edusei corner. The hosts equalised with a headed effort of their own just before half time.

Lineup:

1) Ini Amaeghe
2) Mark Jarman
3) Nick Rundell
4) Lee Riddell (Jaz Khera)
5) Rob Sheridan
6) Ashley Lawrence
7) Craig Dunne (Paul Westren)
8) Gareth Graham
9) James Rose (Kane Sargeant)
10) Danny Summers (Mark Watkins)
11) Akwasi Edusei (Richard Withers)
Tooting match report
The report of Monday's game is now available.
Tuesday 28th August 2007
Dorking v Kingstonian XI
Martin Tyler will take a Kingstonian XI to face Dorking on Thursday night, kick off 7.30pm at the Meadowbank ground.
Monday 27th August 2007
Tooting & Mitcham 3-1 Kingstonian
Kingstonian's 100% start to the season came to an end at Imperial Fields today following a three-one defeat to Tooting & Mitcham.

K's troubles began just before half time when goalkeeper Luke Garrard picked up an injury, and were compounded when the Terrors' Matt York drilled a free kick into the bottom corner to open the scoring.

Further goals followed in the final quarter of an hour the game, first when Jamie Byatt rose to beat substitute 'keeper Luke Naughton, followed minutes later by a simple strike by Jon Henry-Hayden. Bobby Traynor bundled home a consolation goal in stoppage time.

Full details of the match are now available.
Horsham match report
The report of Saturday's win is now available, courtesy of Darren Bell.
Sunday 26th August 2007
Kingstonian 2-0 Horsham YMCA
A quite stupendous goal from NJ Lampton sealed a deserved two-nil for K's over Horsham YMCA yesterday. Saheed Sankoh notched his fourth goal of the season just before half-time after a good run and shot from Lampton, but it was the second goal of the game that will undoubtedly win "goal of the season" this year - the winger beating five defenders before rounding the goalkeeper and slotting home into the empty net.

Full details of the match are now available. K's remain in second place in the table, with just three teams maintaining their 100% start to the season.
Alan Dowson on Horsham
The Geordie-man spoke to us after the game and you can hear what he had to say via the audio player.
Thursday 23rd August 2007
U18's game called off
The Under 18's Ryman Youth League opener against Maidstone United tonight has been postponed due to a waterlogged pitch.
Wednesday 22nd August 2007
Ryman Youth League kick off
The Under 18's, taking part in the inaugural Ryman Youth League, start their season tomorrow night when they host Maidstone United. The fixtures, announced on a monthly basis, can as usual be found on the youth page.

The team's home venue will be Cobham FC (Leg O'Mutton Field, Downside Bridge Road, Cobham, Surrey KT11 1AQ), with Thursday evening 7.45pm kick offs designated for home games.
Tuesday 21st August 2007
Corinthian Casuals match report
The report of last night's win is now available, courtesy of Michael Underwood.
Monday 20th August 2007
Kingstonian 2-1 Corinthian Casuals
Two goals from Saheed Sankoh put K's up to second place in the table, earning his side a two-one victory over Corinthian Casuals.

The visitors came close twice in the first half, which was actually dominated by K's, but the home side got what they deserved after the break.

Full details are available here.
Alan Dowson on Corinthian Casuals
The manager spoke to us after the game and you can hear what he had to say via the audio player.
Sunday 19th August 2007
Ashford match report
The report of yesterday's win is now available, courtesy of Simon Grier.
Alan Dowson on Ashford
The manager spoke to us after the game and you can hear what he had to say via the audio player.
Saturday 18th August 2007
Ashford Town 0-2 Kingstonian
Kingstonian opened the season with a win against Ashford Town for the second consecutive season, courtesy of goals in either half from Bobby Traynor and Saheed Sankoh.

Full details are available here.
Friday 17th August 2007
Sponsor a Goal 2007/08
Sponsor a Goal is back for the 2007/08, again being run by Geoff Yorke and Jim Page who raised the fantastic sum of £4,023 last season. If you are interested in joining the scheme, for any kind of sponsorship (including specials!) then please see either of them at any K's game, or email goal@kingstonian.net
Thursday 16th August 2007
Supporters Club coach travel
The Supporters Club will as usual be running coaches to away games this season. Prices and times of travel can be found on the coaches page.

Details are also listed regarding coach travel season tickets - which offer generous savings over the course of the regular season (10 league matches - cup games are excluded).

Meanwhile, new 2007/08 Supporters Club membership forms can now be downloaded from the forms page.
Wednesday 15th August 2007
Saheed Sankoh
The club are pleased to announce the signing of striker Saheed Sankoh, who made a strong impression whilst on loan from Woking towards the end of last season with 5 goals from 8 appearances for the K's. Saheed is a former England U18 international who came through the ranks at Fulham.

Manager Alan Dowson comments, "There has been a lot of speculation over the summer regarding whether we would be seeing Saheed staying at the club, and I am delighted that we have agreed terms as he has the talent and so much potential to just keep getting better."
Tuesday 14th August 2007
Live scores from all K's matches this season
This season we will again be using the "my team live" service to bring you live scores from every* K's match. You can follow the match on the forum, on livescores.co.uk, or you can sign up to receive text messages every time there's a goal or at half-time or full-time.

To register to receive texts head over to the K's section of the livescores.co.uk site. Any questions please ask.

* as long as one of us is there.....
Monday 13th August 2007
Alan Dowson on the new season
The manager spoke to us about pre-season and his thoughts on 2007/2008.
Sunday 12th August 2007
Non-League Football Show
A new programme dedicated to non-league football has been launched by BBC London Radio. The Non-League Football Show will be broadcast every Monday night from 9pm on BBC London 94.9, BBC London DAB on Sky Channel 0152 and online here.
Non-League Today
On Sunday you will able to purchase your copy of the new 56-page 'Non-League Today' newspaper for an introductory price of a £1, brought to you in conjunction with www.nonleaguedaily.com

In addition, using a unique login published in the Sunday edition of Non-League Today, access can be enjoyed to the free Non-League Today Digital Preview, published every Thursday at 12.00pm. This preview is exclusively available only to readers of Non-League Today.
Saturday 11th August 2007
Kingstonian 0-2 AFC Wimbledon
AFC Wimbledon regained the Trevor Jones Memorial Trophy with a two-nil win against K's today at Kingsmeadow.

Steve Ferguson struck a sublime opening goal into the top corner in the 8th minute before somewhat inadvertently doubling his tally in the 66th minute. Scott Corbett went closest for the home side, his headed effort saved by Andy Little at point blank range just after half time.

Lineup:

1) Luke Garrard
2) Scott Corbett
3) Simon Sobihy
4) Tommy Moorhouse
5) Gavin Cartwright
6) Jon Coke (15 Lee Riddell)
7) Neil Lampton
8) Wes Goggin (17 Gareth Graham)
9) Bobby Traynor (14 Danny Summers)
10) James Rose (12 Saheed Sankoh)
11) Liam Cockerill (16 Jason Turley)
Jason Turley and Gareth Graham
The club are pleased to announce the signing of defender Jason Turley from Dulwich Hamlet and midfielder Gareth Graham from Croydon Athletic.

Manager Alan Dowson says of the signings, "Jason is a player who I have been tracking for a couple of seasons and I am really pleased to have finally got him. He is a strong committed player who will further strengthen our team defensively."

"Gareth really impressed against us last year and certainly has the quality to impose himself at this level. He just knows that he has to work hard on his fitness if he wants to make the impact we know he is capable of."
Friday 10th August 2007
In the club shop
A number of items are on sale in the club shop, including:


05-07 away shirts (£15 adult, £5 child)

Surrey Cup winners t-shirts (£3)

Alan Dowson t-shirts (£3)

Keyrings/badges/pens (£1)

Meanwhile, club would like to extend a warm welcome to Alison Livesey & Sandra Hempton who have taken over the reigns from Gary & Sandra Winters, whose efforts over the past few years have been much appreciated.
Kitz deal signed
The club have extended their relationship with kit manufacturer Kitz by signing a two year supply deal with the Tooting-based company. Mark Anderson comments, "We are very pleased to sign this contract with Kitz and look forward to working closely with them. The deal is a good one for the club as a whole, and will benefit both the senior club and youth setup through economies of scale."

The design of the home strip has been changed to return to the traditional black shorts and socks, whilst the away strip will remain unchanged. Both, carrying the name of our new sponsors TMG, should be available in time for the first home league game of the season, along with other new bits of merchandise.
Thursday 9th August 2007
Match posters
Posters advertising the first four home games of the season can now be downloaded for distribution from the match posters page.
Travel disruption on Saturday
There will be some disruptions on the road and rail network near the ground on Saturday as follows:

The train line between New Malden and Kingston will be closed all day, with extra trains running between Waterloo and Hampton Court to allow bus connections at New Malden or Surbiton. Valid rail tickets will be accepted on bus routes 57, 71, 131, 213, 281, K1, K2, K3, K4. Only trains via Richmond will be serving Kingston.

Meanwhile, London Road will be closed to both pedestrians and traffic to allow the replacement of the railway bridge located between the Cambridge/Kingston Road and Park Road junctions. Diversion routes through Coombe Road and Galsworthy/Gloucester Road will be in place.
Wednesday 8th August 2007
Millwall match report
The report of Monday night's game is now available, courtesy of Darren Bell.
Tuesday 7th August 2007
Ashford Town (Middx) 1-0 Kingstonian
Ashford Town (Middx) beat a Kingstonian XI by one goal to nil tonight after Matt Baxter broke through to strike in the 16th minute. The K's had their best moment in front of goal midway through the first half, whilst Ashford were denied from the spot late on by goalkeeper Luke Naughton.

Lineup:

1) Luke Naughton
2) Jason Turley
3) Nick Rundell (16 James Maberley)
4) David Suchy
5) Creag Wilson
6) Gareth Graham
7) Ebenezer M'Asade
8) Lee Riddell (15 Ross Chalke)
9) Scott Edgar (14 James Rose)
10) Danny Summers
11) Glenn Boosey (12 Jon Coke)
New sponsors announced
Kingstonian Football Club are delighted to announce three significant sponsorship deals for the forthcoming season.

The club will be bearing the name of TMG Fire & Security Ltd across their famous colours as shirt sponsor with immediate effect. TMG Director Calvin Avery will additionally be joining the board of Kingstonian FC Ltd in a Non-Executive role as Marketing Director. He comments, "I am delighted to be involved with Kingstonian, both on a personal and professional level. I was brought up in Ham and taken by my mum to watch the K's as a youngster so it has gone full circle for me, so to speak. I am looking forward to building a strong association between our company and the club."

In two other deals announced before the friendly against Millwall on Monday night, Jemca Toyota will be sponsoring player tracksuits and advertising in the award-winning matchday programme, whilst Shanghai Furniture Company have pledged to sponsor the clubs travel and logistics over the coming campaign.

Kingstonian Joint-Chairman Malcolm Winwright comments, "This is significant progress for the club, signing with three great companies such as TMG, Jemca and Shanghai Furniture. They have demonstrated confidence and belief in Kingstonian, and we hope that this will encourage others to come forward and work with us in every way possible."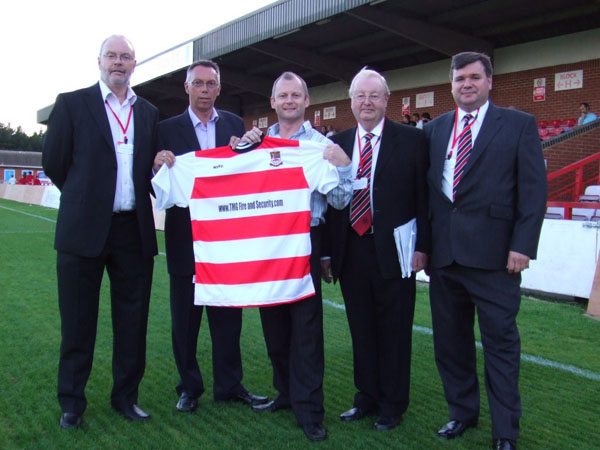 Monday 6th August 2007
Kingstonian 1-1 Millwall XI
Kingstonian draw one-all with a Millwall XI featuring mainly players from the Lions' first team squad at Kingsmeadow tonight.

K's took the lead in the ninth minute when Neil Lampton neatly slotted home after being played in by Saheed Sankoh. The visitors played a fast controlled game and found an equaliser just before half time, Tom Kilby pouncing on the rebound after Luke Garrard had saved an initial strike from the edge of the box.

Lineup:

1) Luke Garrard (18 Luke Naughton)
2) Scott Corbett (12 Creag Wilson)
3) Simon Sobihy
4) Jon Coke (15 Lee Riddell)
5) Tommy Moorhouse (17 Ross Chalke)
6) Gavin Cartwright
7) Neil Lampton
8) Wes Goggin (16 Gareth Graham)
9) James Rose (14 Danny Summers)
10) Saheed Sankoh
11) Liam Cockerill
Thursday 2nd August 2007
Witney Town 2-0 Kingstonian XI
Witney Town beat a Kingstonian XI by two goals to nil last night. Lee Riddell, Danny Summers and Ross Chalke from the first team squad were joined by youth teamers and trialists.

The K's struck the woodwork on a couple of occasions though the hosts opened the scoring from their second penalty of the game before doubling their advantage with a headed effort.

Alan Dowson's thoughts on the game, "It was a good chance to see a number of players in action and give the likes of Lee a chance to get a whole game under their belt. We only had twelve players so Mark Hams came on as a sub in defence - in hindsight I wish I'd put him up front as he might have troubled their back line as much as he did ours!"