Monday 31st January 2000
Kingstonian FC AGM and EGM
There was a Shareholders AGM and EGM this evening and an anonymous source has told us the following:

No work will be undertaken on the ground until the close season.

The Rights Issue has been approved allowing those supporters who signed up to buy 50 worth of shares to do so in the near future.

Dwight Marshall has finally signed for Slough on a "free transfer". However, the move, while free for Slough, has allegedly cost K's 2,000, as they had to pay up the remainder of Marshall's contract.
Kidderminster match report
A Times report of the K's v Kidderminster game has been added to our report.
London Broncos latest
Ollie informs us that the London Broncos have been drawn at home in the Challenge Cup against "some Northern team" and that they will be playing the tie at Kingsmeadow on Sunday February 13th, the day after the Sutton game.
Surrey Senior Cup update
Should K's beat Croydon Athletic tomorrow night, the next round of the Surrey Senior Cup will see K's travel to Leatherhead.
Sunday 30th January 2000
Kidderminster match report
Murray Stalker has now produced the report of yesterday's loss to Kidderminster. Many thanks to him.
Woking match report
The long awaited report of Wednesday night's determined win over Woking is now ready, tongue firmly in cheek.
Saturday 29th January 2000
Kingstonian 0-1 Kidderminster Harriers
The Conference leaders extended their recent good run of form with a hard-fought victory at Kingsmeadow today. Both David Leworthy and Matt Crossley were absent with 'flu, and their replacements were unable to break down the Kiddies' defence.
Result round-up
Elsewhere, Rushden hit six past Northwich whilst both Dover and Yeovil won to keep the pressure on at the top of the table. Sutton drew 1-1 with Southport, leaving them at the bottom of the form guide.
Dwight Marshall joins Slough?
We are almost 100% certain that Dwight Marshall has now joined Slough permanently, on a free transfer. But not quite 100% certain.
Wednesday 26th January 2000
Kingstonian 2-0 Woking
K's finally got the better of Woking at the third attempt in a month. On a night when Geoff Pitcher made his 150th K's appearance, and Eddie Akuamoah his 300th, the goals came from Gary Patterson and David Leworthy - his first since October 30th. Mark Harris was sent off late on, apparently for trying to "nut" Darren Hay.
NMT round-up
This result sees K's in the two-legged semi-final of the competition, which will be against the winner of the Hayes v Yeovil tie, postponed from last night. Hoagy informs us that these games are provisionally scheduled for February 14th and March 6th.
Supporters' Club hand over cheque for ?1,730
Below is a picture showing the presentation of a 1,730 cheque by Richard Atkinson and Simon Murray on behalf of the Supporters' Club to Geoff Chapple. Chris Richardson is also in the picture on the left.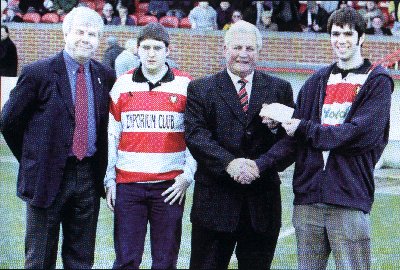 &copy Kingstonian FC
Tuesday 25th January 2000
Kingstonian v Kidderminster on BBC SCR
Mark Langhorn has asked us to say that BBC Southern Counties radio (104.6FM) will be doing live reports on Saturday's big game against Kidderminster. They would also like K's fans to phone in from 1.30pm on 0645-570057, hopefully with more intelligent comments than those made by Murray Stalker before the Wealdstone game.
Sunday 23rd January 2000
Doncaster Rovers 1-0 Kingstonian
Doncaster completed a double over K's at Belle Vue yesterday, as a poor first half performance from the travellers was punished with a 29th minute goal. The second half was much better, but K's couldn;t find an equaliser leaving them trailing Kidderminster (next Saturday's opponents) by nine points. The report is now ready.
Luckett back in four weeks
Geoff Chapple said earlier in the week that Colin Luckett is due to be back in four weeks, although Chapple will try to get him back earlier. The wing-back's long awaited stomach scan revealed no damage.
Tuesday 18th January 2000
Hednesford get a Hyde-ing
Yet another shock in the Trophy last night, as Hednesford lost their replay two-nil at Hyde.
Monday 17th January 2000
Wealdstone match report
The report of Saturday's five star performance is now done.
FA Trophy fourth round draw
The draw for the fourth round of the FA Trophy has taken place - K's host Moor Green (of the Doc Martens Midland Division) on February 5th. This means that K's trip to Yeovil has now been postponed. The full draw is as follows:
| | | |
| --- | --- | --- |
| Heybridge | v | Purfleet or Newport IoW |
| Bedford or Newport County | v | Yeovil Town |
| Hednesford or Hyde United | v | Runcorn |
| Spennymoor or Harrogate | v | Spalding or Bishop Auckland |
| Kingstonian | v&nbsp | Moor Green |
| Kettering | v | Rothwell or Walton |
| Billericay | v | Rushden & Diamonds |
| Burnham | v | Stocksbridge or Scarborough |
| Woking | v | Aldershot |
| Telford United | v | Farnborough |
| Blakenhall | v | Marine |
| Sutton United | v | Forest Green Rovers |
| Southport or Altrincham | v | Emley |
| Worksop or Lancaster City | v | Workington or Burton Albion |
| Gravesend or Dover | v | Doncaster or Halesowen |
| Stalybridge | v | Worcester City |
Sunday 16th January 2000
Wealdstone 0-5 Kingstonian
K's yesterday progressed to the fourth round of the Trophy with a good performance away to Wealdstone. Goals from Phil Wingfield, Geoff Pitcher (a penalty), Eddie Akuamoah, Joe O'Connor and Robin Taylor saw K's through 5-0. The draw for the next round is tomorrow.
Result round-up
Elsewhere, Kidderminster extended their lead at the top of the table, whilst Hereford, Morecambe, Welling and Stevenage went out of the Trophy.
Simon Stewart will be suspended for the visit to Doncaster next Saturday.
Wednesday 12th January 2000
Meet the Management
There will be a "Meet the Management" meeting, with Geoff Chapple, Colin Lippiatt and Clive Howse all present, at Kingsmeadow on Thursday January 20th, starting at 7.30pm. All are welcome, and if you can't make it, feel free to send your questions to us at ksweb@kingstonian.com and Colin Deadman will make sure that they get read out.
Kingstonian v Croydon Athletic re-arranged
The Surrey Senior Cup game with Croydon Athletic has been arranged for Tuesday February 1st - thanks to Ali for letting us know this.
Wealdston v Kingstonian live reports on BBC SCR
Mark Langhorn tells us that Southern Counties Radio station is covering the game on Saturday with live reports. They would like K's fans to phone in on the fans phone in - 104.6FM and the phone in starts at 1.30pm. The phone number is 0645-570057.
Sunday 9th January 2000
Telford match report
Yesterday's game has been reported on.
Saturday 8th January 2000
Kingstonian 4-2 Telford United
A first minute goal from Geoff Pitcher, two from Eddie Akuamoah and one from Simon Stewart saw K's record their first league win since November 6th. Amazingly, K's now lie sixth in the table, just three points off the top.
Result round-up
Kidderminster lie in top spot after a 3-2 win over Nuneaton, Morecambe and Stevenage drew 3-3 whilst Yeovil lost. All of this means that five teams are within a point of the top of the table. Amazing.
Wealdstone directions
Next week's third round trophy game will be played at Edgware Town FC, the current home of Wealdstone. Directions are available. Details of the Supporters Club coach are on the Upcoming games page
Supporters' Club donation of ?1,730
Simon Murray and Richard Atkinson, the Supporters' Club secretary and press officer respectively, today handed over a cheque for 1,730 to Geoff Chapple. Pictures soon hopefully.
Calling all ex-K's players
The search is on for all ex-K's players, as there is due to be a reunion in September. If anybody out there used to play for K's, or knows somebody who did, please contact Tim Wells on 020 8942 9830, or we can always pass your message on.
Friday 7th January 2000
Patterson under offer?
According to BBC Southern Counties radio (and Mark Langhorn) K's today rejected a 40,000 bid for Gary Patterson.
Informer: K'S SCHEME HITS PROBLEM
From today's Informer:

K'S SCHEME HITS PROBLEM

Kingstonian Football Club's ground improvement plans have been delayed by the Secretary of State asking for more time to consider the scheme. The minister is concerned because K's wants (sic) to build permanent structures on metropolitan open land.
Thursday 6th January 2000
London Broncos to play at Kingsmeadow
It is "almost certain" that the London Broncos (London's only rugby league team) will be playing their Challenge Cup games at Kingsmeadow this season. There will be a maximum of 3 games at the Meadow, the dates being February 12/13 for Round 4, February 26/27 for Round 5 and March 11/12th for the quarter-finals. Hopefully other more important people have noticed that K's are playing at home on February 12th and March 11th. Check out the London Broncos Online for the latest news.
Woking match report
The report of the loss against Woking has been prepared.
Tuesday 4th January 2000
Kingstonian 0-2 Woking
K's lost their first game of the new year yesterday with another below par display. They now sit bottom of the form guide, but oddly are still just six points off the top of the table.
Result round-up
Elsewhere, there were lots of draws, but with Telford - next Saturday's opponents - hitting 6 past Hednesford.