Thursday 30th October 2003
BBC Two's The Money Programme
The club has announced that a camera crew from BBC Two's The Money Programme will be at Kingsmeadow on Saturday afternoon to film generic football match shots for a half-hour documentary about football finance for broadcast on 19th November at 7.30pm.

They do not intend to film Kingstonian per se. The purposes of the filming is simply to shoot some good quality football match sequences.

The filming list will include: the pre-match build up inside the dressing room, the players running out onto the pitch, shots of the game filmed from the touchline, the half-time team talk in the changing room and steamy shower room shots (out of focus).
Kingstonian v Croydon Athletic
The above match, the second round of the Bryco League Cup, has now been scheduled for Tuesday, 18th November for 7.45pm.
Wednesday 29th October 2003
K's Trust general meeting
Just a reminder that there is to be a general meeting of The K's Trust tomorrow evening at Kingsmeadow. All members are invited to attend the meeting which will be at 7.30pm for a 7.45pm start.

Members of the Trust Board will give brief reports, followed by a session for questions from the floor.
Tuesday 28th October 2003
Kingstonian 1-1 Bishop's Stortford
The late-late show at Kingsmeadow finally ended at 11pm with the scores level. The visitors coach broke down on the M25 and the replacement didn't make it to the ground until 8.45.

Once the match had started it was Grant Payne who finally scored his first of the season, with Roy Essandoh equalising in the second half.

Full details can be found here.
NEW MAIN CLUB SPONSOR
The club have released the following statement concerning the new Main Club Sponsor:
Kingstonian are delighted to announce that Allen Carr's Easyway to Stop Smoking are the new main club sponsor for the remainder of the current season.

The Allen Carr logo will be displayed on the Kingstonian home and away shirts from this Saturday's home match with Stamford onwards, when the new company will be guests of the club and the partnership will be officially launched.

John Dicey, Allen Carr's Head of Business Development, said: "We are delighted to be associated with Kingstonian FC - a famous club with an illustrious history. We hope that this connection will allow us to raise our profile in the local community, and are delighted to be associated with The K's Trust, who have shown both commitment and dedication to their club.

"Allen Carr's Stop Smoking Clinics are a global organisation with strong local links. Our flagship clinic is less than 3 miles from Kingsmeadow and is the most successful quit smoking clinic in the world. We hope that Kingstonian supporters will benefit from this association and are offering a £30 discount for all readers who call 0800 389 2115."

Gary Ekins, Kingstonian's Press Officer, said: "Everybody at the club is delighted to get such a well-known and successful company on board as our main sponsor. We are grateful to John Dicey, and all of the staff at Allen Carr, for their work over the past few weeks and we look forward to building a strong relationship.

"Credit must be paid to three members of The K's Trust Board - Karen Deadman, Sandra Winters and Bill McNully - who have worked tirelessly to find a main sponsor, and whose work has paid off with such a fine partnership. We are delighted to welcome Allen Carr to the club and look forward to their visit on Saturday."
Monday 27th October 2003
Hornchurch v Kingstonian
Following Hornchurch's victory in the fourth qualifying round of the FA Cup on Saturday, the away match at the Hornchurch Stadium - originally scheduled for Saturday 8th November - has now been postponed. There is currently no new date for this match.
Saturday 25th October 2003
Kingstonian 1-1 Hitchin Town
A close-range Mark Beard goal on the stroke of half time meant that the points were shared at Kingsmeadow after Hitchin had taken the lead with a rebound following a Lance Key penalty save.

Earlier, Grant Payne was denied his first goal for the club when the officials failed to notice that his strike coming down off the crossbar had clearly gone over the line.

Full details can be found here.
Kim Harris on Hitchin
Kim spoke to us after today's match and you can hear his thoughts via the audio page.
Ford match report
The report of Tuesday's game is now available.
Friday 24th October 2003
Kingstonian v Carshalton Athletic
This match will now take place on Tuesday 2nd December with a 7.45pm kick-off. AFC Wimbledon have been drawn at home in the FA Vase on the originally scheduled date, and the Vase takes precedent over league matches.
Adrian Jones
The club is pleased to announce that goalkeeper Adrian Jones has re-signed Ryman League forms for the club and will be available from tomorrow. Adrian has been struggling with a knee injury for the past few months.
Tuesday 21st October 2003
Kingstonian 0-2 Ford United
A game of few chances was won by Ford with a scrappy second half goal from John O'Sullivan followed by a final minute strike by Mervyn Abraham.

Full details can be found here.
Dave Timothy
Right-sided player Dave Timothy has signed to play for Kingstonian. The former Woking and Sutton man has been training with the club and will be available for selection immediately.
Canvey match report
The report of Saturday's defeat is now available, courtesy of Old Dubbin.
Kettering match report
The delayed report of the game against Kettering is now available.
Saturday 18th October 2003
Canvey Island 6-1 Kingstonian
Trailing by two Lee Boylan goals to a reply from Stafford Browne at half time, K's suffered a commanding performance by title favourites Canvey to lose by six goals to one. Neil Gregory bagging an eight-minute hat-trick and substitute Junior McDougald got another near the end.

Full details can be found here.
Kim Harris on Canvey
Kim Harris' verdict on the defeat at Canvey can be found via the audio page.
Friday 17th October 2003
5-a-side tournament
The first annual K's Trust 5-a-side football tournament will take place on Sunday 16th November 2003 on the 5-a-side pitches at Kingsmeadow Athletics Stadium, adjacent to the home of Kingstonian FC. The event will start at 1pm and cost of entry for a team of 8 players will be £40. This event will be sponsored by Triumph Trophies and all profits will go to the K's Trust. Closing date for entries will be Monday 10th November 2003.

Tournament rules and entry form can be downloaded via the news/events page at the K's Trust website.
Wednesday 15th October 2003
Fixture amendments
Due to Bishop's Stortford's success in the FA Cup last night, the home league match on Saturday 25th October has been postponed.

The home league match versus Hitchin Town will now take place on the 25th of October, having been moved forward from March.
...and another
The home match with Bishop's Stortford will now take place on Tuesday 28th October, kick-off 7.45pm. Please note, this match is subject to Bishop's Stortford being involved in an FA Cup replay.
Tuesday 14th October 2003
Mark Beard and Scott Steele on St Albans
Match-winning captain and K's assistant manager spoke to us after the game at Clarence Park, giving their views on the one-nil win. You can access the interview via the audio page.
Monday 13th October 2003
St Albans match report
The report of Saturday's late-late-show is now available.
Saturday 11th October 2003
St Albans City 0-1 Kingstonian
An injury time header from Mark Beard secured the three points at Clarence Park earlier today. K's had the lion's share of the chances, but the home side also came close on a number of occasions.

Full details can be found here.
Tuesday 7th October 2003
Telegraph: Goalkeeper mourned by Kingstonian
From The Telegraph:


GOALKEEPER MOURNED BY KINGSTONIAN, By Simon Wigmore



Kingstonian held a one-minute silence before the game against Kettering in honour of reserve goalkeeper Trevor Jones, who was killed at his team's training ground last week.

Jones was electrocuted while trying to install a cooling system at the Old Cranleighan Sports Club in Thames Ditton, Surrey, just days before his 34th birthday. He was understudy to Lance Key in the first team this year and a popular reserve team player-manager of the Ryman League Premier Division club last season.

Kingstonian, who have recently come out of administration after two years, have been plagued by financial problems and it is only the spirit of the players, officials and supporters that has brought them through this latest crisis, according to manager Kim Harris.

Harris said: "It was a difficult day, but the players responded magnificently by going out and winning the game 1-0 against Kettering for Trevor. Now we hope to arrange a testimonial as soon as possible in Trevor's memory."

There was a danger that Kingstonian would fold or drop down from the Premier Division during what many consider to be the worst two years in the club's history but a Creditors' Voluntary Agreement has been settled and a new company has emerged under the guise of Kingstonian FC Limited.
Monday 6th October 2003
Greg Ball
Striker Greg Ball has joined Walton Casuals on loan for the upcoming months. Recovering from a year out following injury, Ball has made a single start and four substitute appearances so far this season.
Sunday 5th October 2003
FA Trophy first round
K's will play host to Stamford in the first round of the FA Trophy on Saturday 1st November after the Doc Martens East side overcame Burnham two-one yesterday. Stamford currently lie in eighth position in the league table.
Trevor Jones - tributes
We've put all of the tributes to Trevor Jones from local newspapers and this forum onto a single page, along with a couple of photographs from yesterday's events.
Saturday 4th October 2003
Kingstonian 1-0 Kettering Town
A 73rd minute goal from Stafford Browne finally broke the deadlock as K's overcame the team relegated from last year's Conference at Kingsmeadow. The match was preceded by a minute's silence in honour of Trevor Jones.

Full details can be found here.
Kim Harris on Kettering
The manager spoke to us after today's game, giving his views on the one-nil win as well as his thoughts after the death of Trevor Jones. You can access the interview via the audio page.
Bognor match report
The delayed report of the Bognor Regis game is now available.
Friday 3rd October 2003
Out of administration
From the Surrey Comet:


CLUB'S TWO YEAR NIGHTMARE OVER AT LAST



Kingstonian are looking forward to a bright new era after the club finally emerged from administration.

Secretary Graham Richards said: "The two-year nightmare is over."

"The next step is for chairman Rajesh Khosla to hand over the club to the Ks Trust, who will be striving to boost membership and funds with a view to helping the club recapture former glories." The administrators Begbies Traynor, who took over the running of the club in October 2001, confirmed Ks had finally satisfied the Creditors Voluntary Agreement.

They liquidated the old company, Kingstonian Football Club Limited and the football membership has been transferred to Kingstonian FC Limited.

Richards said: "The club has paid ?15,000 to the Inland Revenue and certain unsecured creditors who agreed to accept a percentage in the pound."

"Rajesh Khosla seperately settled football-related debts."

"As a result, the Ryman League gave approval for us to stay in the Premier Division."
Northwood match re-arranged
The match at Northwood, originally scheduled for Boxing Day, has been rescheduled for the the following day - Saturday 27th December.
Trevor Jones' funeral
Trevor Jones' funeral will be held Wednesday October 15th at 11.00am. Everyone who wants to celebrate Trevor's life will be welcome.

St Christopher's Church
Claygate Lane
Thames Ditton

The wake afterwards will be at the Old Cranleighlans sports ground, Portsmouth Road, Thames Ditton.
Thursday 2nd October 2003
Trevor Jones - book of condolence
A book of condolence will be available at Saturday's match for people to sign in memory of Trevor Jones. The book will be in the club shop from 1pm.
Wednesday 1st October 2003
Trevor Jones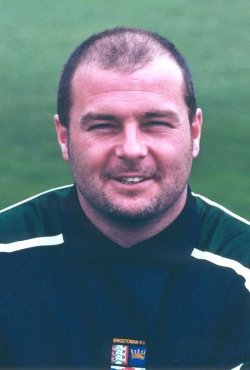 The club is deeply saddened to announce the death of Trevor Jones. Trevor was electrocuted at the Old Cranleighans Club where he worked.

Aged 34 tomorrow, Trevor was the club's Reserve Team Manager last season and was under-study to goalkeeper Lance Key for the whole of this.

The thoughts of the players, officials and supporters of Kingstonian FC are with Trevor's friends and family at this sad time.
Saturday's match versus Kettering
The club have confirmed that Saturday's match versus Kettering Town will go ahead as planned at 3pm at Kingsmeadow. A minute's silence will be held prior to kick-off.