Thursday 31st July 2008
Fulham include six internationals in squad
Fulham FC have provided us with their squad list for tomorrow evening's match at Kingsmeadow, kick off 7.30pm, and it features a number of senior players and internationals.

In defence Moritz Volz is a former Shalke and Arsenal player who represented Germany at U21 level, and Chris Baird is a Northern Irish international. Midfielders Clint Dempsey and Andranik Teymourian featured in the last world cup for the USA and Iran respectively, whilst Hameur Bouazza plays his international football for Algeria. Former Manchester United youngster and Norweigan international striker Erik Nevland is also in the squad, whilst young goalkeeper Neil Etheridge is the Philippines' number one.

1) Neil Etheridge
2) Wesley Foderingham
3) Moritz Volz
4) Chris Smalling
5) TJ Moncur
6) Chris Baird
7) Joe Anderson
8) Lewis Cumber
9) Robert Milsom
10) Wayne Brown
11) Andranik Teymourian
12) Lee Cook
13) Hameur Bouazza
14) Clint Dempsey
15) Erik Nevland
16) Lewis Smith
Camberley Town 2-2 Kingstonian
A brace from Phil Williams saw Kingstonian draw two-all at Camberley Town tonight.

Williams opened the scoring in the 10th minute from the penalty spot after Jermaine McGlashan had been upended, before former K's youngster Joe Paris levelled the scores from the spot soon after.

The hosts then took the lead when Ben Cobbett neatly slotted home in the 25th minute. With a couple of minutes remaining Williams snuck in to strike low across goal to level the scores and share the spoils.

Lineup:

1) Luke Naughton (13 Shaun Murphy)
2) Stuart Reeks (17 Michael Lyons)
3) Matt Burns (15 Tom Dilloway)
4) Ellis Conroy
5) Justin Fevrier (16 Andy Loff)
6) Kayode Oladipo
7) Phil Williams
8) David Suchy
9) Steve Goddard (12 Julien Thompson)
10) A Trialist
11) Jermaine McGlashan (14 Charlie Magoye)
Wednesday 30th July 2008
Tadley Calleva v Kingstonian XI
A Kingstonian XI managed by Adrian Withers will travel to Tadley Calleva FC for a match this Saturday, kick off 3pm. The address is Barlows Park, Tadley, Hampshire, RG26 3PX.
Tuesday 29th July 2008
Sponsor a player
The sponsor a player scheme has been changed for the new season, with the price lowered to £60 to enable more supporters the chance to get involved. It will now also be possible to sponsor a player home or away.

Player sponsors will have their name listed in every home matchday programme, and will receive the most appropriately numbered shirt at the beginning of the following season. Those who choose to double up and sponsor home and away kit for £120 will also receive a signed ball at the end of the season as an added bonus!

To sponsor a player please speak to Geoff Yorke at an upcoming game.
Monday 28th July 2008
Kingstonian 1-1 AFC Wimbledon (1-4 on penalties)
The Trevor Jones Memorial Match finished one-all against AFC Wimbledon at Kingsmeadow earlier this evening.

Sam Hatton put the Wombles ahead with a low strike in the 77th minute before NJ Lampton equalised from the penalty spot deep into stoppage time after Carl Wilson-Dennis had been felled.

The contest duly went to a penalty shoot, which finished four-one to AFC Wimbledon, with Tommy Williams scoring the sole K's spot kick.

Lineup:

1) Luke Garrard [capt]
2) Jamie Beer (12 Jon Coke)
3) Ryan Gray (14 Nick Rundell)
4) Adam Thompson
5) Max Hustwick (17 Jermaine McGlashan)
6) Sol Patterson-Bohner (15 Tommy Williams)
7) Tony Bedeau
8) Neil Lampton
9) Carl Wilson-Denis
10) Jon Neal (16 Phil Williams)
11) Dean Lodge
Alan Dowson on AFC Wimbledon
Manager Alan Dowson spoke to us after the game, "It was a good workout for the boys after a long weekend. The likes of Thompson and Lodge ran themselves into the ground. I'm pleased overall and we'll come out a better fitter team.

"Luke Garrard had a good game, apart from flattening one of our players and one of theirs! Max will be alright - he's one of these 'footballing centre halves' so he's got the tan and all that but he's a little soft.

"We've got a few days to prepare for the next games now. Roy Hodgson and Billy McKinlay will send a team of players over on Friday who are looking to play in the Premier League so it should be a good game."
Banquet Records to sponsor Kingstonian
Kingston's premier record shop, Banquet Records, is to throw its support behind Kingstonian FC and is now announced as club sponsor for the 2008/09 season.

In a move reminiscent of Skint Records' support for Brighton & Hove Albion, and also of Cherry Red Records' sponsorship of K's in the mid 90's, Banquet knows that music and football are two passions that go hand in hand for many of its punters. However, more than this, it is a move to show the importance of community on both the football and music worlds.

Dave House, who handles the marketing for all sides of Banquet commented, "Here at Banquet Records, community plays a huge role in what we do. From the outside we may be your local record shop, stocking all the latest titles from all sides of the musical spectrum indie to funky house, punk to d&b, soul to rock, but were really much more than that. We've been running music events in the Kingston area for over a decade from all ages in-stores, small pub gigs at The Peel or The Fighting Cocks to our regular club nights at McClusky's, Bacchus and The Works."

Just like what happens at Jack Goodchild Way on match day, these events are truly significant to those involved in the thriving and enthusiastic community that both these worlds share.

Banquet Records MD Jon Tolley a fan of the Ks since his school days added, "There are many similarities between the way both football club and the shop work. For both of us its a battle to get in punters when there are so many big boys out there competing for the bums on seats or feet on the shop floor. But we both know that what we have is not only a great product, but in each case the tradition and the community feel brought by both institutions is an important part to, not only the fans, but also the wider Kingston community."

Kingstonian Joint-Chairman Mark Anderson commented on the deal, "We are really pleased to have such an enthusiastic group and well known local brand, Banquet Records, sponsoring the club this season. The stuff we can do together in terms of joint marketing is really exciting and something we will be actively promoting during the course of this the first year of what we hope will be a long term relationship. Having the 'Banquet Community' supporting K's will be great for the club!"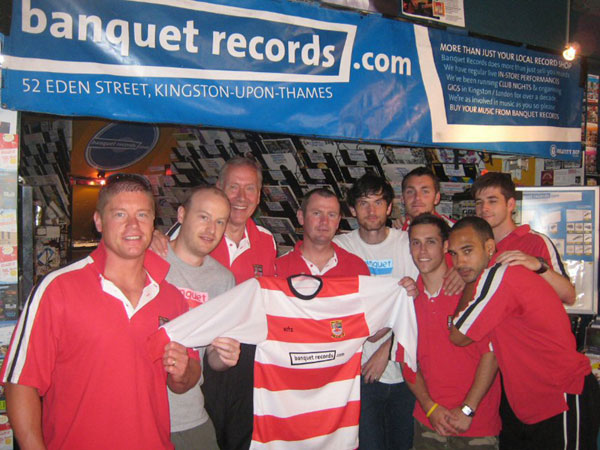 There is also a strong link in the online communities between www.banquetrecords.com and www.kingstonian.net which both parties wish to explore. Banquet and Kingstonian are actively looking at ways and means to help each other out over the coming seasons looking to share some physical resources and marketing expertise. Keep an eye out for further developments on this.

For more pictures from the photoshoot at the Banquet Records store at 52 Eden Street in Kingston visit here.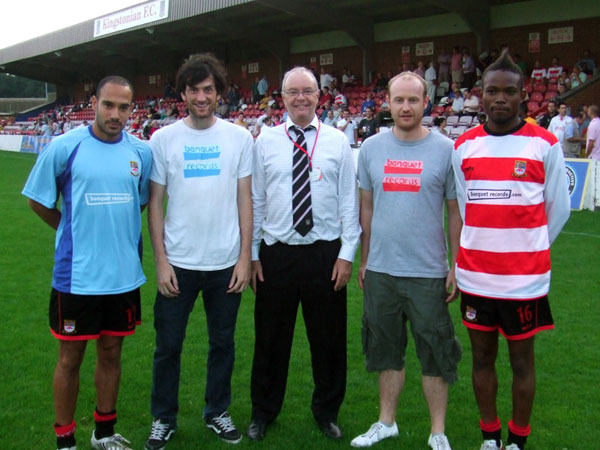 Photo: Kingstonian FC
Sunday 27th July 2008
Dunston Federation 2-0 Kingstonian
A couple of goals in the last ten minutes saw Dunston Federation win yesterday's friendly in the north east.

K's opened both halves brightly but in searing temperatures it was the hosts who came through, first with David Wells tapping in from close range and then Fergal Harkin striking low to make it two-nil.

Manager Alan Dowson commented, "I'd like to thank my home town club Dunston for their wonderful hospitality. I thought we were on top for the first 25 minutes but they're a good side and came into it strongly later on. They'll do well this year and I hope we can play them again - they'll be made just as welcome down here."

Lineup:

1) Luke Garrard (13 Luke Naughton)
2) Stuart Reeks
3) Matt Burns
4) Jon Coke [capt]
5) Adam Thompson
6) Tom Dilloway (12 Rob Sheridan)
7) Neil Lampton
8) Ellis Conroy
9) Jon Neal
10) Dean Lodge
11) Nick Rundell
Dorking 1-4 Kingstonian XI
A Kingstonian XI managed by Martin Tyler beat Dorking by four goals to one in Reigate yesterday.

Carl Wilson-Dennis opened the scoring for the K's, before Tony Bedeau, Max Hustwick and Xavi Barra added further goals in the final twenty minutes after Dorking had pulled level.

Lineup:

1) Shaun Murphy
2) Jamie Beer
3) Ryan Gray (A Triallist)
4) Tommy Williams (David Suchy)
5) Max Hustwick
6) Simon Huckle [capt]
7) Tony Bedeau
8) Sol Patterson-Bonhar (Justin Fevrier)
9) Carl Wilson-Denis (Corey Wilson)
10) Phil Williams (Xavi Barra)
11) Jermaine McGlashan
Thursday 24th July 2008
Trevor Jones Memorial Match
The first home game of the summer, this coming Monday versus AFC Wimbledon, is the annual Trevor Jones Memorial Match, titled in remembrance to former goalkeeper Trevor Jones who tragically passed away in 2003.

Building works are currently in progress at Kingsmeadow to extend the main stand. Therefore there will be no access to the Kingston Road end of the stand, covering seating blocks J & K as well as the turnstiles, tea bar and toilets in that corner. The equivalent facilities will be open at the Athletics End of the ground. Please arrive in good time for kick off, which will be at 7.45pm.
Match posters
New style posters advertising the three home pre-season friendlies can now be downloaded for distribution from the match posters page.
Monday 21st July 2008
Burgess Hill Town game re-arranged
The home league game versus Burgess Hill Town originally scheduled for Saturday 6th September has been moved back a day to Sunday 7th September, kick off 3pm.
Saturday 19th July 2008
Chessington & Hook United 2-3 Kingstonian
The second part of the double-header saw Kingstonian beat Chessington & Hook United by three goals to two, in a match featuring three penalties.

Bobby Traynor opened the scoring from the spot in the 25th minute before the hosts levelled the scored straight after the half time interval.

Traynor restored the K's lead with a crisp half volley before completing his hat-trick with another conversion from the penalty spot. Chessington & Hook grabbed a late consolation goal, this time benefitting from a penalty decision in the final minute.

Lineup:

1) Luke Garrard
2) Adam Thompson (16 Kayode Oladipo)
3) Wayne Finnie
4) Max Hustwick
5) Sol Patterson-Bohner
6) Neil Lampton
7) Tommy Williams
8) Ryan Gray
9) Bobby Traynor
10 Jon Neal (17 Charlie Magoye)
11) Jamie Beer (12 Ellis Conroy)
Chessington & Hook United XI 1-5 Kingstonian XI
Kingstonian started their double-header against Chessington & Hook United at the Kings College Sports Ground with a five-one win.

After a first half in which the K's threatened to score on a number of occasions, it was the hosts who got the first goal in the 49th minute. Phil Williams however chipped in an equaliser ten minutes later before Jon Coke added a third for the K's following a mazy run.

It was Nick Rundell who stole the show however, notching up a 12-minute hat trick in the closing stages. His first goal - a right footed drive - was followed by a free kick swirling into the top corner in the blustery conditions, before a close range finish to complete the scoring.

Lineup:

1) Shaun Murphy
2) Matt Burns
3) Tom Dilloway (6 Justin Fevrier)
4) Jon Coke
5) Rob Sheridan
14) Dan Nwanze
7) Phil Williams
8) Stuart Reeks
9) Julien Thompson (16 Corin Wilson)
10) Simon Huckle
11) Jermaine McGlashan (15 Nick Rundell)
Today's games
Today's double-fixture against Chessington & Hook United will be on the King's Sports Ground pitches, adjacent to the LSE facility used last week. For those who are familiar with the complex, it is the one with Woodies Public House on site.

The address is King's Sports Ground, Windsor Avenue, New Malden, KT3 5HA and kick offs are at 1.30pm & 3.30pm.
Friday 18th July 2008
London Senior Cup 2008/09
Kingstonian have been drawn at home to Leyton in the London Senior Cup Second Round, to be played by 8 November 2008.

The winners will be away to Wingate & Finchley or Corinthian-Casuals in the Third Round, to be played by 6 December 2008.

Second Round - to be played by 08/11/2008
Third Round - to be played by 06/12/2009
Quarter Final - to be played by 10/01/2009
Semi Final - to be played by 07/02/2009
Final - date and venue to be confirmed
Ryman Youth League constitution
The Ryman Youth League now has 20 teams which are split into two equal geographical divisions. Clubs from outside the Ryman League are now permitted to enter.

North East Division: AFC Wimbledon, Carshalton Athletic, Corinthian-Casuals, Godalming Town, Hampton and Richmond Borough, Kingstonian, Staines Town, Tooting and Mitcham United, Walton and Hersham, Woking

South West Division: Burgess Hill Town, Croydon Athletic, Eastbourne Town, Horsham, Horsham YMCA, Lewes, Maidstone United, Tonbridge Angels, Whyteleafe, Worthing
Tuesday 15th July 2008
Fixtures 2008/09
The fixtures for this upcoming season in the Ryman League Division One South have been released and can be found on our temporary fixtures page here, until the database gets updated shortly.

The Kingstonian 2008/09 fixture list can also be downloaded as a pdf file (57Kb) or a word document (355Kb).
Monday 14th July 2008
Ryman League constitution
The clubs in this season's Ryman League Division One South are:

Ashford Town
Burgess Hill Town
Chipstead
Corinthian-Casuals
Cray Wanderers
Crowborough Athletic
Croydon Athletic
Dulwich Hamlet
Eastbourne Town
Fleet Town
Folkestone Invicta
Godalming Town
Kingstonian
Leatherhead
Merstham
Metropolitan Police
Sittingbourne
Walton & Hersham
Walton Casuals
Whitstable Town
Whyteleafe
Worthing
Sunday 13th July 2008
Chertsey Town 1-1 Kingstonian
Kingstonian opened their pre-season with a one-all draw against Chertsey town at the LSE Sports Ground.

Bobby Traynor opened the scoring in the 10th minute with a neat finish before John Hamsher equalised from the penalty spot midway through the second half.

1st half lineup:

1) Shaun Murphy
2) Jamie Beer
3) Matt Burns
4) Wayne Finnie
5) Neil Lampton
6) Rob Sheridan
7) David Suchy
8) Jason Turley
9) Bobby Traynor
10) Jon Neal
11) Jermaine McGlashan

2nd half lineup:

1) Shaun Murphy
2) Stuart Reeks
3) Tom Dilloway
4) Max Hustwick
5) Adam Thompson
6) Jon Coke
7) Phil Williams
8) Sol Patterson-Bohner
9) Julien Thompson
10 Steve Goddard
11) Dean Lodge

Manager Alan Dowson commented after the game, "That's the first football we've played this summer, against a side with two games already under their belts, and we got what we wanted out of it. I mixed the teams up and Martin (Tyler) took the first half team for a fitness session whilst we cracked on with the second half. I thought Max Hustwick and Adam Thompson looked good and Bobby (Traynor) is looking sharp, whilst Sol Patterson-Bohner and Jon Neal did well.

Luke Garrard, Tommy Williams and Simon Huckle were unavailable, and Luke Naughton and Nick Rundell are recovering from injuries, so add them into the mix and we've got a strong group of players to pick from."
Sol Patterson-Bohner and Jon Neal
The club are pleased to announce that midfielder Sol Patterson-Bohner and forward Jon Neal signed league forms following yesterday's match.

Manager Alan Dowson comments, "Kim (Harris) knows Sol from Walton Casuals whilst Jon I'd noticed when playing for Sittingbourne. They both did well for us yesterday and can bring something to the squad."
Friday 11th July 2008
Jon Coke interview
Defender/Midfielder Jon Coke spoke to us just before the start of the pre-season programme and you can hear what he had to say via the audio player.
Pre-season fixtures
With the pre-season schedule due to commence in just a couple of days, the fixtures are as follows:

* Saturday 12th July, 3.00pm, A v Chertsey (at LSE Sports Ground, New Malden)
* Saturday 19th July, 1.30pm & 3.30pm, A v Chessington & Hook Utd (at Kings College Sports Ground, New Malden)
* Saturday 26th July, 3.00pm, A v Dunston Federation
* Saturday 26th July, 3.00pm, A v Dorking (at Hartswood Sports Ground, Reigate)
* Monday 28th July, 7.45pm, H v AFC Wimbledon
* Thursday 31st July, 7.45pm, A v Camberley Town
* Friday 1st August, 7.30pm, H v Fulham XI
* Tuesday 5th August, 7.45pm, A v Raynes Park Vale
* Saturday 9th August, 3.00pm, H v Sutton United

A Kingstonian XI will play Dorking at a venue to be confirmed whilst the rest of the team travel up to Newcastle to face Dunston.

The game against AFC Wimbledon is The Trevor Jones Memorial Match.
Thursday 10th July 2008
Bobby Traynor interview
Striker Bobby Traynor spoke to us just before the start of the pre-season programme and you can hear what he had to say via the audio player.
Trevor Green RIP
The club are saddened to hear of the passing of Trevor Green on Monday evening. Trevor was a stalwart supporter of both the K's and the Kingston branch of the RLNI. Our thoughts are with his family and friends.
Wednesday 9th July 2008
Chertsey Town game
This Saturday's opening pre-season fixture away to Chertsey Town will now not be played at their Alwyns Lane ground after adverse weather conditions affected their pitch preparations.

The new venue is a former K's training ground - the LSE Sports Ground, Windsor Avenue, New Malden, KT3 5HB - and there will now be just one game, kicking off at 3.00pm.

Manager Alan Dowson comments, "It's bad luck that the weather's turned this week but they've come up with an alternative venue so we'll take the show there. I'll have a 22 man squad and will probably use it to field a different side for each half".
Back in training
Despite the weather curtailing this week's preparations, the team are back in pre-season training as they prepare for the challenges ahead.

Manager Alan Dowson comments, "It's good to get going again, and some of the lads have come back looking in particularly good shape - Jon Coke, Dean Lodge, Bobby Traynor and Nick Rundell. Max Hustwick and Adam Thompson have joined up with us and Stuart Reeks is back in training after a long time out."
Monday 7th July 2008
Alan Dowson's Summer Soccer School
Alan Dowson's Kingstonian Soccer School will be running during the summer holidays (dates below) at Hinchley Wood Secondary School in Esher.


29 July 1 August (10am-3pm daily)

5 August 8 August (10am-3pm daily)

12 August 15 August (10am-3pm daily)

Aimed at 6 to 14 year olds, the cost is £15 per day or £50 for each four-day programme. First team manager Alan Dowson will be joined by Martin Tyler, along with some first team players and other known faces.

Further information and application forms can be downloaded from the download forms page.
Tuesday 1st July 2008
FA Cup 2008/09
Kingstonian have been drawn away to Hassocks or Shoreham on Saturday 30 August 2008 in the FA Cup sponsored by E.ON Preliminary Round.

The winners will be at home to Ashford Town or Leatherhead in the First Qualifying Round on Saturday 13 September 2008.

Extra Preliminary Round - Saturday 16 August 2008
Preliminary Round - Saturday 30 August 2008
First Round Qualifying - Saturday 13 September 2008
Second Round Qualifying - Saturday 27 September 2008
Third Round Qualifying - Saturday 11 October 2008
Fourth Round Qualifying - Saturday 25 October 2008
First Round Proper - Saturday 8 November 2008
Second Round Proper - Saturday 29 November 2008
Third Round Proper - Saturday 3 January 2009
Fourth Round Proper - Saturday 24 January 2009
Fifth Round Proper - Saturday 14 February 2009
Sixth Round Proper - Saturday 7 March 2009
Semi Final - Saturday 18 April 2009 & Sunday 19 April 2009
Final - Saturday 30 May 2009
FA Trophy 2008/09
Kingstonian have been drawn at home to Whitstable Town in the FA Carlsberg Trophy Preliminary Round on Saturday 4 October 2008.

The winners will be at home to Brackley Town in the First Qualifying Round on Saturday 18 October 2008.

Preliminary Round - Saturday 4 October 2008
First Round Qualifying - Saturday 18 October 2008
Second Round Qualifying - Saturday 1 November 2008
Third Round Qualifying - Saturday 22 November 2008
First Round Proper - Saturday 13 December 2008
Second Round Proper - Saturday 10 January 2009
Third Round Proper - Saturday 31 January 2009
Fourth Round Proper - Saturday 21 February 2009
Semi Final 1 - Saturday 14 March 2009
Semi Final 2 - Saturday 21 March 2009
Final - Saturday 9 May 2009
Surrey Senior Cup 2008/09
Kingstonian have been drawn at home to Chipstead in the Surrey Senior Cup Second Round, to be played sometime around the week of 10 December 2008.

The winners will be away to Walton Casuals or Lingfield / Raynes Park Vale in the Third Round, to be played sometime around the week of 21 January 2009.

Second Round - Week of 10/12/2008
Third Round - Week of 21/01/2009
Quarter Final - Week of 25/02/2009
Semi Final - Week of 25/03/2009
Final - Week of 01/05/2009
FA Youth Cup 2008/09
Preliminary Round - Week commencing Monday 8 September 2008
Horsham YMCA v Kingstonian

First Round Qualifying - Week commencing Monday 22 September 2008
Horsham YMCA / Kingstonian v Colliers Wood United

Second Round Qualifying - Week commencing Monday 6 October 2008
Westfield / Epsom & Ewell or Hassocks / Walton & Hersham v Horsham YMCA / Kingstonian or Colliers Wood United