Monday 31st August 2009
Carshalton Athletic 1-2 Kingstonian
Bobby Traynor struck twice in the closing minutes to take all three points from much-fancied Carshalton Athletic at a baking Colston Avenue.

Richard Jolly had opened the scoring for the hosts with a tight-angled finish in the 13th minute but with Barry Stevens sent off on the hour mark for a lunge at Des Boateng, the tide swung the other way. Traynor coolly levelled the scores in the 89th minute before flicking home the winner in stoppage time to send the travelling support into raptures.

Full details of the match are now available.
Martin Tyler on Carshalton
The coach spoke to us after the game and you can hear what he had to say via the audio player.
Bobby Traynor on Carshalton
The striker spoke to us after the game and you can hear what he had to say via the audio player.
Hendon match report
The report of Saturday's game is now available.
Sunday 30th August 2009
Kingstonian Golf Day
Kingstonian FC are holding a Golf Day on Thursday 1st October 2009 at Hampton Court Palace Golf Club. The day includes:


Coffee and bacon rolls on arrival


18 hole four ball Stableford team competition; tee times to be confirmed


Competition Holes


Team and individual prizes


Time to unwind in the bar and meet your fellow players before dinner


3 course dinner


Prizegiving and auction time


Teams and individuals are invited to enter, and full details can be downloaded from the forms page.
Saturday 29th August 2009
Hendon 0-3 Kingstonian
A Kingstonian side featuring five debutants in the starting lineup beat Hendon by three goals to nil at Wembley's Vale Farm.

Bobby Traynor opened the scoring in the 41st minute, whilst late goals from substitutes Karl Beckford and Simon Huckle made sure of the points to get the team off the mark for the season.

Full details of the match are now available.
Mark Hams on Hendon
The assistant manager spoke to us after the game and you can hear what he had to say via the audio player.
Matt Gray on Hendon
The midfielder spoke to us after the game and you can hear what he had to say via the audio player.
Friday 28th August 2009
Players released
The following players have been released by the club:


Defender Jamie Beer - 69 appearances in 2 years


Defender Jon Coke - 157 appearances in 5 years


Midfielder Neil Lampton - 112 appearances in 3 years (over two spells)


Goalkeeper Josh Willis


Manager Alan Dowson comments, "This has been a particularly tough task - my toughest since joining the club. Including Wayne Finnie, the lads Beero, Cokey and NJ have have all served the club so well in my time here, and before even.

"The last thing I want anyone to think is that there are any scapegoats for our start. We've had a big change in our league and I've had to look at certain areas of the pitch to make changes. There will probably be a couple more going next week, depending on how things go.

"Young Josh meanwhile has been travelling a long way every session and wants to be playing, so will be joining his local side Hastings United."
Update from Alan Dowson
Manager Alan Dowson comments, "I had a defender lined up to come on loan from Dagenham & Redbridge who's decided at the last minute that he wants to stay in the pro game. The club have been very helpful but I'm very annoyed with the player as it was all but done after I'd gone across London to go through it with him, only to find out tonight he's pulled out. In that time I had a couple of other options which I could have pursued but it's probably too late now.

"Ryan Lake meanwhile won't be in action for about a month. He's suspended now anyway after his sending off in the Conference South playoff final, and it'll be a chance for him to take his mind off things and have a break after the tough time he's had off the field."
New signings
The club are pleased to announce the following signings:


Matt Gray (25), right midfielder from Carshalton Athletic
Recently a Conference player with Woking and Havant & Waterlooville



Karl Beckford (24) attacking midfielder from Carshalton Athletic
Former FA Youth Cup semi finalist with Charlton



Des Boateng (29), defensive midfielder from Merstham
Capped for England National Game XI whilst with Carshalton Athletic



Lee Hall (21), left back from Harrow Borough
Former Fulham youngster who played at Kingsmeadow last week



Sam Stannard, right back from Sutton Untied
Previously with Eastleigh and Farnborough



Shane Hill (21), midfielder
Son of England player Ricky and former Sheffield United and Rushden & Diamonds youngster



Mo Harkin (30), midfielder from Farnborough Town (on loan)
First player to graduate from Wycombe Wanderers youth team and former Northern Ireland U21 international


Manager Alan Dowson comments, "It's a lot of changes, but it needs doing. The players who've been with us have all done an unbelievable job getting the club into this division and we've had a very steady group over the last year or two but we're judged by what we're doing now, and we need to shake things up."
Thursday 27th August 2009
Dartford match report
The report of Tuesday's game is now available.
Wednesday 26th August 2009
Update from Alan Dowson
Manager Alan Dowson comments, "We've already covered ground on the pre-season problems and how we've had a shocking start to the season, but we've got to put it all behind us and do something about it. I didn't get much sleep last night but it's been a good morning working on targets who'll make us better and give the team the overhaul it clearly now needs.

"With that in mind I've got four players lined up to join us in time for the weekend. If that means we've got to let a couple more go then so be it."
Tuesday 25th August 2009
Dartford 5-0 Kingstonian
League leaders and favourites for the title Dartford struck five without reply against K's at the impressive Princes Park Stadium tonight.

Elliot Bradbook headed in the opening goal with a quarter of an hour gone before Lee Burns added a brace before half time. Ryan Hayes made it four ten minutes into the second half before Burns completed his hat-trick.

The hosts were denied from the penalty spot by Luke Garrard, though K's fortunes were not fair as both Tommy Williams and manager Alan Dowson were sent off for speaking out of turn.

Full details of the match are now available.
Alan Dowson on Dartford
The manager spoke to us after the game and you can hear what he had to say via the audio player.
Wayne Finnie and Steve Tyson
Defender Wayne Finnie and midfielder Steve Tyson have been released by the club. Finnie made 73 appearances, scoring 3 goals, in his two and a half seasons with the club. Tyson, meanwhile, has made 3 appearances this season.

Manager Alan Dowson comments, "Wayne's a popular lad and rightly so as he's a good honest player. He's done well for us but we're going to have to make a few tough decisions like this. Steve's not been able to settle the way we'd hoped so we've let him go somewhere where he might get more games too."
Update from Alan Dowson
Manager Alan Dowson comments, "Whilst we did everything we could during pre-season, what we didn't have for a variety of reasons was the opportunity to play our best eleven. You can't help injury but there was a lot of absence too and that's something we'll have to manage differently next time.

"We're in a position where we've got to find the right balance between sticking with what we have and improving it where possible. I've let a couple go and there might be a couple more before we bring anyone in. Ian Pearce will be on call for when we need him, as we have an established front line."
Sunday 23rd August 2009
Squad photo 2009/10
The players page has been updated for the current squad, following this week's photoshoot.

A wallpaper of the squad photo can also be found on the downloads page.
Aveley match report
The report of yesterday's game is now available.
Saturday 22nd August 2009
Kingstonian 1-6 Aveley
Aveley won the North v South battle of the champions with an emphatic six-one win in front of a shell-shocked crowd at Kingsmeadow.

Mitch Hahn opened the scoring for the hosts in the 17th minute and Martin Tuohy made it two shortly after in the 23rd minute. Dean Lodge pulled a goal back for the K's but Tuohy struck again to restore the visitors' two-goal advantage going into half time.

The second half saw matters resume much like they had left off. Richard Ketchell and Sherwin Stanley struck in quick succession just before the hour mark to truly wrap things up, before Tuohy helped himself to a hat-trick goal which marked the end of the scoring spree.

Full details of the match are now available.
Friday 21st August 2009
Ian Pearce
The club are pleased to announce the signing of defender/striker Ian Pearce (35). Ian is a former Premier League winner with Blackburn Rovers, also enjoying long stays at West Ham United and Fulham, as well as brief ones at Chelsea and Southampton.

Manager Alan Dowson comments, "It's fantastic for the club to get someone of Ian's stature on board. He has a fantastic presence and players like him do not grow on trees."
Update from Alan Dowson
Manager Alan Dowson comments, "We've had a tough week or so on and off the field but I'm pleased to have Max Hustwick and Francis Duku back after injury. Ian Pearce has cleared his recent commitments and has agreed to join us so that's another big boost.

Ryan Lake will be unavailable but it's otherwise a clean bill of health for the first time including pre-season."
Thursday 20th August 2009
Bereavements in Lake and Thompson families
The club are saddened to hear of the passing of Ryan Lake's mother and Adam Thompson's grandmother over the past few days. Our thoughts are with the family and friends.

Manager Alan Dowson comments, "It's been a tough time for the lads as family is always the most important thing. Ryan's mum had been battling illness for a while and Adam's always been very close to his nan so I know they're both hurting. Liam (Collins) lost of mum too recently and we'll be wearing black armbands on Saturday as a mark of respect to the families."
Wednesday 19th August 2009
Harrow match report
The report of Monday's game is now available.
Tuesday 18th August 2009
Match posters
Posters advertising the upcoming home games can be downloaded for distribution from the match posters page.
Monday 17th August 2009
Kingstonian 3-5 Harrow Borough
An extraordinary game saw Harrow Borough eventually come through to win by five goals to three at Kingsmeadow.

Bobby Traynor opened the scoring within the first minute, but the lead was short-lived as James Fraser equalised just a couple of minutes later. Carl Wilson-Denis restored the lead in the eighth minute, but again Fraser levelled after a couple of minutes.

Harrow took the lead in the 14th minute through Dean Fenton, though Traynor this time hauled K's back again, making it an incredible three-all after just 22 minutes.

Tommy Williams was denied a spectacular goal by the crossbar, whilst in the second half Adam Thompson's header struck the woodwork. In the end the decisive seventh goal went to Harrow's Dewayne Clarke - a full 44 minutes after the previous goal. Charlie Wassmer struck another blow in the 78th minute to complete the scoring.

Full details of the match are now available.
Alan Dowson on Harrow
The manager spoke to Simon Murray after the game and you can hear what he had to say via the audio player.
Ashford match report
The report of Saturday's game is now available.
Big sale now on!
Make sure you visit the club shop tonight or on Saturday as there's a big sale now on, with 20% off everything in stock!

The shop is open on matchdays an hour before kickoff, during half time and half an hour after the game.
Fixture cards
The club has produced 2009/10 fixture cards, primarily to target locals who are not regular visitors to Kingsmeadow. Whilst they are being distributed to our partners, help is required from anyone who is able to distribute these directly.

There will be plenty available from the club shop at tonight's game, and also over the next couple of weeks from Banquet Records, at 52 Eden Street in Kingston.
Saturday 15th August 2009
Ashford Town 3-1 Kingstonian
Goals in the final ten minutes deprived Kingstonian of any points in their opening Ryman Premier game at Ashford Town (Middx).

The hosts opened the scoring in the 28th minute when a Scott Weight header was adjudged to have crossed the line, before K's debutant Lewis Cook levelled the scores with a fine free kick.

Bobby Traynor and Dean Lodge struck the woodwork, but it was Ashford who found the breakthrough again, with a solo effort from Byron Harrison before Scott Harris made sure of the result in the final minute.

Full details of the match are now available.
Alan Dowson on Ashford
The manager spoke to Gary Ekins after the game and you can hear what he had to say via the audio player.
Trialists sign up
The club are pleased to announce that defender Francis Duku (31) and midfielders Luke Pigden (19) and Christian Jolley (21) have signed forms following successful pre-season showings.
Steve Tyson
The club are pleased to announce the signing of midfielder Steve Tyson (21) from Hampton & Richmond Borough. Steve is a former Walton Casuals who also spent a brief spell at AFC Wimbledon.

Manager Alan Dowson comments, "Steve is a hard working player who can play in a number of positions across the midfield and defence. He'll be in the squad for today's game."
Thursday 13th August 2009
Banquet Records renew sponsorship
Kingstonian Football Club is delighted to announce that Banquet Records have renewed their sponsorship of the club for the coming 2009/10 season. Both teams had some great success last season, with Banquet enjoying its most successful season under this management whilst the K's secured the league title.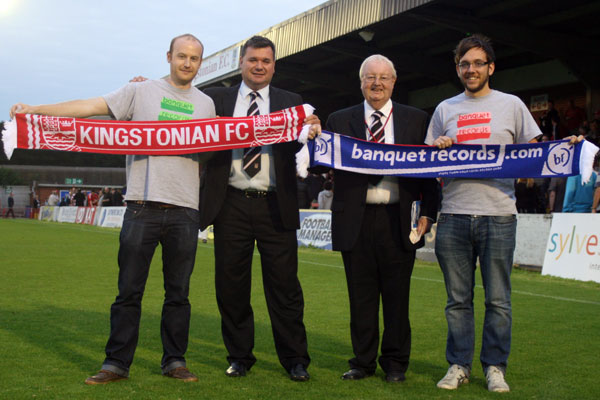 Banquet Records MD Jon Tolley comments, "We take great pride in what we as a shop and promotions collective can give back to the community, and it is mirrored in the actions of the directors and management of the football club and it's great to see. It's a delight to be involved with K's and we look forward to many more seasons of this."

Kingstonian Co-Chairman Mark Anderson adds, "We enjoyed an excellent first season together with Banquet and appreciate their support both as a sponsor and active partner. Long may this successful partnership continue."
Kingstonian-Banquet scarves
Banquet Records have released a unique item of new merchandise - double-sided scarves with a red Kingstonian on one side and a blue Banquet on the other. They cost £8 each and are now available from their online store or from 52 Eden Street in Kingston, so show your support for the K's and also "more than your local record shop".
Tuesday 11th August 2009
Merstham 2-1 Kingstonian
A much-changed Kingstonian team lost two-one at Merstham this evening.

Merstham took the lead through Tom Hughes in the opening five minutes before Scott Simpson levelled the scores midway through the half after a striker from another trialist - Billy Marshall - had rebounded off the post. The hosts struck the winning goal through the outstretched boot of a substitute in the 64th minute.

In a noteworthy moment, the club fielded a father-son combo, with 45 year old goalkeeping coach Adrian Blake and son Adam from the youth team coming off the bench in the second half.

Lineup:

1) Paul Brady
2) Jon Coke (16 Will Bryant)
3) Jon Quigley
4) Rob Sheridan
5) Wayne Finnie
6) Simon Huckle (14 Des Boateng)
7) Ingus Slampe
8) Luke Pidgen (12 Adam Blake)
9) Scott Simpson (17 Adrian Blake)
10) Billy Marshall
11) Ryan Lake (15 Jason Finnegan)
Sunday 9th August 2009
Supporters Club coach travel
The Supporters Club will as usual be running coaches to away games this season. Prices and times of travel can be found on the coaches page.

Details are also listed regarding coach travel season tickets - which offer generous savings over the course of the regular season (17 league matches covered - cup games are excluded).

Meanwhile, new 2009/10 Supporters Club membership forms can now be downloaded from the forms page.
Saturday 8th August 2009
Leatherhead 0-0 Kingstonian
Kingstonian and Leatherhead played out a scoreless draw at a sun-bathed Fetcham Grove today.

Midfielders Simon Huckle and Dean Lodge returned to a K's starting eleven much-changed from Tuesday's game at Godalming. Huckle went closest to breaking the deadlock, heading against the post in the first half.

Lineup:

1) Luke Garrard
2) Jamie Beer
3) Jon Coke (14 Jon Quigley)
4) Simon Huckle
5) Francis Duku (18 Wayne Finnie)
6) Adam Thompson
7) Dean Lodge
8) Tommy Williams (12 Liam Collins)
9) Reggie Savage (15 NJ Lampton)
10) Carl Wilson-Denis
11) Lewis Cook (17 Christian Jolley)

Manager Alan Dowson commented after the game, "The main thing was to come through the game without an injuries so whilst it wasn't the best performance you'll ever see I've got to be pleased with that. We've been welcoming players back one by - Huckle and Finnie were back today, as was Dean Loddge who's now signed for us."
Dean Lodge
The club are pleased to announce that Dean Lodge has put pen to paper and will be playing for the K's in 2009/10.

Manager Alan Dowson comments, "I know Deano's been trying his luck over the summer with full time clubs in the Conference but he's back just in time and we're obviously pleased to have him. His best football has been with us and we'll be working to make the most of that together as we go up a division."
Tuesday 4th August 2009
Godalming Town 1-1 Kingstonian
A Kingstonian team featuring a handful of new faces drew one-all at Godalming Town tonight.

Ian Pearce linked up with strike partner Reggie Savage to open the scoring on the quarter hour mark. Phil Williams, one of a number of former K's on the home side, however levelled the scores midway through the second half.

Amongst the trialists coming off the bench were Irish youth international Jon Quiqley and Latvian youth international Ingus Slampe.

Lineup:

1) Josh Willis
2) Rob Sheridan (18 Ingus Slampe)
3) Ryan Lake (14 Tom Dilloway)
4) Adam Thompson (12 Jon Quigley)
5) Francis Duku
6) Jon Coke (16 Will Bryant)
7) Jamie Beer (17 Jason Finnegan)
8) Luke Pigden (Christian Jolley)
9) Ian Pearce
10) Reggie Savage
11) Scott Simpson
West Ham match report
The report of Friday's game is now available.
Sunday 2nd August 2009
Alan Dowson's Summer Soccer School
Alan Dowson's Kingstonian Soccer School will be running again this week, from 4-7 August (10am-3pm daily) at Hinchley Wood Secondary School in Esher.

Aimed at 6 to 14 year olds, the cost is £15 per day or £50 for the four-day programme. First team manager Alan Dowson will be joined by Martin Tyler, along with some first team players.

Each child taking part in a week on the course will receive a free Kingstonian season ticket as an added bonus!

Further information and application forms can be downloaded from the download forms page.