Tuesday 30th April 2002
Wimbledon pre-season friendly
Graham Richards has confirmed that the pre-season friendly against Wimbledon will now take place on Saturday 20th July 2002, kick-off 3pm.

The club hopes to be able to announce further friendlies later this week.
Monday 29th April 2002
Vacancies at Kingstonian FC
Kingstonian FC have a vacancy for a Cleaner and a Chef here at Kingsmeadow. For more details please contact Anup Khosla on 020 8547 3335 during normal office hours.
Heybridge match report
The report of the final match of the season is now available.

For those waiting to find out what happened at Chesham lo those weeks ago, you just need to wait a little longer.....
Sunday 28th April 2002
End of Season Attendance statistics
Kingstonian finished with an average home attendance (all competitions) of 523.

In league matches, K's finished with a seventh highest average of 544.
End of Season Awards
Lance Key won the K's Web Player of the Year award last night [full results] and Mark Beard won the Goal of the Season [full results] for his strike against Billericay.

For details of all of last night's awards, as well as some photographs, see the End of Season Party Page!
Saturday 27th April 2002
Kingstonian 1-2 Heybridge Swifts
Greg Ball's early goal looked to be the first of many, as K's totally dominated the first half at Kingsmeadow. However, the Swifts came back strongly in the second-half, and two goals from Kevin Budge denied K's a top-half finish.

The line-up and man of the match voting form can be found here.
Gravesend promoted + result round-up
Following their one-nil win at Bedford Town, Gravesend & Northfleet have been promoted to the Nationwide Conference. They will be replaced by Hayes, after Woking's point at Telford ensured Geoff Chapple's team's mathematical survival.

The final Ryman League table sees K's in fourteenth place with a record of won 13, drawn 13, lost 16, for 50, against 56.
Friday 26th April 2002
Pre-season friendlies
Graham Richards has advised us of the following:

Here is an update of where we stand at present:-

Saturday 13th July 2002, KO3.00PM
K's vs Wimbledon F.C.

Wednesday 17th July 2002, KO7.45PM
K's vs Gillingham F.C.

Wednesday 24th July 2002, KO7.45PM
K's vs Charlton Athletic F.C.

No other Friendlies were arranged as we didn't know the future of the club. I have spoken with Sedge this week and further Friendlies are now being arranged which you will be advised of as soon as they are known.

Here's to a good win against Heybridge Swifts F.C. tomorrow.
Free entry on Saturday!
We have been informed that admission to Saturday's match at home to Heybridge will be free to all those under 12. Please encourage all that you know to take advantage of this offer.
kingstonian.net email - important
We have been informed by the company which we use for the kingstonian.net email service that, as from 2nd May 2002, they are ceasing the advert funded service which we have used up until now. This means that either we will lose the ability to offer free web-based kingstonian.net email, or we (ie the site) will have to pay substantial amounts of money to continue it.

The cost will depend on the number of users, so if you use the web-based email system (ie you go to the "K's Web Mail" page and enter your user-name and password) please let us know by sending an email to aonr51@dsl.pipex.com.

Once we know the number of users we can find out the cost and make a decision as to the future of this service.

Apologies for the poor service of late - this has been caused by "overwhelming demand for service and associated capacity issues". Note: this will not affect email "forwarding".
Thursday 25th April 2002
Chris Kelly
We have just been informed by Mr Khosla that Chris Kelly walked out of the club at 9am this morning. He did so of his own volition.
Wednesday 24th April 2002
An interview with the Khoslas
On their first official day in charge, K's Web spoke to new owners Anup and Rajesh Khosla. You can read the interview here.
Tuesday 23rd April 2002
Kingstonian Football Club Limited EGM, 22nd April 2002
Shareholders were invited to consider and, if thought fit, to pass the special resolution that article 3 be deleted from the Articles of Association of the company:




3(a) No member may hold or be interested in more than 15,000 or if greater, 10% (ten percent) of the issued share capital of the company for the time being and this restriction in these terms is to be treated as having and effect from the incorporation of the company and being the only such restriction to have had effect.


3(b) For the purpose of calculating 10% holdings of a husband and wife living together or partners living together or any brother or sister of any lineal antecedent or descendant shall be regarded as one member.




Eight shareholders were present and administrator Nick Hood was given 28 proxy votes (to the value of 62,800). The motion was carried unanimously by all present in person or by proxy, so there is no longer a 10% maximum holding in the company.


Prior to the vote, a number of points were clarified by Nick Hood, starting with an outline of the bids submitted:




1) Consortium


The original 402k bid was unconditional but 48k short of the other bid on the table at the time (Brentford FC).


A bid to the amount of 460k followed, though this was on the condition that personal guarantees to the bank (of approximately 170k) were released. This was considered at the highest levels of Barclays Bank, who were aware of the public relation implications, but found unacceptable by them. The Inland Revenue would also have objected to the condition and would have rejected the voluntary arrangement if it had been based on the condition. Without the agreement of the Revenue, no deal with the creditors could be passed.


Similar conditions were present when the bid was upped to 500k after the offer from Mr Khosla had been accepted.




2) Brentford FC


It was Brentford who had made the derisory offer in November, for just 75k. Their firm interest followed in February, when an offer of 450k was placed for the ground.


Brentford were concerned about tax problems and so not keen initially on allowing Kingstonian to stay at Kingsmeadow. They did consider a compromise as such, in the form of offering K's a one-year stay at their ground, though this inspired no confidence for Hood.




3) Mr Khosla


Mr Khosla first expressed an interest in the ground in November, and made a first offer of 300k some weeks ago for the ground. This interest grew to include the club and a bid of 445k aimed at saving it was submitted. This was accepted by Hood on 12th April and contracts exchanged on 15th April. The transaction will be completed as soon as possible, probably around the time of the meeting.


The bank is now paid off, including the long-term mortgage, with Mr Khosla the new owner of all club assets. On the basis of advice from tax experts obtained by Hood, the loss generated by the sale is greater than original profits and so the transfer of ownership (on the lease) has not created a capital gains tax liability.




Kingstonian Football Club now currently has no assets and still carries the burden of liabilities, and so is insolvent. It is, however, protected under ongoing administration - with control of all intellectual rights to Kingstonian Football Club still with Nick Hood.


Moving forward, the quoted 100k will be required for a CVA (Creditors Voluntary Agreement) which, if successful, will lead to Kingstonian FC regaining solvency and thereafter able to resume normal operation under the new ownership of Mr Khosla. No details are available yet regarding the setup of the new structure.


Proposals will be put to the creditors that all footballing creditors are paid in full (as required for continuation of current league status), and that the remainder is paid to the Inland Revenue (approximately 30-35p to the pound). Other creditors would get nothing, because the Revenue will insist that they receive payment in full before any other creditor can be paid anything at all. This is their right legally and it is also their immovable policy.


The absolute deadline for this to be arranged is the Ryman (Isthmian) League AGM on 7th July 2002. Mr Khosla has stated his commitment to achieving this.
Monday 22nd April 2002
Save the K's Appeal Fund
The following has been posted to the forum by Begbies Traynor:

We are pleased to announce that we have set up a Trust Account today at the Bank of Ireland to hold contributions made by fans and other supporters of the Ks received in respect of the proposed Company Voluntary Arrangement for Kingstonian Football Club Limited. We are also delighted to announce that the first contribution of £500 has been made by a loyal long term supporter of the Club.

Just to make it clear, all contributions will be received on the basis that they will only be released to the duly-appointed Supervisor of the proposed Voluntary Arrangement (CVA) once the CVA has been approved and the Club's status in the Ryman Premier League is guaranteed. If for any reason the CVA is not approved, all monies received will be returned to the contributors. They will not be made available for the general body of creditors, except through the CVA. If any one wishes to make a contribution then cheques should be made payable to "Kingstonian Football Club Limited - in Administration" and sent to this office.

If any one wishes to discuss any aspects of this account then please do not hesitate to contact Jo Milner or Paul Whitwam at this office.
Sunday 21st April 2002
Hampton and Richmond match report
The report of yesterday's nil-nil draw at The Beveree Stadium has been completed.
NLP: K's Close to Safety Now
From today's Non-League Paper:

K's Close to Safety Now by David Parsons

Kingstonian are still facing an uncertain future despite the sale of their Kingsmeadow ground.

A family consortium has stepped in to buy K's in a £450,000 deal fans hope will save the cash-strapped club.

But they still must raise a further £100,000 in the next five weeks to pay off remaining creditors, former players and out-standing transfer fees to other clubs.

Failure to meet these debts could result in the club losing its Ryman Premier status and falling several flights down the Pyramid.

Club administrator Nick Hood surprised fans when he rejected offers from Brentford owner Ron Noades and a higher bid from a supporters' consortium and signed a deal with the hotel and travel agent-owning Khosla family.

But Rajesh Khosla, who has asked Alan Kingston to stay on as chairman and will hand manager Steve Sedgley a new five-year contract, is confident his family will save the club.

With sons Rishi and Anup, he has already met the local council and Kingston's Liberal Democrat MP Edward Davey, who have both promised to give the new owners their full support.

Rajesh Khosla said: "We have about four or five weeks to do it and it is 100 per cent that we'll achieve our target of £100,000.

"I follow football and we will keep Kingstonian in the Ryman League.

"It's only three days since we took over, but Steve Sedgley will run the football side and I've decided that I will give him a five-year minimum contract because he's a very good man.

"The supporters need to back us up because the future of this club is something both the fans and myself need to guarantee.

"I can't do anything without their support and they can't do anything without my help, so let's work together. This club will go forward if we are united."

Administrator Nick Hood, who will stay on and help the family raise the immediate cash required, angered current directors by rejecting a last minute bid from a management-led fans consortium.

The group, fronted by lifelong fan Malcolm Winwright, e-mailed Hood at 1am on Monday to lodge their £500,000 bid - £50,000 above the Khosla family offer.

Winwright and club director Malcolm Grant sent 21 further e-mails and made numerous telephone calls, but say neither were informed of Hood's decision until administrators Begbies Traynor issued a press release on Tuesday.

"Mr Hood has tried to run with the hare and hunt with the hounds," said Kingston. "However, I fully support Mr Khosla and believe he has behaved impeccably throughout the negotiations."

Hood denied claims he had turned down the best offer, saying major creditor Barclays Bank and the Inland Revenue would both have rejected the consortium's proposal.

"The bid had conditions attached to it that the bank would simply not wear," he said. "It would have forced the bank to take a loss and they were not prepared to do that and the Inland Revenue would also not have accepted the bid.

"I though, Barclays thought and the Inland Revenue thought that the best bid was from the Khosla family."

Ryman League secretary Nick Robinson added: "We're assured the buyer wants to keep the club going. There are no hard and fast rules. This situation has not happened before. I desperately hope Kingstonian survive and they stay in the Premier Division."
Southern Youth League
Secretary Graham Richards writes:

I have received confirmation of our application to join the SYL from Graham Preston, General Secretary, and he has passed our application forward to the SYL Management Committee. Sutton United F.C. have very kindly agreed to propose us and Hampton & Richmond Borough F.C. are seconding our application. The next step is that we have to attend the AGM on 6th June 2002 when our application will be put to the Full Council. I would personally like to take this opportunity of thanking Graham Preston of the SYL, Graham Starns of Sutton United and both Hillary Denning & Adrian Mann of Hampton & Richmond Borough for their support.

I have requested that we join the Central Section which at present comprises of, Banstead Athletic, Carshalton Athletic, Chipstead, Croydon, Dulwich Hamlet, Sutton United, Tooting & Mitcham, Walton & Hersham, Whyteleafe and Woking, although this isn't guaranteed.
Saturday 20th April 2002
Hampton and Richmond Borough 0-0 Kingstonian
The Khosla family - new owners of Kingstonian FC - watched their side battle out a nil-nil draw at neighbouring Hampton and Richmond this afternoon. David Sadler came closest to breaking the deadlock with numerous chances, whilst Lance Key was called upon several times at the other end.

The line-up and man of the match voting form can be found here.
Result round-up
Both of the top two dropped points today, as Gravesend lost one-nil at home to Boreham Wood whilst Sutton pulled back a late goal to draw one-one with Canvey Island. With one match left each Gravesend have the advantage of a one point lead at the top of the table.

K's are currently in eleventh, and can finish no higher.

The remaining matches can be seen on the this week page.
Staff v Supporters match
The (sometimes) annual staff v supporters match will take place at Kingsmeadow on Saturday 4th May (before the FA Cup Final). If you are interested in playing for the supporters' team please contact Richard Atkinson at richard.atkinson78@btopenworld.com.
Wednesday 17th April 2002
Sutton match report
Slightly later than anticipated, the report of last week's one-one draw with Sutton is now available.
Player of the Year
Just a reminder that if you haven't voted for the player of the year or goal of the season yet you need to get your votes in soon. The voting will close at some point over the weekend.
Tuesday 16th April 2002
Sale of Kingstonian FC
The following press release has been issued this morning

KINGSTONIANS ADMINISTRATOR ANNOUNCES SALE OF THE CLUB

Nick Hood, the Administrator for Kingstonian Football Club Limited, has today announced the sale of the Club and its assets to Mr Anup Khosla. The sale ends a long period of uncertainty since the Club went into Administration last October.

Nick Hood commented that he was relieved to have been able to conclude a deal which should secure the future of the Ks at Kingsmeadow Stadium. Mr Khosla is committed both to preserving the Clubs status in the Ryman Premier League and to seeing it prosper and go on to better things.

Nick Hood said : Everyone connected with the Ks has been incredibly patient through a very trying time. My thanks go to the loyal fans and to the directors and the staff at Kingsmeadow, but most of all to Steve Sedgley and the team who have turned round the Ks season since my appointment under the most difficult of circumstances.

Todays deal secures the Companys assets for the future of the Club and removes the burden of the Clubs mortgage and overdraft. The next task is to raise the funds required to enter into a voluntary arrangement with the Clubs creditors, so that the Ks can avoid being demoted by the football authorities to the lower reaches of the Ryman League. The figure needed is £100,000.

A fund raising appeal will now be launched by Mr Khosla on behalf of the Club. Both Nick Hood and Mr Khosla hope that all of those who have been so anxious to see the survival of the Club, including Kingston Council and the thousands who signed a recent petition, will get behind the campaign by contributing to the appeal and by persuading others to do so.

Mr Khosla is a part owner of the Khosla hotel and travel agency group. He and his brother attended Kingston Grammar School and the family are keen to put something back into the community in which they grew up.
Chesham United 0-0 Kingstonian
Chances were spurned by both sides in what was, at times, an ugly affair. Peter Barnsby came closest to breaking the deadlock crashing a second-half header against the bar.

The line-up and man of the match voting form can be found at the bottom of the report.
Result round-up
K's remain in eleventh place in the table, although Hendon pull five points clear following their three-nil win at home to Braintree.
Monday 15th April 2002
Kingstonian FC's future
News is emerging from the club that contracts have been exchanged between Mr Khosla and Nick Hood (Administrator) for the purchase of the assets of Kingstonian FC. The club has not officially been informed of the deal, but there seems to be no doubt that it has gone through.

The deal is thought to be just for the assets, and not the company as a whole. This may well mean the end of Kingstonian FC in its current guise, and could mean that any newly-formed club will start at least two divisions below the current league.

Despite the fact that a late bid by the current Board of Directors was submitted at 1am this morning - for 50,000 more than Mr Khosla's bid - no correspondence has been received from Begbies Traynor.

If the current limited company is liquidated - as seems likely - several question marks hang over any new club. The status of the players is the main concern as they are currently contracted to Kingstonian Football Club Limited, and liquidation of that company would make them all free agents.

As soon as official confirmation is received from Begbies Traynor this will appear on the official web site for Kingstonian FC - http://www.kingstonian.net.
Sunday 14th April 2002
Aldershot match report
Yesterday's two-one victory is reported upon here.
Saturday 13th April 2002
Kingstonian 2-1 Aldershot Town
Headed goals from Greg Ball and Matt Elverson - his first for the club - in each half were enough to seal the points for K's, despite a late consolation goal from former Woking striker Grant Payne for the visitors.

The line-up and man of the match voting form can be found at the bottom of the report.
Results round-up
In a day not short of goals, all scorelines were eclipsed by the five-all draw between next weeks opponents Chesham and Hitchin. Canvey's big win at Basingstoke was not enough to lift them back to the top of the table as Gravesend were able to leave Braintree with maximum points.

Aldershot remain third following their defeat at Kingsmeadow, whilst Kingstonian move up into the top half of the table, one place above local rivals Sutton who played out a scoreless draw with high-flying Purfleet.

Croydon's fate has been sealed with relegation into the new Division One structure, following both the Trams and Harrow drawing one-all at Boreham Wood and Billericay respectively.

Promotion issues from Division One were also completed today, with Bishop's Stortford, Ford United and now Aylesbury United coming into the new 24-team Premier Division for next season.
Tuesday 9th April 2002
Kingstonian 1-1 Sutton United
A late Eddie Akuamoah strike was enough to cancel out a first half Tim Sills effort, sending the Surrey sides home with a point each.

The line-up and man of the match voting form can be found at the bottom of the report.
Results round-up
Gravesend took advantage of their game in hand over Canvey to move two points clear at the top of the table following a two-one win over struggling Hampton. Next week's opponents Aldershot moved into third place following a three-nil win at St Albans.
Monday 8th April 2002
Petition update
From Kingstonian Supporters Club:

Many thanks to everyone who gave up their Saturday morning to collect signatures for our petition. In total we collected over 1000 names in under two hours.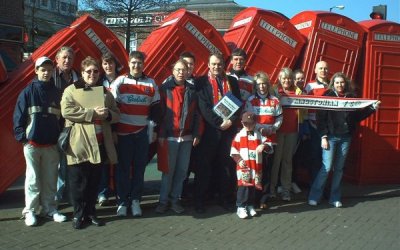 We now need to repeat the exercise before and during the game on Tuesday. We need as many people as possible to cover all entrances. London Tonight will also have their cameras at the ground early on, so please get there an hour before the game.

Could anyone willing to help please bring a pen and clipboard along, and petition forms can be collected from the club shop.

Remember that every signature helps - no matter who they follow! Please do you bit to help save the K's.
Sunday 7th April 2002
Croydon match report
The report from the defeat at Croydon Sports Arena can be found here.
Curry night cancelled
The club has announced that, with so much else going on at the moment, they would rather cancel the Curry Night. It will hopefully be rearranged for another date.
Saturday 6th April 2002
Croydon 4-0 Kingstonian
With the players' minds clearly elsewhere, K's fell to relegation threatened Croydon at a windy Croydon Arena.

The line-up and man of the match voting form can be found at the bottom of the report.
Results round-up
The candiates for the sole promotion and relegation spots today all encountered some rather unexpected results. Canvey and Gravesend both dropped points in the title race, with a defeat to Grays and draw against Basingstoke repectively

Meanwhile things took a dramatic turn to recent form at the bottom of the table, with Harrow losing losing by four goals to St Albans and Croydon beating Kingstonian by four of their own. The odds are still stacked against Croydon, but their quest for (on-field) survival continues.
Friday 5th April 2002
Petition forms
Copies of the petition form can be downloaded as a Word document here.
Survival hopes
Kingstonian FC press release:

K's desperate bid for survival

The bid to save Kingstonian Football Club by a Supporters' Consortium has been turned down by Nick Hood of Begbies Traynor, the Administrator, and Barclays Bank.


This is in spite of the fact that the 402,000 offered was previously believed to be sufficient to satisfy Mr Hood's demands and to be bigger than an alternative offer.


However a late bid by Brentford FC Chairman, Mr Ron Noades which, if it is accepted, will result in the immediate demise of Kingstonian, is thought to be approximately 10% bigger than that of the Ks would-be saviours!


"Save the Ks" supporters plan to stage demonstrations in the Town Centre and at matches in order to bring the pending tragedy to the notice of the people of Kingston-upon-Thames and the Council. As holders of the lease on Kingsmeadow, the Council have the responsibility of deciding to whom it should be granted should the K's not manage to persuade Mr Hood to help their survival bid.


Petitions are being prepared in order to generate a movement of support to save one of the oldest and best known names in non-league football and the team which has won at Wembley twice in the last four years!
Thursday 4th April 2002
Supporters' petition
From Kingstonian Supporters Club:

Following todays announcements regarding the bids for Kingstonian Football Club, it was confirmed this evening that the administrators have rejected the consortium package to save the club.


This seemingly paves the way for the hostile bid to seize control of the assets and liquidise Kingstonian Football Club, which will cease to exist.


It would appear the only potential saving grace should this bid be accepted by the administrators would be Kingston Council refusing to transfer the name of the lease into the new clubs name.


To this end K's supporter, former Kingston mayor and current local councillor, Chrissie Hitchcock is in association with the Supporters Club organising petitions to present to the Council as a unifying protest against the proposed plans in an attempt to boycott the transfer of the lease.


Anyone who is available on Saturday morning and would like to help petition for signatures is asked to come down to Kingston town centre on Saturday morning for a couple of hours.


We are meeting at 9.30am by the cascading red telephone boxes, next to Wilkinsons. If you can make it down then please do, and come along donned in your red and white hoops. If you could bring your own pens and clipboards that would also be appreciated.


Any help would be greatly appreciated - please do try and make it down to the town centre on Saturday morning along with as many friends and family as you can muster!
Consortium bid
A Consortium of supporters have lodged a firm bid for Kingstonian with Nick Hood, the Administrator.


With confirmed reports in the national press that Brentford Football Club has tabled a bid which would result in the demise of Kingstonian, the Club's new Consortium appears to be the only hope of saving K's from oblivion.


If the Club is to retain its status in the Ryman Premier League, it cannot be allowed to go into liquidation. This means satisfactory arrangements must be reached with Barclays Bank and all the creditors. Any purchaser who is not concerned about the survival of Kingstonian can simply reach agreement to satisfy Barclays and Begbies Traynor only and allow the club to go into liquidation. The rest of the creditors would probably receive little consideration.


Thus the confirmed offer from the supporters own Consortium gives the Administrator an opportunity to save Kingstonian FC.


The Consortium also plans to appeal to Kingston Council which controls the freehold of Kingsmeadow. Their view is simple: the people of Kingston, by way of elected representation, reached agreement with Kingston's Senior Football Club in 1989 to develop Kingsmeadow. This development was funded by Kingstonian Football Club who in return received a long lease. This lease was given in consideration for the development and by the people of Kingston for their team! Not another club from another area!
Brentford bid
From today's Daily Express:

Bess boss Noades offers King's ransom

Ron Noades has tabled a 450,000 GBP bid to buy Kingstonian FC and move into their Surrey home.

The Bess chairman has been frustrated in his efforts to find a new ground, with Griffin Park too small for expansion.

Noades plans to buy up the Ryman League club, in administration, and use their ground as a temporary home. But a club official said: "This may mean the end for us."
Tuesday 2nd April 2002
Sutton match report
The first of Murray Stalker's derby reports appears here.
Maidenhead match report
The slightly delayed Maidenhead match report is now available for all to read here.
Monday 1st April 2002
Sutton United 0-0 Kingstonian
A rather uneventful derby match saw the sides from Surrey share the spoils, with neither goalkeeper called into much action.

The line-up and man of the match voting form can be found at the bottom of the report.
Results round-up
A number of large crowds watched some important action take place today in today's derby matches. Canvey's comfortable win over Billericay allowed them to regain some breathing space at the top following Gravesend's goal-less draw with in-form Purfleet.

Harrow's 1-0 win at Hampton, coupled with Croydon's defeat to the same scoreline, means that the Trams seem set to stay bottom for the remainder of the season. A defeat at home to K's in their next match would see Croydon effectively relegated.
Player of the Year and Goal of the Season
You can now vote for the 2001/2 K's Web Player of the Year - sponsored by the Kingston Informer - and also the 2001/2 Goal of the Season.

For more details see the new Player of the Year page.