It's one of those events like the Kennedy Assassination or the Death of Diana. Everybody knows where they were and what they were doing when K's Web was created. Except that in actual fact nobody does.

Sometime in March 1998, Jon Tolley went to xoom.com (it never used to be a money site) and opened a new account, because he'd noticed that most Conference teams had their own web site, and as K's were about to join the elite of non-league football, he thought that they ought to jump on the same bandwagon.

As it says in the About K's Web page, he didn't get far before getting stumped, so he called Gary Ekins asking for some help, and the site was born. The site became the "official" club site in August 2001, which is when Ali Kazemi - now Press Officer - joined the team.

The original 1998 site was pretty sparse, and not very pretty. There have been various incarnations throughout the ten years - some ugly, some even more so.
The site has lived with the ups and downs (and the rest of the downs) of Kingstonian FC throughout the decade. Memorable moments for the club include:
| | |
| --- | --- |
| 30th April 1998 | promotion to the Conference |
| 7th May 1998 | the Surrey Senior Cup is won after a replay versus Woking |
| December 1998 | Gavin Holligan is sold to West Ham United for a club record £150k |
| 15th May 1999 | a visit to Wembley and an FA Trophy win |
| 13th May 2000 | another visit to Wembley and another FA Trophy win |
| 7th February 2001 | a replay in the fourth round of the FA Cup |
| 26th April 2001 | relegation back to the Ryman League |
| October 2001 | Kingstonian go into administration and nine players are released |
| April 2002 | the Khosla family buy the club |
| 7th May 2003 | the Surrey Senior Cup final is lost 2-1 to Sutton United |
| 27th May 2003 | Scott Smith becomes first Kingstonian player to win a full cap since the 1930's, in Scotland vs New Zealand game |
| 8th May 2004 | K's lose a play-off match at Lewes and are effectively relegated |
| 25th June 2003 | tenants AFC Wimbledon purchase Kingsmeadow from the Khosla family and become Kingstonian's landlords |
| February 2005 | Jimmy Cochrane buys the club from the Khosla family |
| April 2005 | Kingstonian finish bottom of the Ryman Premier League and are relegated |
| May 2006 | The current chairman - Mark Anderson - takes over the club |
| 12th May 2006 | K's win the Surrey Senior Cup, beating AFC Wimbledon |
Throughout the ten years, the site has attempted to keep supporters abreast of what is happening at the club. Since November 2002 the site has recorded an interview with a member of the management team after almost every match. Since August 2003 it has been possible to receive text messages telling you which team has scored a late equaliser to dent K's hopes, and to keep up to date with matches online.

One of the most popular - and occasionally controversial - sections of the site is the match reports. At the time of writing there are over 600 reports detailing K's matches from the past decade. These have been written by a variety of talented volunteers - some who can even spell. Thanks must go (in vaguely numerical order) to Gary Ekins, Jon Tolley, Simon Grier, Ali Kazemi, Mike Underwood, Darren Bell, Phil Windeatt, Simon Murray, Richard Atkinson, Ollie Steel, Gary Lee and some others too.

The reports are usually read by a few hundred people and disagreed with by most, but occasionally they actually make the news. Two of the best remembered are below:


September 2000 - Forest Green Rovers 1-3 Kingstonian

The country was in the midst of a petrol crisis and the author of this particular report (Gary Ekins) just happened to use the last drops of his precious juice driving himself and a couple of others to The Lawn. Well K's were rubbish, and the fact that he used the last of his petrol just made things worse. The report wasn't overly positive, and ended with the line "This was a crap performance from K's, and one of many that we've seen this season." The author also then posted an article on the forum which included the comments "absolutely disgusting"; "in no way a leader"; "couldn't cross to save his life"; and "instils no confidence in anyone".

Well nobody quite expected the reaction that followed. The headline of the next edition of the Kingston, Surbiton and New Malden Times screamed: CHAPPLE'S RAGE AT INTERNET POST. The manager was quoted as saying: "He's absolutely lambasted his own team. Now he's a supporter. I don't know how long he's been a supporter, not too long I would have thought to read some of that absolute crap. And I use the word crap." According to the KSNMT, "Chapple even read some of the comments to the players in the dressing room at their next outing to fire them up for the game." They lost.


January 2006 - Molesey 2-3 Kingstonian

Simon Murray was on report writing duty, but must have forgotten that as the game progressed. By the time he left the ground he had only written four things down - and there had been five goals, one disallowed effort and an almighty melee. He therefore decided, when he sat down to pen his piece, to put his tongue firmly into his cheek and write whatever came to mind.

The report included some fantastic writing: "gesticulated wildly, Gary Neville style"; "two Molesey fans who leapfrogged the barrier to add their highly educated thoughts on proceedings"; "whilst his (Phil Ruggles') moral judgement and personal ambition may be questionable"; and the quite stupendous "he (Jon Ashwood) had been getting a fair amount of stick for being, well, a bit rubbish, and having a mullet haircut, but he'd shown so little reaction that we weren't entirely sure that he could hear us all that distance away in the late nineteen seventies". And this was from the edited version.

A few days later we were contacted by the Ryman League secretary who said that Molesey FC were unhappy with our version of the events at Walton Road and asked for changes to be made. Murray therefore retrieved his notes from the dustbin and penned a new version.


Something else fun from the reports is the headlines (or "puns" as we inaccurately label them). A selected few from the past decade are below. One point for working out which game each is from.

JEROME STOPS BULLS

FOR BUCK'S SAKE

LIFE'S A PITCH, AND THEN YOU TIE

BOYLAN HOT AT KING-FILLED

K'S SERA SERA

TARKAN MUST-HAVE-A MIDAS TOUCH

PATTO BEATS UP KIDDIES

LUCKETT OPENS A SIX-PACK

CHAPPLE ON TOP ON HALLOWED TURF

DOVER'S DEFENCE EMBARRASSED BY HARRIS' CHOPPER

93:32

SHOCK N HURT

SILLED WITH A KISS

MATTY ELVERSON SCORES

PHILIP'S HEAD SCREWS U'S

HERE'S TO YOU - KEY AND ROBINSON

WINDOWS 95

NAUGHTY NURSE

FIGHT CLUB

SLEEPING POLICEMAN

JAY MAY MAKES HAY WHILST DEFENCE GOES ASTRAY

CHRIS DICKS-ON K'S

MARTINI SHAKEN AND STIRRED

FIVE STAR K'S SHOW BOURNE SUPREMACY

COPS TURN ROBBERS


The site has proved popular with supporters of other teams as well as Kingstonian fans, because of the amount of statistical information available. Records only go back to September 2002, but since then there have been 26.5 million hits - an average of over 90,000 per week. This doesn't include hits on the hugely popular forum or the live match screens.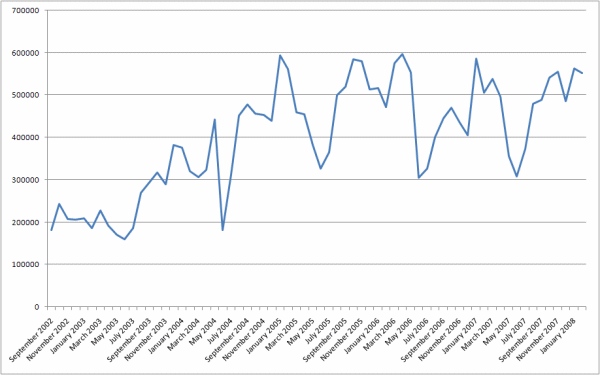 We've seen and received lots of photos over the years. The greatest by far is one that was originally published in the Surrey Comet. We used it for a Spot the ball competition...
We took one of Basingstoke goalkeeper Scott Tarr relieving himself by the side of the pitch whilst K's presumably weren't attacking...
And another one of goalkeeper Gareth Howells just after relieving himself (I spot a pattern here):
To celebrate the start of the birthday period, the site is sponsoring the home match versus Worthing. Thanks to all of those who contributed money towards the price of the sponsorship - it really is appreciated.

Don't forget that as well as covering the current team, the site also offers un-rivalled coverage of Kingstonian's illustrious history. The site's massive database contains details of well over 4,000 K's matches, from 1919 to the present day. It also provides every statistic imaginable from the current season - for every team in England, from the Premiership down to the lower reaches of the Ryman League.

Thanks for visiting, and here's to the next 10 years!